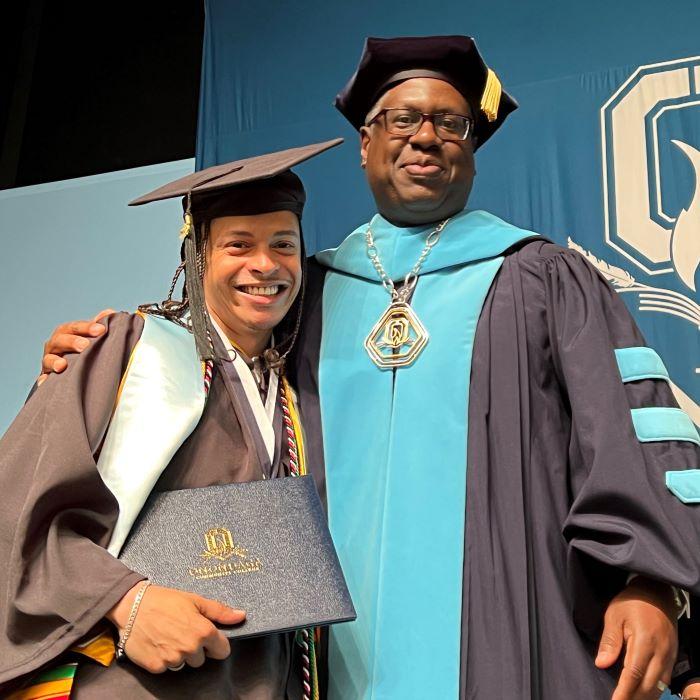 "We made it y'all." Those words from Student Speaker Shayne Turo summed up the moment as Onondaga Community College celebrated its class of 2023.
The College's 60th commencement ceremony was held Saturday, May 20 in the SRC Arena. Nearly 600 students were eligible to participate in the ceremony. You can view it here on our YouTube page!
Turo was chosen to represent them as the Student Speaker. He's a 38-year-old father whose daughter graduated from OCC in 2022. His remarks to fellow graduates focused on overcoming challenges. "We've weathered the storm. We've faced obstacles, we've cleared many hurdles, we've faced adversities of all magnitudes... and with resiliency we prospered. Because of our experiences here at OCC, we are a better version of ourselves today than we were when we began this journey," he said.
This was the first May commencement ceremony for OCC President Dr. Warren Hilton. He had the privilege of awarding three Honorary Degrees to:
Peter Dunn, President & CEO of the Central New York Community Foundation.
John Katko, Retired U.S. Congressman and former U.S. Attorney.
Betty Lyons, President and Executive Director of the American Indian Law Alliance.
Prior to commencement, a Nurse Pinning Ceremony was held in Storer Auditorium for 28 students who completed their degrees. The ceremony is a symbolic welcoming into the Nursing profession. The pin they received symbolizes their hard work and dedication towards their coursework and clinicals. Graduating students usually receive their Nursing pins from faculty members. However, on Saturday:
6 Nursing students were pinned by their mothers who are nurses.
3 Nursing students were pinned by their spouses who are nurses.
One of the mother/daughter combinations was the Goode's. Alison, the graduate, was pinned by her mother, Barbara. "My mom worked at Upstate Medical Center in the Pediatric Intensive Care Unit for 20 years, and as a school nurse in the East Syracuse Minoa district until her retirement in 2017," Allison said. "I look up to my mom as a role model. She was a wonderful, hardworking nurse during her career."
The Nurse Pinning Ceremony was highlighted in a story on WSYR TV by reporter Adrienne Smith and Scott Murfitt '83.