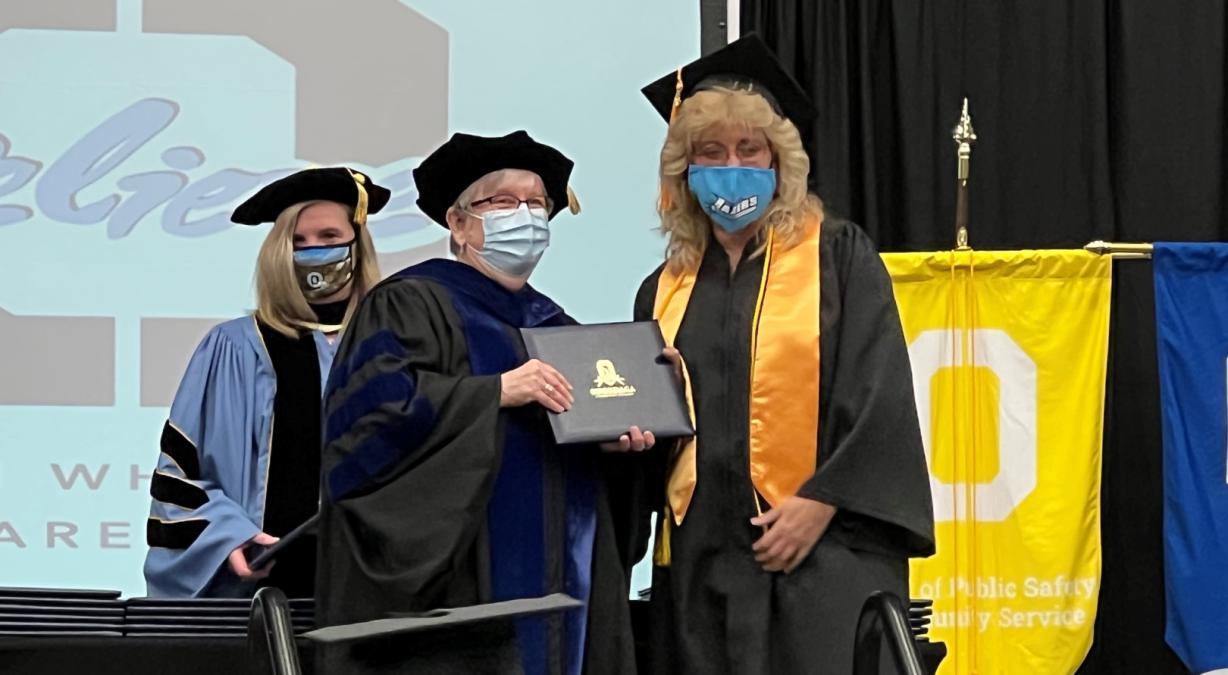 The best part of every Onondaga Community College commencement ceremony is watching the diversity of the students who cross the stage to receive their degrees. Some are just a couple of years removed from high school, others are in their 30s or 40s, and some are closer to retirement than their high school years.
Such was the case Thursday night when Onondaga Community College held a graduation ceremony in the SRC Arena for members of its December class of 2021. Nearly 300 students were eligible to participate in the ceremony. One of those who put on her cap and gown and proudly walked across the stage was Kim Benton, a 55-year-old mother of two who earned her Business Technology degree. Benton decided to pursue her college degree after going through a divorce. While working as many as three jobs at once to make ends meet, she knew higher education could be her ticket to a career.
Five years ago she began taking classes in OCC's Health Information Technology program but realized it wasn't exactly what she was looking for. That's when her advisor, Steve White, recommended she take a career test. Her results indicated she was good working with numbers, and she wound up in Business Technology.
Her years of hard work paid off last month when she was welcomed into the College's chapter of honor society Phi Theta Kappa. And now she has her degree and a job as a Senior Account Clerk in the Department of Social Services.
Her advice to any "older" students considering college? "You can do it. You just need a strong support system around you who will constantly encourage you and help you with life when you need it."
Below is a list of our December class of 2021. Congratulations to each of you!
School of Art, Design, Media & Music
Autumn Baker
Louis Dorazio
Taylor Finch
Stephanie Gill
Ryan Gilmore
Eli Grauman
Jalyn Handford
Christopher Holmes
Clara Neville
Dahlia Nguyen
Kathryn Patrick
Kevin Pham
Anthony Quinn
Barbadu Raacha
Bertel Schmidt
Mikayla Togni
School of Business
Hisham Ali
Jacob Bano
Kimberly Benton
David Bosak
Jourdyn Buck
Rebecca Buff
Phillip Carrigan
Ashley Carson
Michael Casale
Zachary Caswell
Brianna Cico
Jack Davis
Jasmine Downs
Brian Felix
Jennie Harrington
Jeffrey Hart
Nancy Ho
Joshua Jones
Grace Kim
Ashley Lippert
Liem Nguyen
Brandon O'Brien
Patrick Peris
Ryan Procopio
Susan Rogers
Rebecca Ruhland
Martim Silva
Alexis Streiff
Ali Thabet
Sarah Wallace
Dakota Williams
School of Computing & Applied Technologies
Naseer Abdulwahhab
Abdullah Alaawad
Abdirahman Ali
Sahar Almahmoud
Fahmi Amuaimi
Theodore Bartlett
Hope Blanchard
Noah Capella
Dominic Coombs
Kahlil Davis
Keith Dimura
Jesse Dreibelbis
Moo Eh
Matthew Faiola
Miguel Jose Amado Fernandes
Avenezer Fitwi
Caleb Flynn
Dominic French
Sabrina Garnett
Timothy Ginochetti
Dimitar Gjorgievski
Nazier Gunn
Matthew Healey
Dennis Hua
Jacob Hughes
Dillon LaBarge
Brandon Lapointe
Vincent Leone
Takwa Maklad
Terrell McLaughlin
Rocco Myers
Suleiman Ali Nur
Elijah Onufriychuk
Christopher Perdue
Tayvon Ratchford
Michael Raymond
Michael Riehl
Brian Rowley
Apriah Scruggs-Muhammad
Cassandra Stanfield
Hamdija Suljic
Matthew Taddeo
Patrick Watzka
Abdiaziz Yusuf
School of Education
Laura Avery
Charquyasia Boutwell
Roxanne Bowles
Mary Clewis
Madalynn Davis
Muzhgan Dost
Jan Gilman
Trinidi Golden
Victoria Hagan
Hakima Haji
Nicole Hare
Samantha Harvey
Tiffany Morey
Melissa Mosher
Garrett Radley
Teyara Reese
Kyle Simons
Keith Spurgeon
Sarah Waters
Angela Wilbur
School of Health
Isaiah Addison
Aaron Andrukat
Camisha Bacon
Heather Barber
Amber Bishop
Alyssa Brown
Brandy Burnham
Daphne Edgar
Jillian Firenze
Mary Chu For
Alyssa Froio
Brianna Hawks
Skylar Hidenrite
Shayla Holt
Mirsada Hurtic
Tiffani Irovando
Brandon Irving
Carmiel Kapilla
Josephine Koroma
Trang La
Liliana Lori-Matos
Ryan Luke
Tony Ly
Grace Mabi
Madison Mahoney
Kaylee Marshall
Morgan Michlovitch
Tracey Milazzo
Asma Mohamed
Jonathan Morsdorf
Kayla Nero
Brandy Parks
Valerie Phillips
Laurent Quetell
Heather Richards
Paul Savich
Cynthia Schrank
Lindsay Stonecipher
Joseph Stout
Roman Tataryn
Dejanaire Taylor
Ashley Tifft
Niokey Williams
Carl VanBuren
School of Liberal Arts
Yara Aldwas
Dima Amiri
Taxiarchos Avramidis
Erica Bagozzi
Dominick Barbuto III
Hannah Betters
Madeline Bova
Kylie Bryant
Gregory Buckley
Kaleib Burris
Kiara Bush
Matthew Cabiles
Brandon Cancro
Armand-Julien Clausen
Christian Comer
Emily Dowd
Ahmed Durrani
Sean Egan
Kimberly Farrell
Joshua Florczyk
Michelle Footman
David Ford
Julie Fortino
Madelinn Fowler
Emily Gamble
Kaitlyn Gary
Yana Grebenevich
Ellen Harwood
John Haskell
Victoria Hernandez
Julie Horn
Jenna Jacobs
Kayla Jones
Irumva Kabayiza
Ryan Kreuzer
Ashton Lenze
Joseph Logiudice
Alanson Loomis
Margaret Maal
Abdinajib Maalo
Megan Mann
Kelsey Martinez
Erik Mattox Jr.
Brendan Mavretish
Emily McChesney
Gregory McGrath
Gianna Migliaccio
Tayana Mitchell
Elizabeth Morrow
William Neuman
Mckenzie O'Hara
Say Wah Pah
Arielle Patterson
Joshua Phelan
Asmita Rai
Joshua Roberts
Zoey Rogers-Romeo
Khedija Saad
Yousif Saaed
Nylashia Sease
Mike Sicherman
Katlyn Skellington
Anabella Snyder
Alexie Sullivan
Zachary Tulowiecki
Alisa Vainblat
Joshua Vang
Antonia Vilardo
Raegen White
Mario Williams
Preston Wrobleski
Jordan Zagha
School of Math, Science & Engineering
Khrystyna Andrushkiv
Nidaa Arab
Suljo Begovic
Rehan Din
Thao Ho
Bryan Marchand
Andy Dominguez Murgado
Evangeline Ndaca
Lam Thanh Thanh Nguyen
Yesha Patel
Janny Perez
Emily Sickler
Brooke Sledgianowski
Allen Smith
Kyle Smith
Shane Smith
Marcus Tingley
Andrew Waldon
Christopher Wells
Adrian Wilson
School of Public Safety & Community Service
Maryam Alowaid
Henry Alva
Jeneis Barr
Thomas Barrack
Isabel Black
Lucille Blume
Jaliyah Broome
Audrey Brown
Kathleen Byrne
Alexandra Cardona-Morales
Ramona Clark
Jasmine Guerin-Carmona
Abaigeal Daley
Katrina Dean
Abbey Doerger
Teajia Dowdell
Corey Guyder
Abeba Haley
Andrew Hauswirth
Lauren Hopkins
Amy Johnson
Kristin Kadajji
Nikki Kerr
Jadon Linton-Donerlson
Tara Matthie
Kawennase McComber-Lybrand
Renisha McDonald
Nasier McIntyre
Bryanna McRobbie
Tina Moser
Hunter Murray
Firdaus Nabwanja
Habiba Noor
Michele Parks
Lauren Phillips
Carly Polge
Chelsea Roden
Ashleigh Roe
Courtney Schaefer
Crystal Silkworth
Kendra Slating
James Tagggart
Joshua Tolenoa
Jacob VanPatten
Ashley Zogg