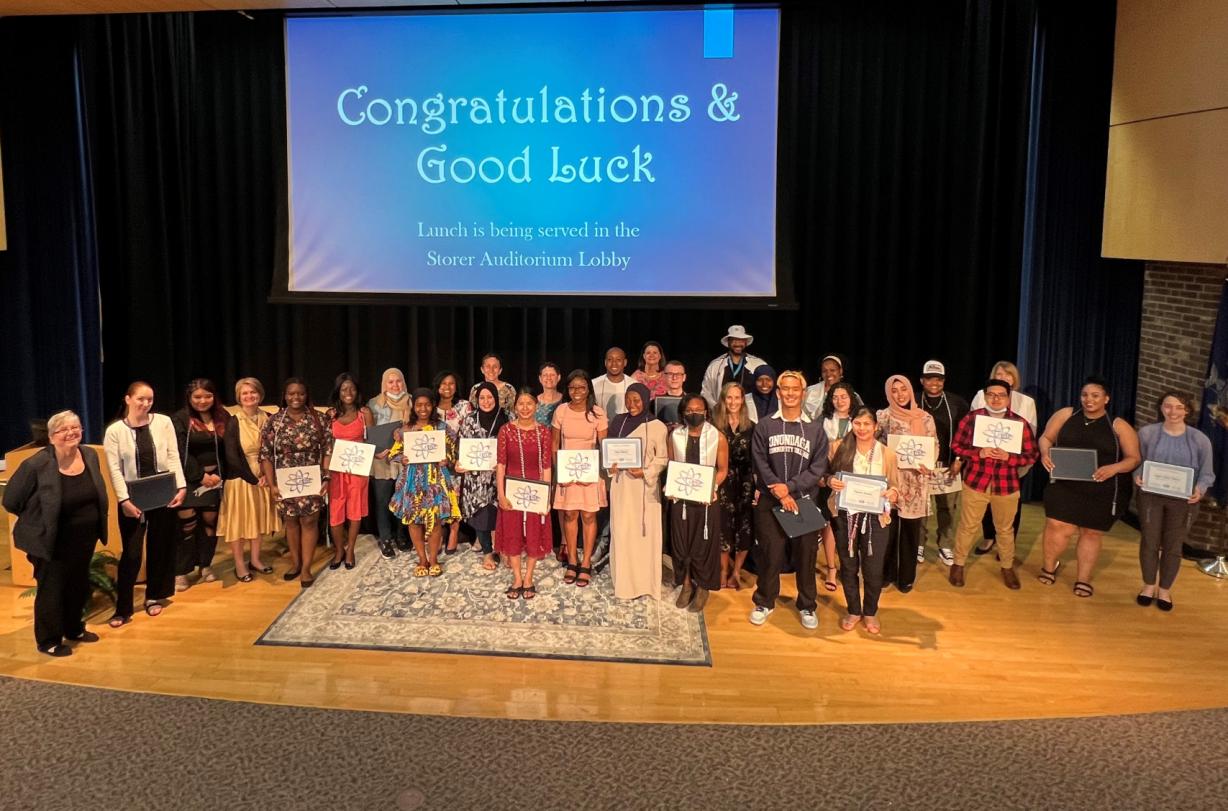 Graduating students who participate in Onondaga Community College's Opportunity Programs were recognized during a ceremony held May 11 in Storer Auditorium. Honorees were active in the Educational Opportunity Program (EOP), Collegiate Science and Technology Entry Program (CSTEP), TRIO Student Support Services, or the Louis Stokes Alliance for Minority Participation (LSAMP). Each student received a certificate and either a cord or stole to be worn at commencement.
The following students were recognized:
Murjan Abdi, Business Administration
Zulekha Aden, Health Studies Certificate
Mohammad Afsar, Health Studies Certificate
Sahar Almahmoud, Computer Information Systems
Zahara Almaliki, Mathematics & Science
Danya Alnuaimi, Interior Design and Architectural Technology
Amina Amin, Mathematics & Science
Nuha Assaidi, Surgical Technology
LaVaughn Banks, Human Services
Benito Barrera, Human Services
Michael Calogero, Human Services
Lorena Castillo-Patino, Mathematics & Science
Aaron Chavez, Mathematics & Science
Jason Criollo, Business Technology
Sarah Dacosta, Human Services
Lynasia Davis, Human Services
Monica Fadar Otite, Health Information Technology
Moe Fakhri, Mathematics & Science
Eric Flores, Computer Science
Noa Ford, Human Services
Jacqueline Gayle, Criminal Justice
Damon Gilstrap, Human Services
Ashley Gordon, Humanities
Jennifer Holder, Exercise Science
Laquann Hunter, Computer Information Systems
Abdul Idrees, Mathematics & Science
Jade Johnson, Humanities
Josephine Koroma, Health Studies Certificate
Joe Logiudice, Humanities
Rukia Mkoma, Human Services
Salado Mohamed, Mathematics & Science
Ashika Monger. Health Studies Certificate
Everine Mukeshimana, General Studies
Hsu Myat, Interior Design
Jeanine Odo, Health Studies Certificate
Amrita Rai, Communication Studies
Lydia Randall, Human Services
Khedija Saad, General Studies
Cheyenne Sinchico, Human Services
Elle Strachan, Communication Studies
Kyi Tein Tun, Communication Studies
Ali Thabet, Business Administration
Anifel Velez-Feliz, Mathematics & Science
Laura Villarruz, General Studies
Taylor-Sierra Watson, Humanities
Kiana Williams, Human Services
Congratulations and good luck to all!!!