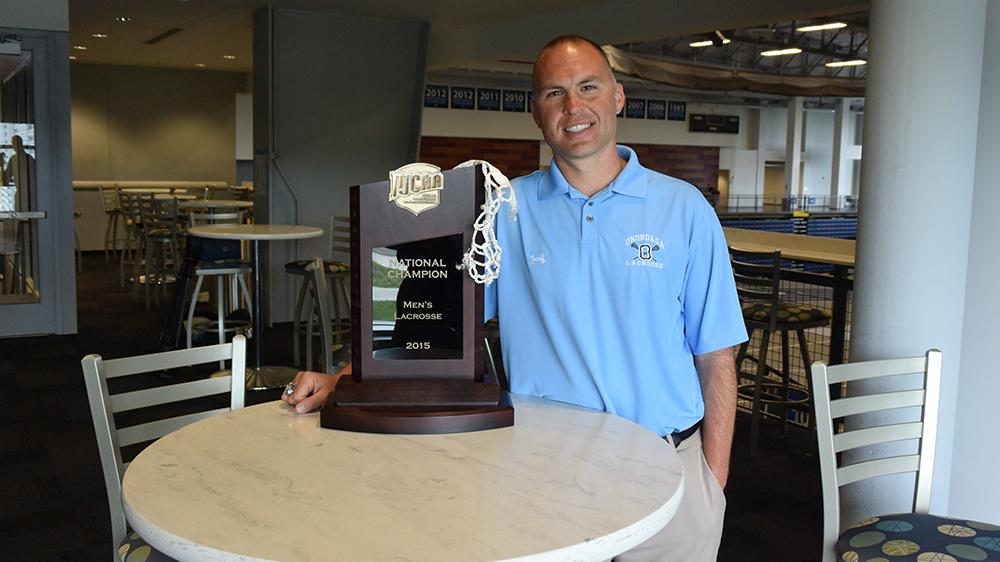 After 17 years as the Onondaga Community College Men's Lacrosse Head Coach, 11-time national champion Coach Chuck Wilbur will be stepping down to accept a new role at OCC as Retention Specialist. In this role, Wilbur will focus on student athletes and Native American students to help them enroll and succeed at OCC, and take their next steps to employment or transfer upon graduation.
"Coach Wilbur has been an extraordinary leader both on and off the field, serving as an outstanding example and mentor to his players. While he has had outstanding success as a coach and has received numerous accolades and awards, Coach Wilbur has always put the 'student' in 'student-athlete' first. We are deeply grateful to Chuck for his leadership and the great pride he has brought to OCC and the Lazer Family, and we look forward to him continuing that forward momentum in this new capacity," said OCC President Casey Crabill, Ed.D.
"I am very excited to be taking on this new challenge as Retention Specialist at OCC. One of the most rewarding parts of being Head Coach at OCC for 17 years is that I get to work with students every day, helping them become not just great players, but great students and great leaders. I am so proud of the accomplishments that the OCC Lazers have had over the years and of the privilege I have had to serve as their Head Coach. At this point in my career and in my life, it's time for new Head Coach to take the Lazers to the next level and for me to take on this new opportunity and new professional challenge," said Wilbur.
A national search to identify Wilbur's successor will be launched.
As Retention Specialist, Wilbur will be responsible for supporting student athletes through recruitment, enrollment, advisement, and assistance with transfer and employment. He will also serve as a liaison for Native American students and support a Native American student resource center. He begins his new role in July.
Wilbur's efforts both on and off the field have led to extraordinary success for his players: 25 have become professional lacrosse players; 61 have transferred to Division I colleges; 96 have transferred to Division II colleges; 101 have transferred to Division III colleges; and those that have transferred have won a combined 34 NCAA National Championships.
In May, Wilbur guided the Lazers to their 11th national championship in 13 years. In his 17 seasons at OCC he has a 266-15 won/loss record. In addition, Wilbur has won 17 consecutive Mid-State Athletic Conference Championships, 14 consecutive Region III Championships and guided the Lazers to the longest win streak in college lacrosse history at 107 games (March 30, 2010 to March 5, 2016). The Lazers will enter next season with an active 30 game win streak. Wilbur was named the NJCAA Lacrosse Coaches Association National Coach of the Year in 2006, 2007, 2009, 2011, 2013, 2017 and 2018.
Wilbur is a 1995 graduate of Cicero-North Syracuse High School and a member of that school's Hall of Fame. He and his wife, Laura, are the proud parents of 3 children.