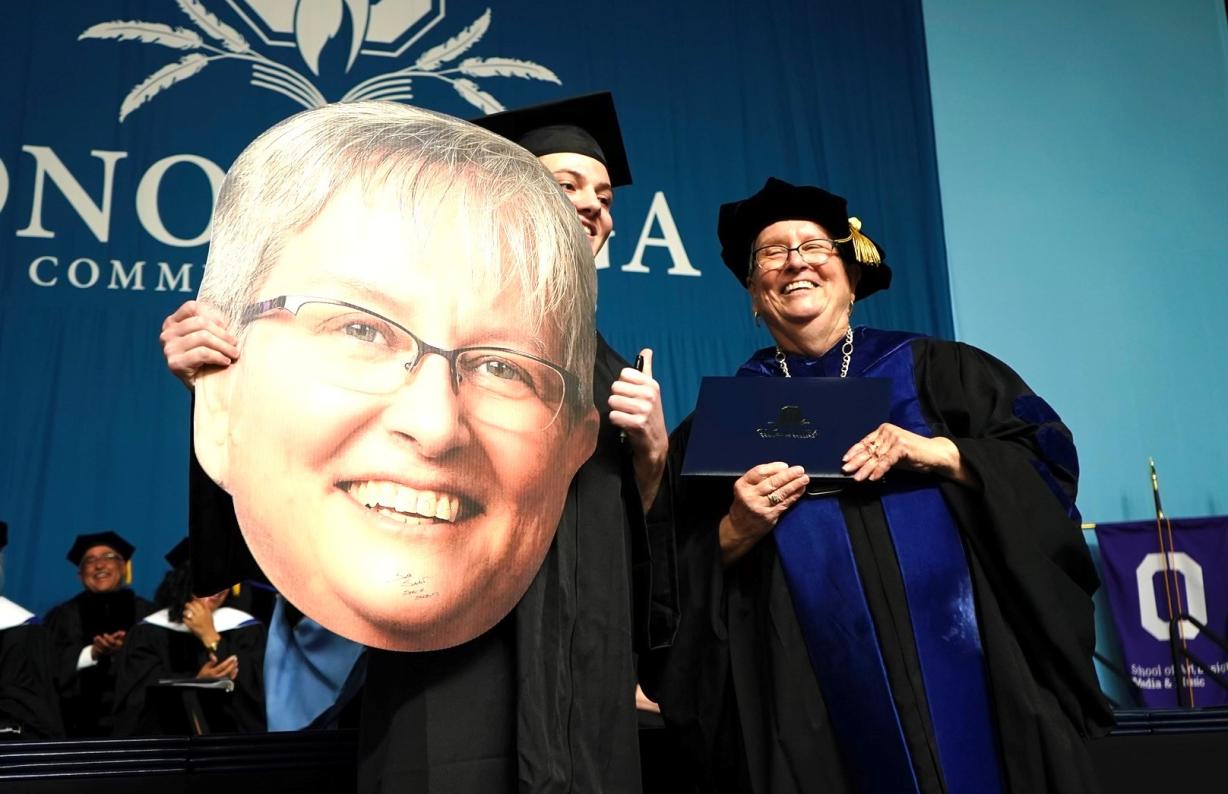 Onondaga Community College celebrated its class of 2022 with a festive commencement ceremony held May 21 in the SRC Arena. For many traditional-aged students who graduated from high school two years ago, it was the first in-person graduation ceremony they were able to take part in. The event was also a rousing sendoff for retiring OCC President Dr. Casey Crabill who was surprised with several "big head" likenesses of her throughout the facility.
Over 900 students were eligible to participate in the ceremony. Students completed their coursework in either the fall 2021 semester, spring 2022 semester, or will do so in the summer 2022 semester.
The student speaker was Iannelis Castro Calderon, a 2020 graduate of Cicero-North Syracuse High School who earned a Human Services degree. During her time on campus she became a leader in OCC's chapter of honor society Phi Theta Kappa which was recently named the 3rd best chapter in the world.
"I simply sought a path to a bachelor's degree, but I found a community that embraced me. Onondaga Community College became so much more to me and I attribute that to the faculty and students that I had the honor to encounter and develop relationships with," she told classmates and those in attendance.
Two distinguished Onondaga Community College Alumna, Laurie Halse Anderson '81 and Lanessa Owens-Chaplin '03, were presented with SUNY Honorary Doctorate Degrees, the highest form of recognition offered by SUNY to persons of exceptional distinction.
SUNY Honorary Degree recipients Laurie Halse Anderson '81 (left) and Lanessa Owens-Chaplin '03 (right).

Ms. Halse Anderson is a New York Times bestselling author whose books have sold more than 8 million copies. Her most recent bestseller, "Shout," is a memoir-in-verse about surviving sexual assault at the age of 13 and a manifesto for the #MeToo era. She earned a Humanities degree from OCC in 1981. Her SUNY Honorary Degree is a Doctor of Humane Letters.
Ms. Owens-Chaplin is an attorney and lead counsel for the New York Civil Liberties Union, and has worked tirelessly to make sure the elevated portion of Interstate 81 is replaced with an equitable solution that elevates the voices of the residents who live in the highway's shadows. She is a graduate of Henninger High School who earned a humanities degree from OCC in 2003. While a student here she lived in the Pioneer Homes housing project which is located next to the elevated portion of Interstate 81. Her SUNY Honorary Degree is a Doctor of Humane Letters.
This was the 9th and final commencement ceremony for retiring President Dr. Casey Crabill. There were two touching tributes to her during the ceremony. As Castro Calderon was concluding her remarks, she asked all in attendance to give Dr. Crabill a standing ovation. As students were standing several held up big head cutouts with Dr. Crabill's face on them. And as she walked off the commencement stage for the final time, she was presented two dozen white roses by a graduating student.
The ceremony was shown live on OCC's Facebook page and YouTube channel. The entire production crew was made up of current and past OCC Broadcast Media Communications students and faculty.