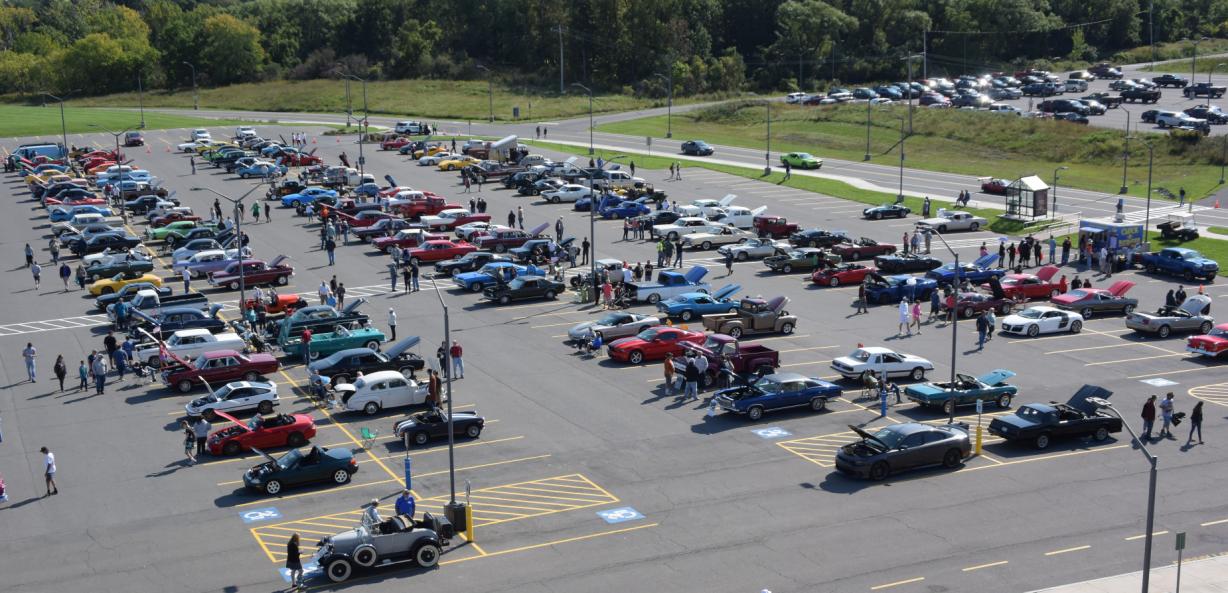 When Professor Ryan Beckley dreamed up a plan to host a classic car show on the OCC campus, his goal was to increase awareness about the College's Automotive Technology degree program. His dream came true Saturday, September 25. Hundreds of classic cars and spectators came to campus on a spectacular, sunny day for OCC's inaugural Cruise & Views Classic Car Show presented by Bank of America. "We're so grateful to the Central New York car community for spending part of a beautiful fall day with us on campus. We hoped this event would bring car lovers together so everyone could see what we are doing with the Automotive Technology degree program here and the 1957 Chevy pickup our students are restoring. The day was an enormous success," said Beckley. You can see a series of photos from the show at the bottom of this story.
The day before the show, students put a new engine and transmission into the 57 Chevy. When the truck is fully restored it will have modern features such as Bluetooth capability, air conditioning, and power windows and door locks. The plan is for restoration work to conclude sometime during the spring semester, then for raffle tickets to be available to the public. The finished vehicle and the opportunity to purchase a chance at winning it will be the centerpiece of the second edition of the Cruise & Views Classic Car Show in 2022.
The car is being restored thanks in part to a grant from the RPM Foundation. The RPM Foundation is an educational grant-making program of America's Automotive Trust. The RPM Foundation safeguards the critical skills necessary to restore and preserve collector vehicles by supporting hands-on training and engaging the next generation of craftsmen and women.
Classic Cruise & Views was organized by the OCC Foundation which provides funding for student scholarships, programs, and projects which create partnerships in success for students and the entire community.
More information about OCC's Automotive Technology program is available at this link.