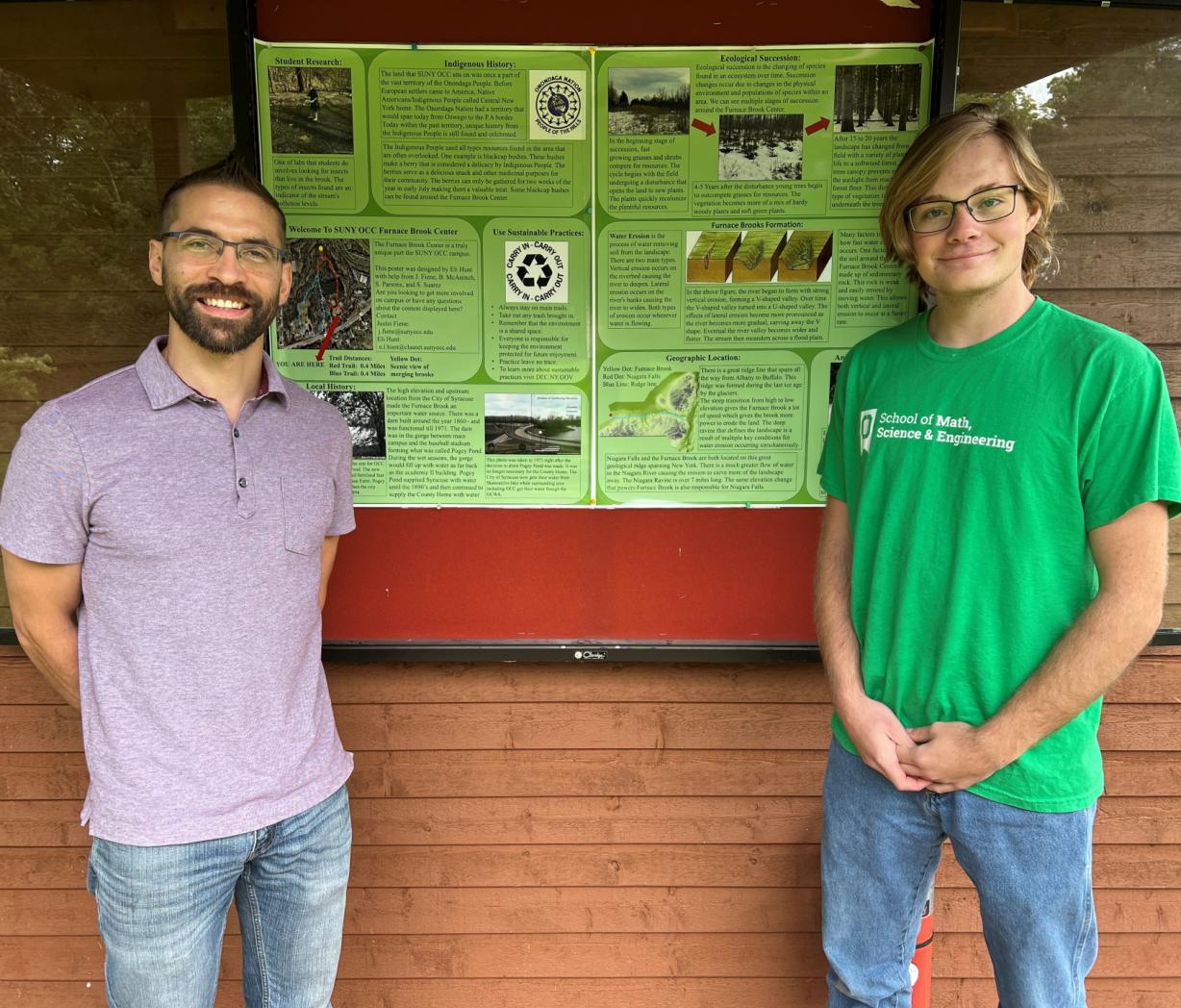 Eli Hunt has a genuine appreciation for his surroundings and the history behind them. That's what motivated him to put his time and effort into an Honors Project focused on the ecological and geological history of the Onondaga Community College campus.
The finished product is a large, glossy poster which was hung recently at the Furnace Brook Center by Hunt along with Professor Justin Fiene. "I'm really proud of how this came out but I'm not surprised," said Professor Fiene. "I knew we would get something good from Eli."
Hunt began working on his Honors Project during the spring semester, shortly after he was inducted into the Phi Theta Kappa Honor Society. He received guidance from Professor Fiene and Jackie Barstow, who serves as coordinator for both the honor society and the Lillian Slutzker Honors College.
His extensive research included conversations with several OCC Professors who know the history of the campus. Among his findings which are part of the poster:
The land where OCC is located was once a part of the vast territory of the Onondaga people.
At one time there was a dam and a body of water on campus named Pogey Pond which supplied drinking water to the city of Syracuse until the 1890s.
Furnace Brook is located on the game geological ridge as Niagara Falls. The elevation change that powers Furnace Brook is also responsible for Niagara Falls.
Hunt hopes the product of his efforts will give everyone a new appreciation for the land where OCC is located. "If you stop and think about what is truly surrounding you, you can find some really beautiful things. That's what I found here on this campus and at Furnace Brook. There is this beautiful aspect of the woods and the ravine that surrounds it."
Hunt is a 2020 graduate of Cazenovia High School who spent a year working in the electrical trade before coming to OCC. He selected the Mathematics & Science degree program with the intention of pursuing a career related to chemistry, but an internship with the Lewis County Manager changed his focus to becoming a civil engineer so he can serve others.
When Hunt is not in class, he can usually be found in The Learning Center where he tutors students 7 to 8 hours a week in math and chemistry. "It's really nice to work with students and help them. I enjoy it."
Hunt will graduate next May. He plans to transfer to a four-year school and continue pursuing his goal of becoming a civil engineer.