on
News Briefs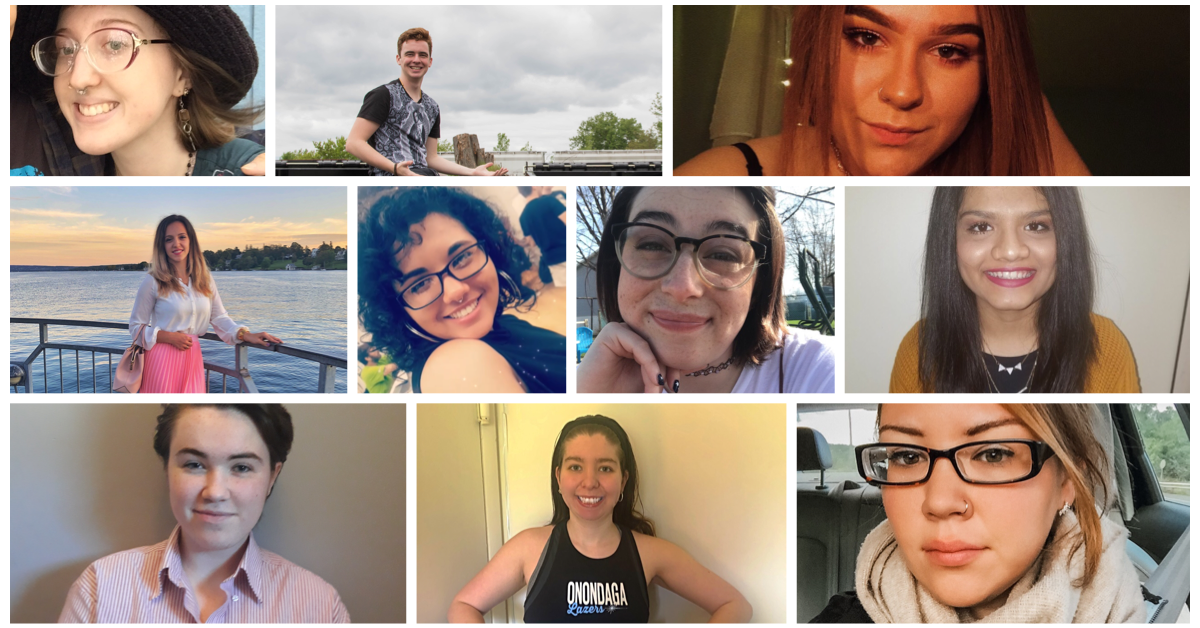 OCC's Faculty held its final Plenary meeting of the spring semester May 19. During the virtual event, OCC Faculty Senate President Nina Tamrowski announced the students who were being honored by faculty for outstanding achievements during the academic year.
Faculty Awards for Academic Excellence
Kiersten Bower - Kiersten is major in Liberal Arts and has a 3.95 GPA. She was recommended by Elizabeth O'Hara who described Kiersten with an impressive list of adjectives: "hard-working, self-motivated, responsible, enthusiastic, and is also mature, good-natured, and caring.
Elizabeth Ives - Elizabeth is majoring in Liberal Arts and has a 3.7 GPA. She was recommended by Laine Lubar who summed up her work in English-104 this way: "Her writing is full of relevant detail moving in a logical progression towards a conclusion that demands remembering."
Gina Segreti - Gina is majoring in Early Childhood Education as has a 3.8 GPA. Gina received multiple recommendations. Professors Malinowski, March, Gabriel, and Martin all admired Gina's ability to overcome life obstacles to become so successful academically.
Yuliya (Julia) Semen - Yuiya is majoring in Liberal Arts with a 3.9 GPA. Yuliya was recommended by Stephen Pierson who shared that, "Yuliya came to the United States in 2015 as an immigrant who experienced the hardship of leaving her native land and culture for the opportunity of a better life in the United States, making the positive energy she has brought to our campus community all the more remarkable."
Each of these students is returning to OCC in the fall and the $700 scholarship they receive will help offset tuition costs. The Faculty Scholarship Committee would like to thank the OCC Foundation for sponsoring these awards and for their continued support in helping students receive the recognition they deserve.
Women's History Month Writing Contest
This contest invited students to submit an essay or piece of creative writing in any genre about women that was written in an OCC course or inspired by an event during Women's History Month. Each year Faculty selects three winners.
1st Place - $250 - Ella Hawkins - Ella's excellent research paper entitled "The Construction of Creation" explores the presence of patriarchal ideologies in creation myths and influential cultural texts and their impact on the perception and status of women over time.
2nd Place - $150 - Bayleigh White - Bayleigh's compelling short story entitled "The Brave Choice" is about a young woman's difficult journey to overcome fear and judgment while exercising her reproductive rights in the 21st century.
3rd Place - $100 - Jamillah Milton - Jamillah's well-written analysis entitled "Gender Roles in The Taming of the Shrew" examines traditional gender expectations for men and women and themes of power and resistance in Shakespeare's The Taming of the Shrew.
Library Research Awards
1st Place - $250 - Emily Knight - Grasping the Red Cloak: An Analysis of Margaret Atwood and Gender Stereotype Inequalities, submitted by Professor Malinovsky who commented, "Emily really 'caught the fire' of research as she worked on her project. Her enthusiasm and engagement in her topic showed in her paper."
2nd Place - $150 - Meg Morse - Song for the Dead, submitted by Dr. Braunberger who commented, "Meg drew connections across sources to develop a new conversation around classic texts in an original and thought-provoking paper."
3rd Place - $100 - Yzabell Vazquez - More Than Just Baby Blues, submitted by Professor Malinovsky who commented, "Yzzy's personal interests in the medical field gave her the spark to really dig into her topic. I was so impressed with her final paper. She tackled some complex sources in a truly engaging way."
ASL Program Marjorie Clere Memorial Scholarship
The $500 Marjorie Clere Scholarship is awarded to an ASL degree student entering their second year in the program. The scholarship is given in memory of Marjorie Clere, a local woman who was a pioneer in the Central New York interpreting community and taught ASL at OCC in the 1980s. This is the first year the scholarship has been given out!
Lauren Keller - Lauren plans to pursue a four-year degree in ASL-English Interpreting at either Gallaudet University or the National Technical Institute for The Deaf after completing work toward her associate degree.
Susan Mitchell Award for Honors Excellence
This award recognizes Honors College work that demonstrates a commitment to one or more of our core values: civic engagement, inquiry and analysis, ethical reasoning, and critical thinking. Each of our two winners will receive a $200 gift.
Dhruvi Patel for "Transplanting Non-Human Organs into Humans: Research on Fish Scales and Primate to Human Transplants" - Dhruvi conducted research on transplanting non-human organs into humans, with a focus on fish scales and three primate-to-human transplants. She worked tirelessly to review and synthesize challenging primary source literature to better understand the process and significance of non-human to human organ transplants.
Daniel Conover for "The Protestant Reformation: Driven by Religious Commitment or Political Benefits?" -  Daniel's research essay explores the extent to which the Protestant Reformation was more than a religious dispute regarding doctrinal truths. His well-researched essay outlines the economic, political, and societal implications of splitting away from the papal authority of Rome.