on
News Briefs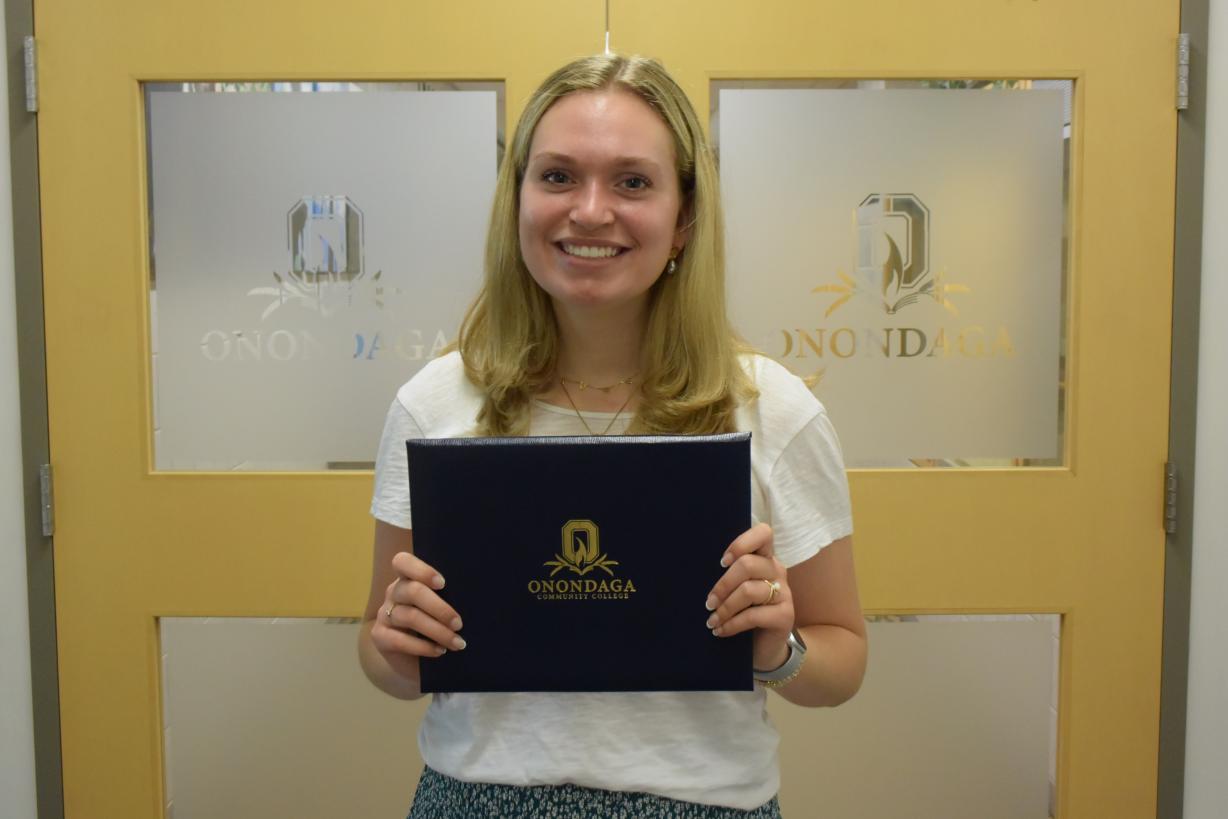 Laura Alcock began mapping out her future in 8th grade. "I knew I wanted to be a lawyer and it would take seven years of schooling. I wanted a shortcut and thought working toward my college degree at OCC while I was in high school would be a good way to do it."
Tomorrow night her hard work will pay off when she walks across the graduation stage at Jordan-Elbridge High School. She'll receive her high school diploma, then her Liberal Arts & Sciences degree from Onondaga Community College President Dr. Casey Crabill. "It's crazy to think about and such a great feeling. College is so expensive. Getting ahead and getting my first two years done early has made such an impact."
Alcock began taking advanced classes in 8th grade. When she entered high school she continued to get ahead by taking Advanced Placement classes. She also participated in the College Credit Now program which provides high school students the opportunity to earn OCC credits through high-level classes offered in high school. And she did it all while playing sports, working part-time, and taking dance classes regularly as she has since age 3.
In the summer of 2020 she began taking classes on the OCC campus, and she continued through the fall and spring semesters. All the while she kept her connections to J-E, playing her final season of tennis and attending the Senior Ball.
This fall she will enter the University of Pittsburgh as a junior. She plans to major in Political Science and minor in Chemistry. "I started taking Political Science here and I really enjoyed it. And I've taken Chemistry since my sophomore year of high school. I did Regents Chemistry, AP Chemistry, and then a class here. I really enjoyed it and excelled at it."
Her favorite course at OCC was Public Speaking which was taught by well-known local attorney Ralph Cognetti. "There was a really fun class dynamic. We would bicker back and forth for fun. He liked my speeches when I gave them and he would keep me up at the podium for way longer than anyone else."
Alcock's love of exchanging ideas will serve her well in the legal community. "I like arguing my points with people. I've worked in customer service for awhile. I've dealt with a lot of controversy and difficult situations."
Congratulations and best of luck Laura Alcock, Jordan-Elbridge High School and Onondaga Community College class of 2021!