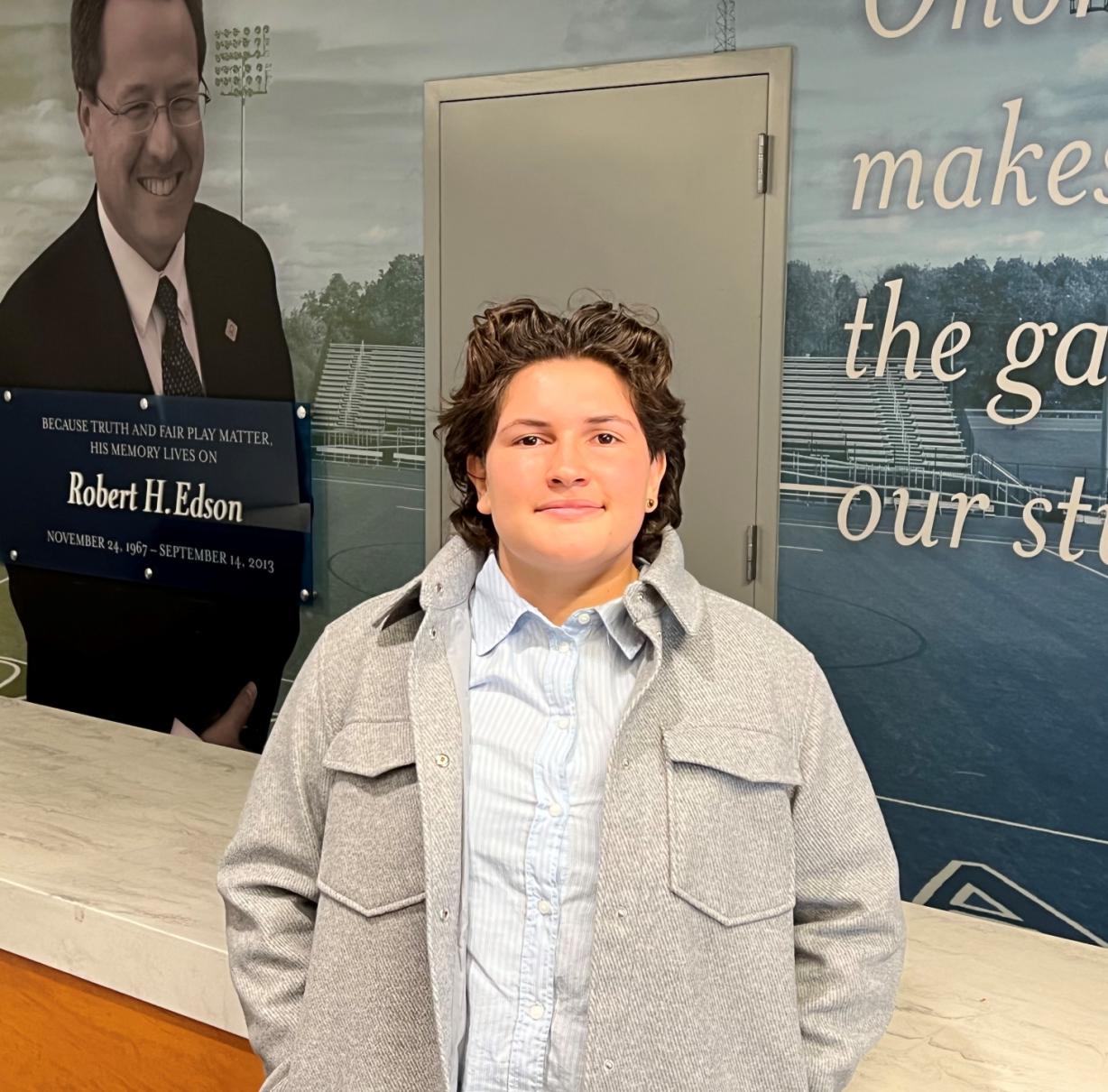 Giuliana Portolesi is a standout lacrosse goalie who is hoping her Onondaga Community College experience will help her earn a scholarship to play at a Division 1 school. And when she does, the Rob Edson Scholarship will be part of her journey. "The scholarship is helping me immensely and taking a lot of weight off my shoulders," she said.
Edson was Onondaga Community College's Athletic Director who passed away unexpectedly in 2013 at age 45. The OCC Foundation created the Robert H. Edson Memorial Scholarship to benefit a student who exemplifies a commitment to academic success, leadership, community service, and integrity. Portolesi is this year's recipient.
Her road to OCC has been a lengthy one. She graduated from high school in Spokane, Washington and received a scholarship to play lacrosse at a four-year school in the midwest. But the college wasn't a good fit for her and she wound up back in Spokane. With Covid in full bloom, she decided to take a year off and consider her options.
While researching possibilities, she learned about OCC and its rich tradition of success. She emailed the coach and made a quick visit to campus. "The second I saw the SRC Arena and everything on the athletic side, I was sold. It seemed to be everything I needed to get where I want to go."
Portolesi enrolled in January, and shortly after she arrived lacrosse practice started. "Right away I saw a level of lacrosse IQ I didn't expect. My expectations were exceeded."
Once the season began the Lazers lost their first two games, then didn't lose again until the national championship game, falling to Harford Community College 19-14. "The relationships we made and our growth as a team throughout the season were amazing. Coach (Erik) Mattox would always tell us every day was a chance to get 1% better. Our last practice of the season was our 100th practice so we made a point to say we were 100% better than the first day we started. You could really see it."
After completing the spring semester, Portolesi was selected to play for the Italian Women's National Team at the World Championships in Maryland. But shortly before the games began she was involved in a serious car accident and suffered a concussion, making her unable to play.
During her recovery process she struggled with the lost opportunity. "It was a very difficult time. I didn't touch my stick for two weeks. When I finally did I started throwing a ball against a wall. An hour of doing that lifted everything again."
Now she's back on campus, beginning fall practice and pursuing her Exercise Science degree which she will complete next May. And with the Rob Edson Scholarship covering her tuition costs, she has one less thing to worry about. Shortly after learning she had been chosen for the scholarship, Portolesi received a text message from Edson's daughter, Tracey. "She congratulated me on getting the scholarship and wished me luck. I thanked her and let her know how much the scholarship meant to me. It was really nice of her to do."