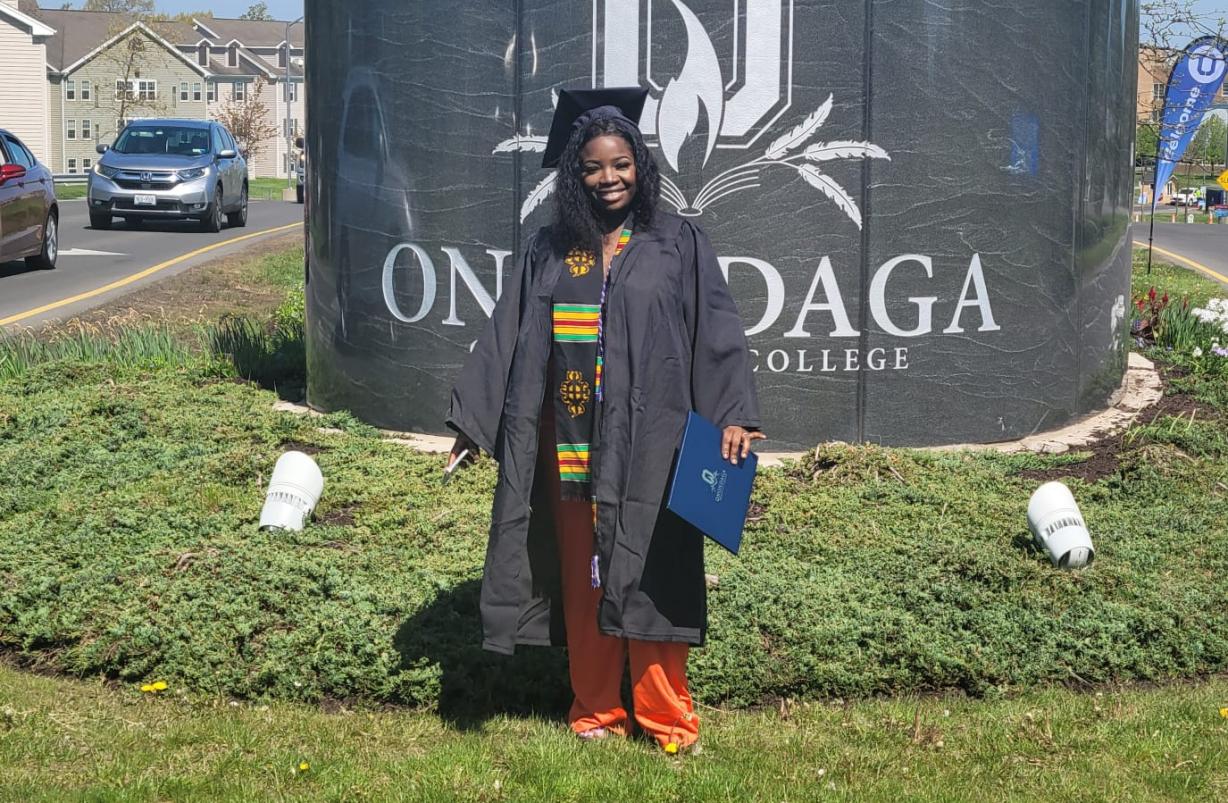 Regina Kangela is overcoming incredible odds as she pursues her dream of becoming a physician. She's gone from having to flee her home in the Democratic Republic of the Congo, to being the only community college  student selected in all of New York State for SUNY's Educational Opportunity Program Pre-Medical School Scholars Program. "This means so much to me. It gives me hope I can have a bright future no matter what my background might be."
Kangela came to the United States three years ago, earned her GED at the Educational Opportunity Center in Syracuse, and enrolled at Onondaga Community College. "I had friends at OCC who kept telling me it was the best college because of the great help you received there."
The College's Mathematics & Science degree program would give her the academic foundation she needed for a career in medicine. And when she wasn't in class, her home on campus was the Educational Opportunity Program (EOP) office on the second floor of Coulter Hall.
In May, Kangela became the first person in her family to earn a college degree when she walked the stage inside the SRC Arena. Around that time Denise Valdes, Director of EOP at OCC, learned Kangela had been the only community college student in all of New York State chosen for SUNY's Pre-Medical School Scholars Program this summer. Candidates for the program needed a minimum 3.2 grade point average and to have completed three consecutive semesters of Biology and Chemistry. "I can't tell you how proud I am of her," said Valdes. "She worked so hard and she's a rock star!"
The summer program will be a huge step for Kangela as she pursues a career in medicine. "I want to see how doctors work and gain a better understanding of my path. I'd like to become a Physician Assistant, and ultimately a Physician."