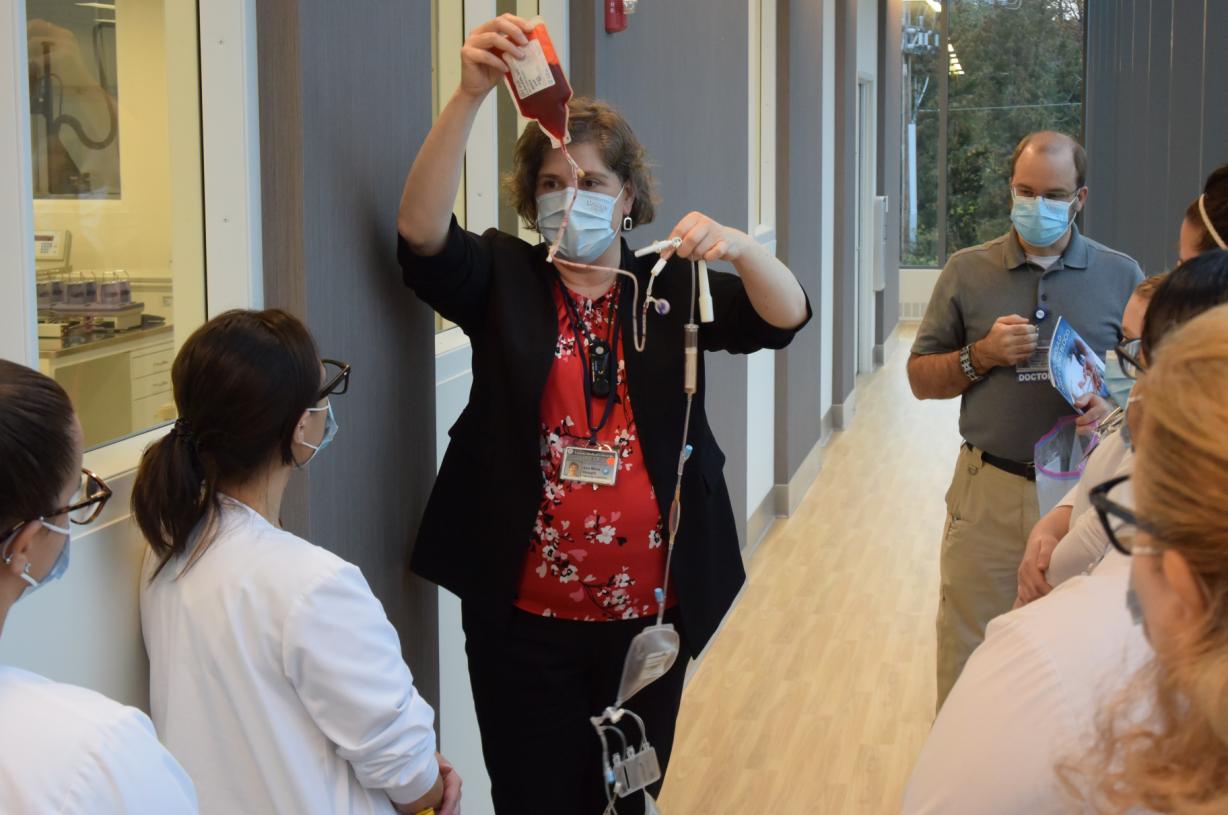 There are approximately two dozen publicly funded Cord Blood Banks in the United States and only one in all of New York State. It's located just a mile-and-a-half from  the Onondaga Community College campus at Upstate Community Hospital. OCC Nursing Professor Lee Berg believes the close proximity of the Cord Blood Bank provides her students with a wonderful learning opportunity. That's why she always makes sure to bring them there for an eye-opening tour of the facility. "I hope my students will remember the Upstate Cord Blood Bank tour long after they graduate, encourage colleagues to learn more about it, and encourage childbearing families to donate their cord blood."
The Upstate Cord Blood Bank collects, tests, processes, stores, and distributes umbilical cord blood donated by families to be used by those in need of life-saving medical treatments and for medical research. The umbilical cord, and the cord blood in it, can be used to treat approximately 80 major diseases that include certain cancers and immune diseases for adults and children. Researchers are also investigating cord blood's potential for treating additional illnesses, such as heart disease, stroke, and much more.
The 20,000 square foot Upstate Cord Blood Bank opened early in 2017 thanks to retired New York State Senator John DeFrancisco. During his career in the State Senate, which spanned parts of three decades, he rose to the ranks of Deputy Majority Leader. His political muscle helped secure $15 million in funding for the project.
Professor Berg brought a group of six Nursing students to the Upstate Cord Blood Bank November 9. Their tour was led by Laboratory and Medical Director Dr. Matthew Elkins MD, PhD, and Business Manager Ann Marie Straight, MBA. They explained how the lifesaving contents of the umbilical cord would be processed and preserved in the facility for future use anywhere in the United States.
Despite the outstanding work being done inside the Upstate Cord Blood Bank, informing the public about it remains a major hurdle. In 30 states it is required that expectant mothers are given information about cord blood banks and the value of donating umbilical cords which would normally be disposed of. In New York State lawmakers have not put such a mandate in place. This informational map will show you how all states, including those which border New York, handle the process. Lawmakers in neighboring states of Pennsylvania, New Jersey, Massachusetts, and Connecticut require that expectant mothers be informed of the option and the benefits of donating to a cord blood bank.
OCC Nursing student Gwen Bennett, a 2019 graduate of Liverpool High School, enjoyed visiting the Upstate Cord Blood Bank and hopes policies will change regarding how expectant mothers learn about it. "It was very eye-opening to know that a simple, harmless procedure has the potential to save and improve lives in so many ways.  I hope that with further education of women throughout their prenatal care, and further awareness of what cord blood can do, the number of cord blood donations can substantially increase." 
There is no cost to donate to the Upstate Cord Blood Bank public bank. Donated units will be used for transplantation, locally and nationally, to help save the lives of others.  Expectant mothers should speak with their doctor, if they are interested in donating cord blood. They can also directly call the Upstate Cord Blood Bank at (315) 492-2600.