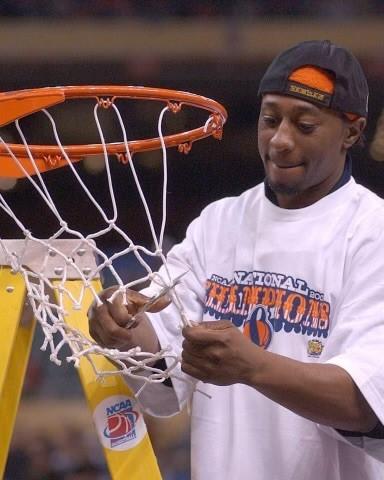 Somehow it's already been 20 years since the greatest post-season run in Syracuse University Basketball history. In March of 2003 the Orange began their journey through the NCAA tournament bracket, and by the first Monday in April they were crowned National Champions.
Onondaga Community College alumnus Tyrone Albright '02 had a front row seat for all of it. He was a walk-on (non-scholarship) member of the team who rarely saw game action, but played a critical role in daily practices, getting his more well-known teammates ready for the biggest moments of their lives. "I've never been a part of something like that before or after in my life. The amount of excitement, fanfare, and media was incredible," he said.
Albright moved to Syracuse in 1987, right around the time the SU Basketball team was making another long run in the NCAA Tournament. The Orange would make it all the way to the National Championship game where they lost to Indiana by one point. Despite the loss, he was hooked on Syracuse Basketball.
After graduating from Corcoran High School, life began quickly. Albright entered the workforce, married his girlfriend Keturah, and they started their family. After the birth of their second child, Tyrone and Keturah both realized they needed more education.
They decided Tyrone would go to college first. He arrived at OCC in 2001 and enrolled in the Computer Information Systems degree program. "I was 24 years old and didn't plan to do anything other than get my degree, but a friend encouraged me to go our for the Men's Basketball team." His wife encouraged him to do so too, and he received scholarships from the OCC Foundation to help make ends meet.
Despite the fact he never played varsity high school basketball, Albright set OCC records for a single game, season, and career. He was a two-year team captain and earned All-Conference honors as a sophomore. Best of all, he had a 3.5 grade point average. "I learned how to balance school, basketball, and family. When it was time to transfer, the foundation for success was already there."
He wound up transferring from one hill to another, landing at Syracuse University. Again, he never intended to play basketball but an opportunity presented itself. Before he knew it he was on the roster with highly recruited players such as Carmelo Anthony, Hakim Warrick, and Gerry McNamara.
Balancing school, basketball, and life was a huge challenge, but his wife continued to be his personal most valuable player. "Having her support meant everything. Seeing her excitement as I lived out my dream playing basketball at such a high level helped me focus more. I will always appreciate her for that."
Albright would appear in 7 games during the season. Thanks to his age and life circumstances, he was mature enough to appreciate it and understand just how special it was. But for Albright and the other walk-ons, their true value was in practice. "Most of us could have played college basketball at smaller schools, but our jobs were to push the starters as hard as we could to make sure they were as prepared to play as possible. The Orange would go undefeated at home, 30-5 overall, and enter the NCAA Tournament ranked 13th in the nation.
SU would win its first two games in Boston and two more in Albany to advance to the Final Four. Playing the games so close to home meant Keturah could attend. And when the team returned home to campus, they received a heroes welcome. "Seeing the fans there to greet us was something I will never forget."
SU's first game in the Final Four would be against Texas, a team which featured a point guard named T.J. Ford who was similar in stature and speed to Albright. "In practice it was my job to mirror him so my teammates could adjust in advance rather than during the game." Ford was held to 13 points and SU won 95-84 to advance to the National Championship game.
Two nights later SU would defeat Kansas 81-78 for its first and only National Championship. As the final seconds ticked off the clock and the victory became official, Albright ran out onto the court. "I was jumping in the air towards Carmelo thinking he was going to catch me or bump me, and instead he ducked. I landed on the floor and the team dogpiled on top of me which is what everyone saw on TV!"
Two decades later Albright may be the most famous IT person in Central New York. He's worked at Excellus as an IT Security Engineer since finishing his degree at SU. Keturah also attended OCC, earned degrees from SUNY Empire and SU, and is working on her doctorate in Family Therapy. Their oldest daughter, Patricia attended OCC, and their son Kerrick is a student at OCC currently.
At the end of every NCAA Tournament, the CBS Television Network puts together a series of highlights with the song "One Shining Moment" playing underneath them. For the Tyrone Albright, the beginning of the journey to his one shining moment will always be the time he spent at OCC.
The OCC Foundation works to support students with programming, emergency funding, and awards that help students get to the finish line. To learn more about how you can support students, please contact Steffani Williams, Director Development & Annual Giving at williast@sunyocc.edu.