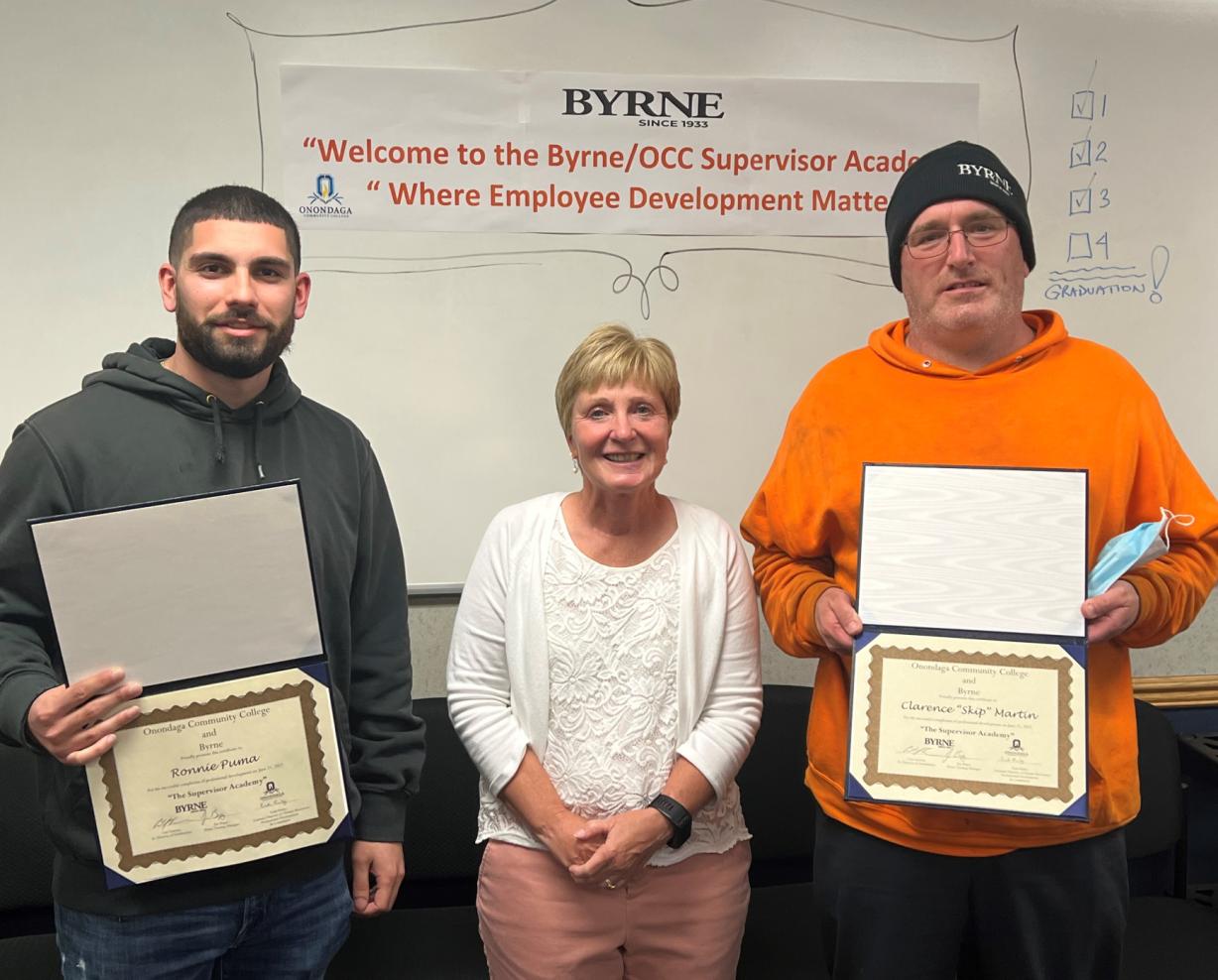 The impact of a nationwide labor shortage is being felt here at home where businesses are working harder than ever to hire and retain employees. That's why Onondaga Community College started reaching out to local employers, asking how we could help them develop their managers of tomorrow. The by-product of those conversations was "Supervisor Academy," a professional development training series administered in the workplace by OCC. "We wanted to be part of the solution by providing professional, in-depth, interactive training. We are the community's partner in education. Businesses are constantly changing and adapting, and we are here to help their employees grow as well," said Russ Corbin, OCC's Director of Business & Community Education.
Corbin and OCC's Director of Professional Development Enid Reiley brought their pilot plan to Byrne Dairy which has been a staple of the Central New York community for nearly 90 years. "Career advancement and retention are huge for us. We wanted to incorporate training and awareness and build on it. We wanted to give people steps to get there," said Jim Begay, a Supervisor at Byrne Dairy's Cold Storage facility which is located on Syracuse's North Side between NBT Bank Stadium and the William Walsh Regional Transportation Center.
The first two Byrne Dairy employees to participate in Supervisor Academy were at opposite ends of the experience spectrum. Skip Martin had worked at Byrne Dairy for 28 years, while Ronnie Puma had been there for just 2 years. Martin had recently become a supervisor on the first shift where he oversees 20 employees. Puma supervises 12 colleagues on the second shift.
Reiley led a series of four training sessions which covered a variety of critical topics including:
Team Building
Conflict Resolution
Management versus Leadership
Transitioning from Peer to Supervisor
Performance Management
Maintaining Motivation or "Skill versus Will"
One of the keys to the program's success are Reiley's methods. Rather than classroom-style lectures, her lessons are fun. For example, conflict resolution was taught through a "Jeopardy-style" game. "It was much more interactive than being in a class. The training really opened up my mind. It gave me another view on things, why people do what they do, and how to react to it," said Puma.
On June 21 Puma and Martin completed their Supervisor Academy training sessions and were presented with certificates by Reiley. "I was very impressed with both of them, how they supported each other, and how the company supported them throughout this process," she said.
Reiley has given Puma and Martin "homework" and will return to Byrne Dairy next month to see how they are doing. Although the initial phase of the program is complete, the learning and growing will continue. "We had people do training in the past. They would pay a certain amount of money, receive something they put on a shelf, and it was over. This is different because of the follow-up work Enid is doing to make sure lessons learned stay in the person's day-to-day work," said Begay.
If your business is interested in learning more about how OCC can provide training solutions for your employees, contact Russ Corbin at (315) 498-2831 or corbinr@sunyocc.edu.