on
News Briefs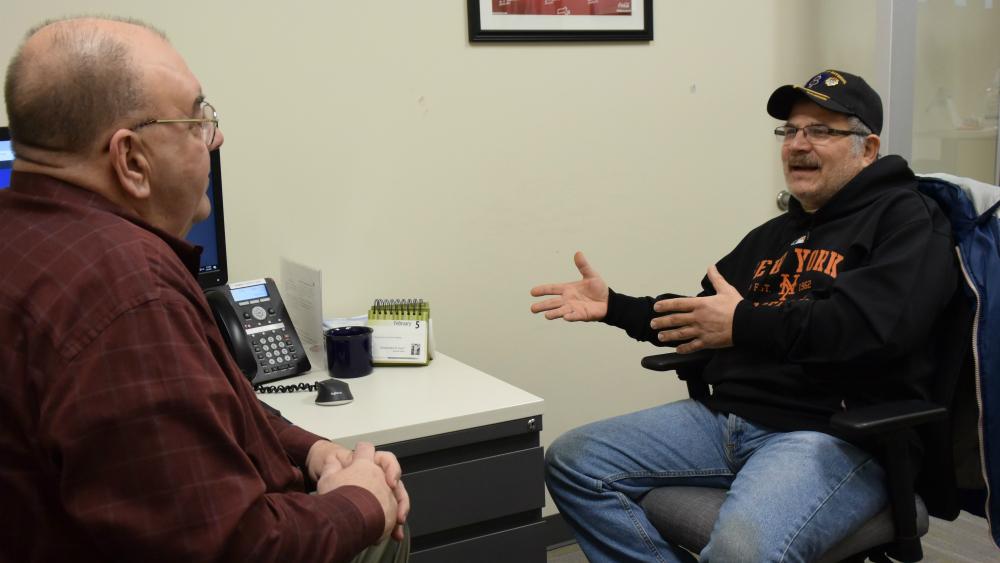 Onondaga Community College has been named a Military Friendly School by G.I. Jobs Magazine. More than 1,000 schools were considered nationwide. OCC was one of just 625 which earned the designation. The final ratings were based on institutional survey scores coupled with the ability to meet thresholds for student retention, graduation, job placement, loan repayment, persistence (degree advancement or transfer), and loan default rate for all students and, specifically, for student veterans.
OCC has a dedicated space for Student Veterans. The Office of Veterans' Affairs is located on the second floor of Coulter Hall at the top of the main stairwell in room C217. The office is led by Steve White and Amy Monnat. White spent four years in the United States Marine Corp before going to college. "The resources we offer Veterans and other military connected students is a direct reflection of the commitment of OCC's leadership to serve those who have served our nation. It is truly an honor to be part of that effort," said White.
One of the Student Veterans who calls the office his home on campus is Miguel Casul. He's a retired 20-year veteran of the United States Army whose combat service included time served in both Operation Desert Storm and Somalia. Military life was something he knew and loved. Coming to OCC at age 60? That was much different. "I knew going to college wasn't going to be easy. There's so much technology now. Things like 'blackboard' are all very new to me. I had a rough transition. But I love Steve White and I love OCC. It's awesome here."
Casul grew up in the shadows of the Brooklyn Naval Yard. A career in the military was his dream from a young age. "I remember being 6 years old and seeing a lot of soldiers coming back from Vietnam. It captivated me. I knew right then and there I wanted to be a soldier.
Shortly after graduating high school in 1977, Casul enlisted. He would travel the world including six years stationed in Europe. He rose through the ranks and became a Chief Engineer.
Following his honorable discharge Casul went to work locally at Empire Vision on Fly Road, grinding eye glasses. When the company decided to move its facility to Texas, Casul decided to come to Onondaga Community College and pursue a Professional Cooking certificate.
His first semester was a major challenge inside and outside the classroom. Both he and his wife have health issues, and together they struggle to care for their 31-year-old son who is a blind quadriplegic. "Taking care of a family member in his condition is a lot of hard work. You have to have a tremendously strong mind and a will if iron. If you don't have both of those you aren't going to make it."
As finals approached during the fall semester, Casul's son was hospitalized for 10 days and, understandably, his coursework slipped, "I didn't know if I was going to make it. But I decided I had worked too hard, too long, and come too far to give everything up. My professors understood where I was coming from and worked with me."
When Casul was struggling the most, he drew inspiration from English Professor Michelle Malinovsky. "She motivated me and kept me going. She always said the right things at the right time. If it wasn't for her, I wouldn't have made it. She was a beacon of hope."
Her inspiration and his hard work paid off. Casul earned just above a 3.0 in his first semester. "I never expected to do this well. I was shocked."
Casul will complete work toward his Professional Cooking certificate in August. His plan is to travel Europe, visit where he was stationed while in the Army, and observe how restaurants there are run. He hopes to open his own restaurant one day.