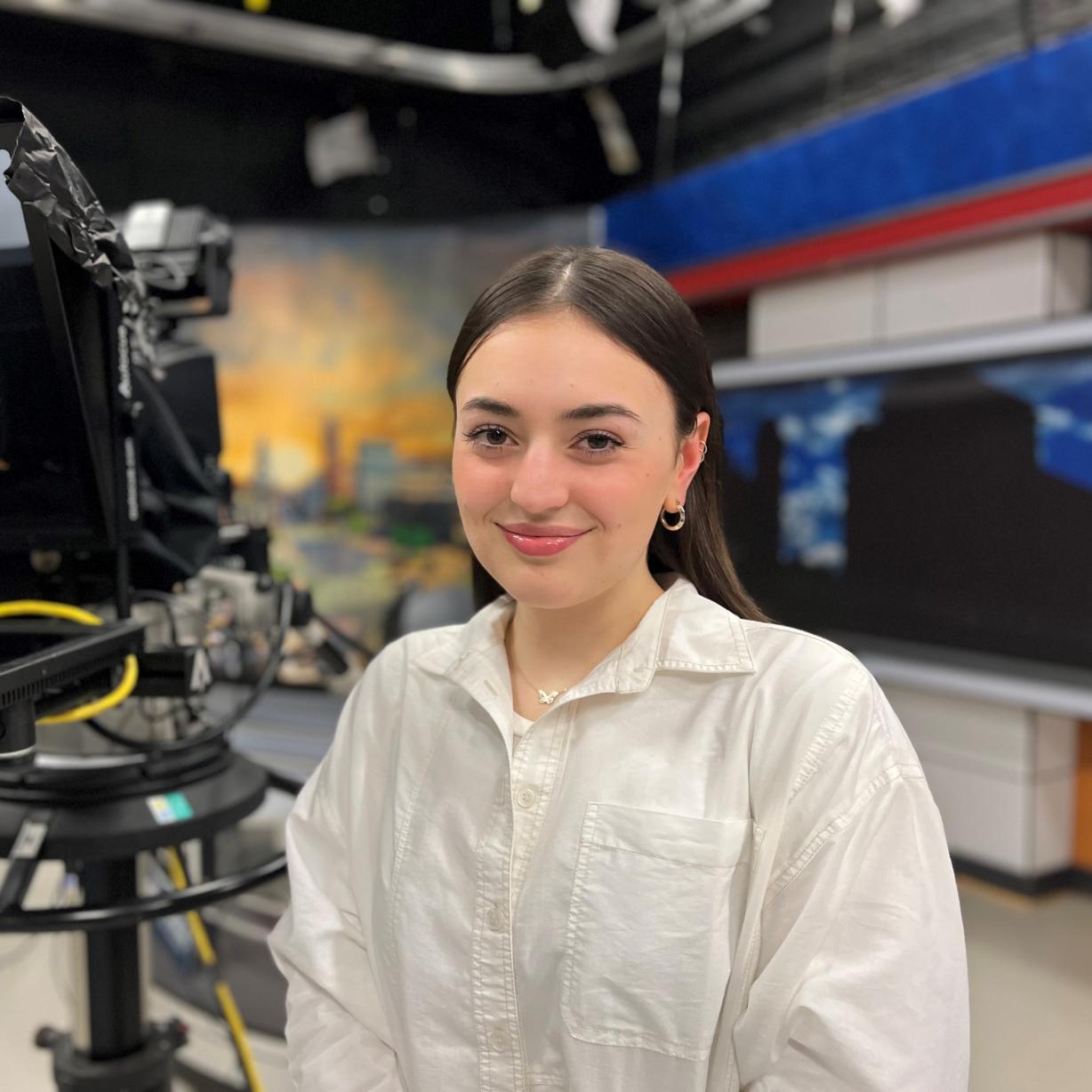 The Syracuse Press Club presents a prestigious scholarship to one student each year. Usually the recipient is enrolled at a four-year school.
Last Saturday night at the Syracuse Press Club's annual awards banquet, the Devesty-Williams Scholarship was presented to Allie Elkins. She is a soon-to-be-graduating student in Onondaga Community College's Broadcast Media Communications degree program. "For me to represent OCC with this award means so much. The professors here have given me so much. It means the world to make our broadcasting program look so good because the college has been so good to me," said Elkins.
The outstanding quality of Elkins' work was recognized by OCC's Broadcast Media Communications Professors, many of whom work regularly in the broadcasting industry when they aren't teaching. They encouraged her to apply for the scholarship, and she decided to do so the day before the entry deadline. She submitted a story she put together about fellow student Nick Chai, and another story about adjunct professor and radio sports talk show host Jim Lerch. She also assembled her philosophy statement, her references, and hoped for the best.
A few weeks ago she was doing schoolwork at home when her phone rang. When the caller said she was with the Syracuse Press Club, Elkins bolted into the living room where her parents were sitting and put the call on speaker. "She told me I had won the Syracuse Press Club Scholarship and I screamed at the top of my lungs! I was so excited and my parents were so excited. They were beaming."
It was a full circle moment for her father who had won a Syracuse Press Club Award in 2004 in the category of "Best Documentary." Doug Elkins was well-known on the local racing circuit where he started as a driver, and continued as an announcer and member of the media. Growing up, Allie watched her father work with racers and even became one herself. She started at age 13, driving a microd at the New York State Fairgrounds. Microd racing is for boys and girls ages 5 to 18 and is done on short tracks. She went from racing microds to the DIRT circuit. Here you can watch video of her winning a heat at Paradise Speedway in Geneva at age 16.
After graduating from Liverpool High School in 2021, Elkins enrolled in OCC's BMC program. She worked hard in class and took advantage of numerous industry opportunities which her professors connected her with. Throughout this academic year she worked with the ACC (Atlantic Coast Conference) Network on Syracuse University games as a camera operator and replay operator. And this summer she will be part of the production crew for an International Motor Sports Association race at Watkins Glen. "The experience has been phenomenal. A lot of the people I've been working with, especially at the ACC Network, are OCC grads. We share in the experience and they are so excited to help other OCC students. Meeting people, having contacts, and learning more about the business while I'm still in school has been such a privilege and I feel so fortunate."
Elkins will continue her education this fall in St. Bonaventure University's Sports Media program.