on
News Briefs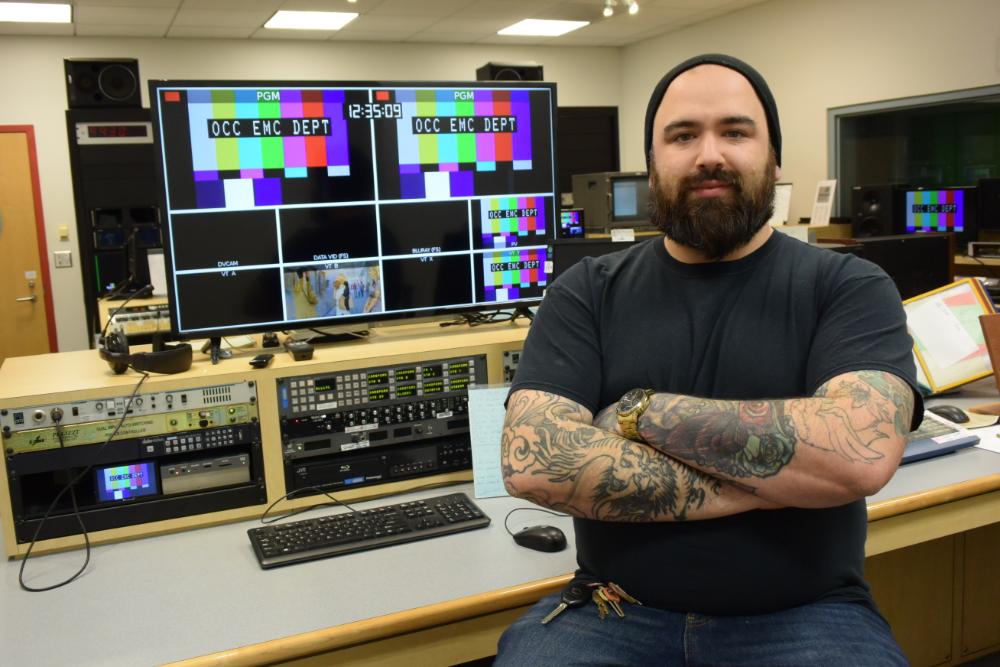 Charles Spataro spent the last decade working as a tattoo artist when he decided to give college another try. "For about a year I looked at all of the different degrees. I would YouTube them, see what people did, and find what interested me. That's how I landed here."
"Here" is OCC's Electronic Media Communications (EMC) major which Spataro entered in the fall 2019 semester. As he was adjusting to life in the class room, he also continued working as a tattoo artist at Scarab Body Arts in Armory Square, and ran for a seat on the Village of Solvay's Board of Trustees. He lost to an incumbent by less than two percent. Despite everything he had going on, Spataro earned a perfect 4.0 grade point average. "I was pretty surprised by how well I did. I was a little nervous going back to school but once I got back into it everything went well."
Spataro tried college briefly after graduating from Hannibal High School in 2006, then went to work. He had always been fascinated by tattoos. "When I was about 13 I would show pictures of tattoos to my mother and ask her if I could get them. She said 'no.'" Spataro would get his first tattoo after he graduated from high school. A short time later, he began working at a local tattoo parlor doing odd jobs. By age 21 he was a licensed tattoo artist.
Ten years later, he became a student at OCC and found a home in the EMC major. "It has a lot of different things in it and I'm interested in all of them. I always enjoyed music, film, and things of that nature and I want to learn all about it. I never really thought too much about the broadcasting side of it but now that I'm in it I really like it."
Spataro has also matured into a much better student than he ever was. "My focus is far different now. I used to go to school and didn't want to be there. Going for something I want has made it more fun. It's easier to stay focused and apply myself."