on
On Campus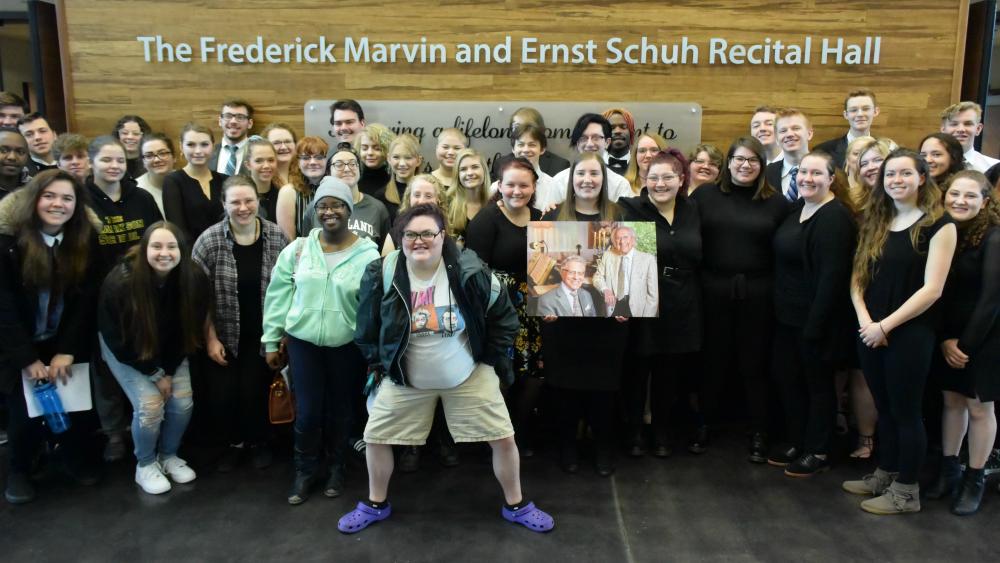 Onondaga Community College's showcase music space, the Recital Hall in the Academic II building, was renamed the Frederick Marvin & Ernst Schuh Recital Hall during a moving ceremony March 13. Marvin was a world-renowned concert pianist. Schuh was his manager and husband. Marvin and Schuh gifted the College a mid-sized grand piano, much of their music collection, and a generous amount of support which will assist students for the foreseeable future. Current student Grace Norton is attending OCC tuition-free thanks to an endowed scholarship in their name.
Norton was among those who spoke at the ceremony. She thanked Marvin and Schuh for their scholarship and the positive impact it had on her time here. OCC Music professor Dr. Kevin Moore reflected on Marvin and Schuh's amazing lives and their constant support of OCC students. He also played a musical tribute to them on the piano they donated. Music Professor Dr. David Rudari and the OCC Concert Choir performed the National Anthem and Alma Mater during the event. College President Dr. Casey Crabill concluded the ceremony with moving remarks directed to Schuh who lives in Austria and will be receiving a videotaped copy of the event:
"I'm so pleased to have the opportunity to dedicate the Frederick Marvin and Ernst Schuh Recital Hall on behalf of the Board of Trustees of Onondaga Community College and to celebrate that dedication with the performances and reflection you heard today. Ernst, we remember you and the legacy and the love you shared with our students and we thank you."