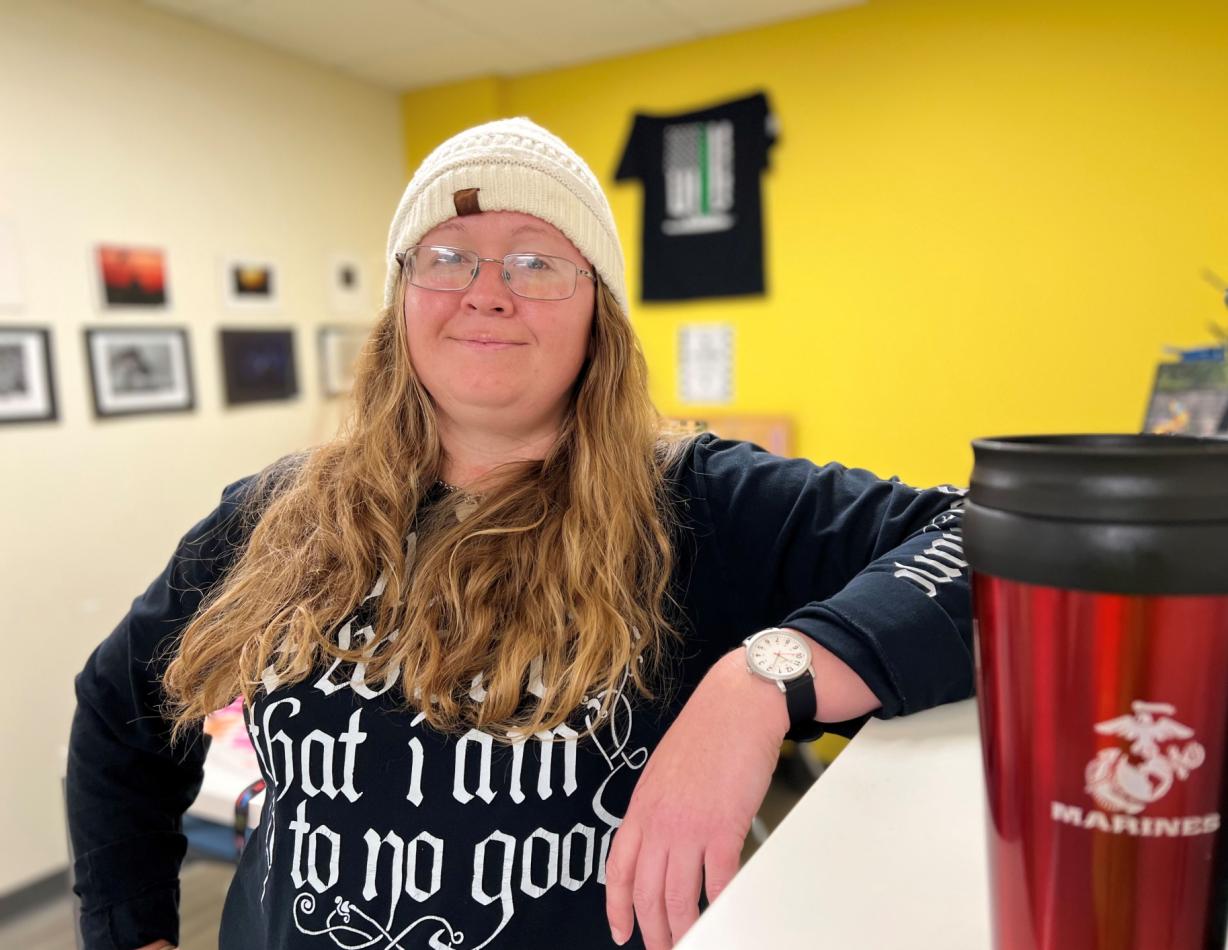 Each Friday during the month of November we are recognizing one of our outstanding Student Veterans who served our country as a member of the United States Military, and is now pursuing a degree at Onondaga Community College. Today we introduce you to Rebekah Wade.
Rebekah Wade spent the first 20 years of her life trying to figure out what she wanted to do. A recommendation from her father, who is a United States Navy Veteran, set her on her path. "He told me if I joined the Navy I could gain some character and receive education benefits. I took his advice and here I am."
Wade spent the first 10 years of her life in Great Falls, Montana, and the next 10 in El Paso, Texas. After graduating high school she tried college at the University of Texas at El Paso. She wasn't as focused as she is now, and left after a semester.
She worked a variety of part-time jobs for a short period, then took her father's advice and joined the Navy in 2014. Wade was stationed in Norfolk, Virginia where she was attached to a destroyer ship, the USS Nitze and served as a Radar Tech. She was in the Navy for more than 6 years, then joined the Navy Reserves.
When the mother of a former boyfriend invited her to come visit her in the Tompkins County Town of Dryden, Wade fell in love with the region and decided to pursue her education here. She researched her options and enrolled at Onondaga Community College in 2021.
Wade quickly settled in and became a part of three different communities on campus. The first is the Phi Theta Kappa Honor Society. OCC's chapter is ranked 3rd in the world out of nearly 1,300 chapters, and Wade is a member of its Leadership Team. "I decided to do this because I want to build on my leadership skills, encourage other students to become leaders, and be involved with some of the different projects we are working on."
The second community is the Nursing degree program. "It's flexible and I can set my own schedule. I like the balance they give us between actually physically going out on clinicals one day a week for the hands-on experience, and the learning."
Her third group she belongs to is Student Veterans, who are headquartered in the Office of Veterans and Military Affairs on the second floor of Coulter Hall. Because of the outstanding level of service the office provides under the leadership of Steve White, it has been named "Military Friendly" and "Best for Vets" by national organizations. "Steve is very helpful and very quick to answer questions. I can come in almost any time of the day and his door is open. Being a Veteran here is like being part of a family. I love it in here. It's very friendly."
Wade hopes to be in her final semester at OCC one year from now, and complete her Nursing degree in December 2023. OCC thanks Rebekah Wade and all of our Student Veterans for their service to our country.