Image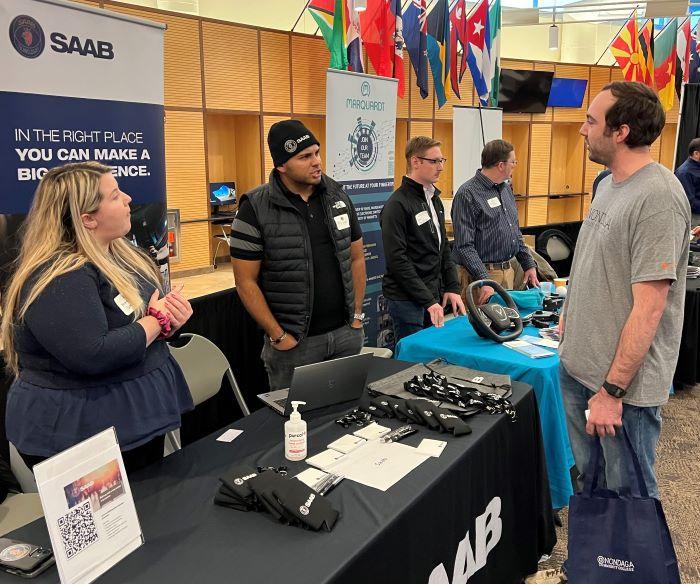 Onondaga Community College student Cole Dack came to the STEM Showcase with a list of six or seven employers he wanted to speak with. He's a Mechanical Technology major who will complete his degree next May and his career goal is to be an engineer. One of the companies he spoke with was defense contractor Lockheed Martin. "I did some of the junior programs there when I was in (Baldwinsville) high school. I've always been interested in working there. They have some great career opportunities and I gained some valuable information. They told me about some part-time programs which would allow me to continue my education."
Dack was one of more than 90 students who participated in the STEM Showcase November 9 on campus in the Gordon Student Center. A total of 18 employers participated in the event which gives students the opportunity to explore career options and network with potential employers. "This is a very important event for us," said John Ryan who is a Tooling Manager at Marquardt Switches in Cazenovia. "We've made valuable connections at this type of event in the past and have hired people from your programs." Ryan was manning the Marquardt table along with co-worker Ben Fechtner who completed his Mechanical Technology degree at OCC.
Another student who made connections at the STEM Showcase was Liam Chavis, a Computer Science major who is also on the Student Advisory Board for OCC's School of Technology, Engineering & Computing. He attended the event last year, had a good experience, and decided to come again. "I want a career in software, but right now I'm more concerned with just getting my foot in the door somewhere. I'm working retail right now and would like to begin the transition to tech."
The STEM Career Showcase was presented by OCC's School of Technology, Engineering, and Computing, and the School of Liberal Arts & Sciences in conjunction with the Office of Career & Transfer Services. "It was exciting to see such a large number of students attend and take advantage of the opportunity to connect with employers in their field of study, and wonderful to have some of our key employers partners here supporting the future local workforce," said Dana Acee, Director of OCC's Office of Career & Transfer Services.
Participating employers included:
Driver's Village
Inficon
Lockheed Martin
Maguire Family of Dealerships
Marquardt Switches
National Grid
Nucor Steel
Onondaga County Department of Water
Peace Inc. IT Department
Repair Shop and Gasoline Dealers Association
Saab, Inc.
Schneider Packaging
SGS Galson
Tessy Plastics
The Haynor Hoyt Corporation
VIP Structures
Waygate Technologies
Wolfspeed