Image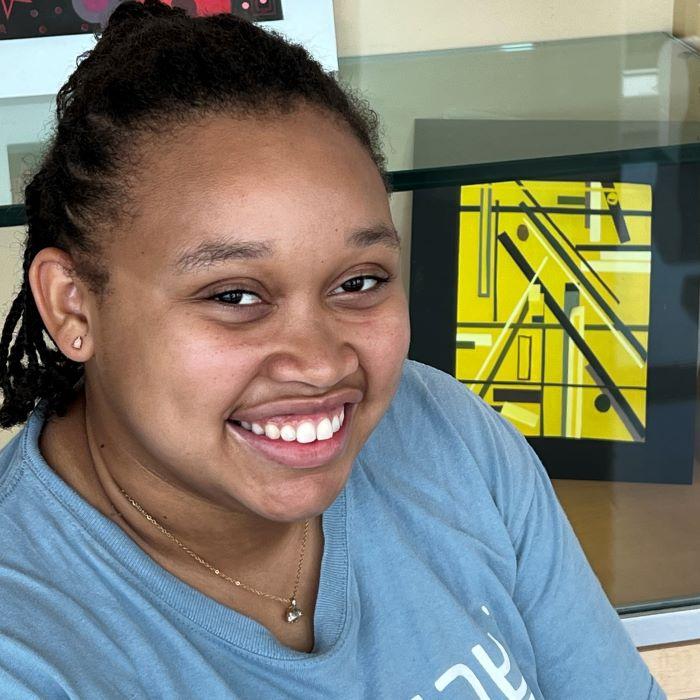 Amya Graves is so passionate about wanting to work in Tokyo one day as an illustrator she taught herself Japanese. "I bought books and watched videos on YouTube. It took me about 5 years." Her inspiration is Hayao Miyazaki, a Japanese animator, filmmaker, and artist who is considered to be one of the most accomplished filmmakers in the history of animation.
Graves interest in animation began in high school. "I started doing complex drawings and I realized I liked doing it." She also became passionate about marine biology after watching a TV series narrated by British broadcaster and Emmy Award winner David Attenborough. "It led to me studying the meticulous drawings people do of dinosaurs, organisms, and other things in science books."
After completing high school at home, Graves decided to come to OCC. She started in the summer of 2022 in the Educational Opportunity Program's Residential Pre-Freshman Summer Institute. Over the course of 5-and-a-half weeks she lived on campus, took college classes, ate meals in the cafeteria, and got a taste of what college life was like. "It really helped me get a feel for college. I was nervous at first but it went very well."
That fall she became a full-time student in OCC's Art degree program with a specialization in Drawing and Painting. She would occasionally carpool to campus with her mother, Sharikee Banks, who is in OCC's Nursing program. After an outstanding first semester, Graves was inducted into the Phi Theta Kappa Honor Society. "I was so surprised and honored. I thought 'this is how hard work pays off.' It encourages you to keep doing a good job."
During the spring semester she had the opportunity to meet OCC Alumnus London Ladd '95, a nationally-known illustrator whose work has helped tell the stories of some of our nation's most significant figures such as Martin Luther King, Jr., Frederick Douglass, and Oprah Winfrey. "He brought in his books. The color and  the art were just amazing. They were the type of books I would like to do illustrations for one day."
Graves will complete her degree next May. She plans to transfer to a four-year school and keep pursuing her dream of working in Japan one day.