Image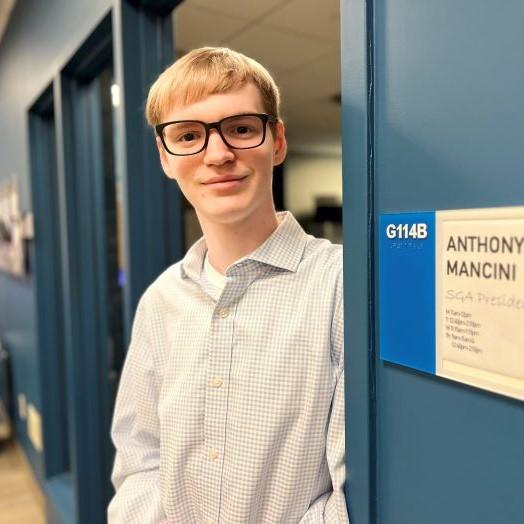 Anthony Mancini decided to run for Student Government President so he could help make a difference in campus life. He was elected and is now in his first semester leading the student body. "I want to be a voice for the students. I want to hear from them and promote their concerns and ideas and suggestions as much as possible."
Mancini came to OCC from Baldwinsville High School where he eventually became an excellent student. "Between my sophomore and junior year I realized I wanted to go to medical school and go into psychiatry one day. I realized I needed to stop wasting away my time playing games or doing things that didn't contribute much to my future. I needed to settle down and get to work."
When he began examining college options, Mancini realized he could save money by starting at OCC and get the same education he would have received at more expensive schools. He chose the Humanities & Social Sciences degree program which would give him the foundation he needed when it was time to transfer. He enrolled in the fall 2022 semester, had an outstanding first year, and was inducted into the Phi Theta Kappa Honor Society.
His plan is to complete his degree next May, transfer to Syracuse University for Psychology, then pursue an advanced degree in Psychiatry. His personal struggles with mental health inspired his career choice. "I want to specialize in adolescent psychology. I want to be there one day to help reduce the number of those who are waiting for care. I was able to get the treatment I needed but it took me awhile. Through my experiences I understood how it could change someone's life."
Mancini also has Autism. During his year as Student Government President he wants to give voice to those in the disabled community. He is also a big believer in students getting involved and taking advantage of all of the opportunities on campus. He wants to create and implement a system which will help schedule club events in a way that minimizes overlapping activities.
If you are interested in getting involved, you can visit the Student Government Association office. It's on the first floor of the Gordon Student Center in room G114 next to the Lazer Lounge.