on
Succeeding @ OCC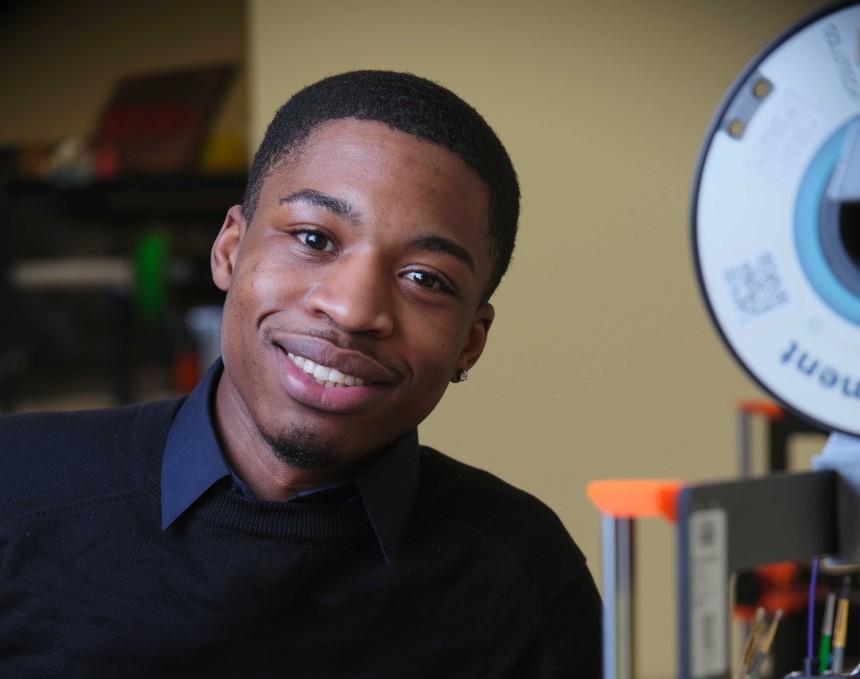 Cristian Pompey was close to winding up in a very bad place. During his first two-and-a-half years at Brooklyn Collegiate High School he rarely attended. "If I wasn't skipping school, I was skipping classes. I didn't take school seriously and I was living on the streets. I was in a really bad crowd with people I considered to be my brothers until they stabbed me in the back. That's when I realized it wasn't the life I wanted to live."
As a young boy Pompey loved playing games on his laptop. He learned coding and figured out how to create his own games. He would even take his computer apart, examine what was inside, and put it back together. When he decided to commit himself to his education, he also decided his goal was to learn computer engineering and entrepreneurship.
During the second half of his junior year and his entire senior year, Pompey worked hard to turn his failing grades into passing ones. He was able to graduate in 2019 with a solid "C" average. His grades weren't good enough to get into a four-year school, but one of his high school teachers proposed an alternate path. "He told me he had gone to OCC, it was a great place, and they would build me up into the person I wanted to be when I transferred."
On the advice of his teacher Pompey enrolled at OCC in the fall 2019 semester. He got off to a great start, earning a 3.2 grade point average. He started strong in the spring of 2020. Then COVID-19 changed all of his classes to online. "My GPA took a hit. I went through a lot of personal problems. I was in a bad, dark place. I completely gave up for two weeks. Then I said 'I can't give up. I have to try.'"
Pompey bounced back and continued his academic recovery in the fall 2020 semester. He's now on track to earn his Mathematics & Science degree in May and is a regular presence all over campus. He's an RA in the residence hall, is a member of the Unity Day committee, is vice president of Makerspace in the Coulter Library, is a student ambassador for Extraordinary Men of Distinction, works in the office of the Collegiate Science and Technology Entry Program (C-STEP), and also participates in the Louis Stokes Alliance for Minority Participation (L-SAMP). "C-STEP and L-SAMP really helped me a lot. They gave me a community geared toward my field of study. I went to a conference at Cornell and met someone who was really influential, Dr. Calvin Mackey. He's an engineer and a person of color. We had a nice conversation that helped spark my interest."
In the fall Pompey will be a student at the University of Buffalo, pursuing a degree in Computer Engineering. "It will be like starting a new chapter in my life. It really excites me. OCC really prepared me. I learned how to study, how to reach out to people for help, and as a student in general. Everyone here was so welcoming. It was a great place to start."