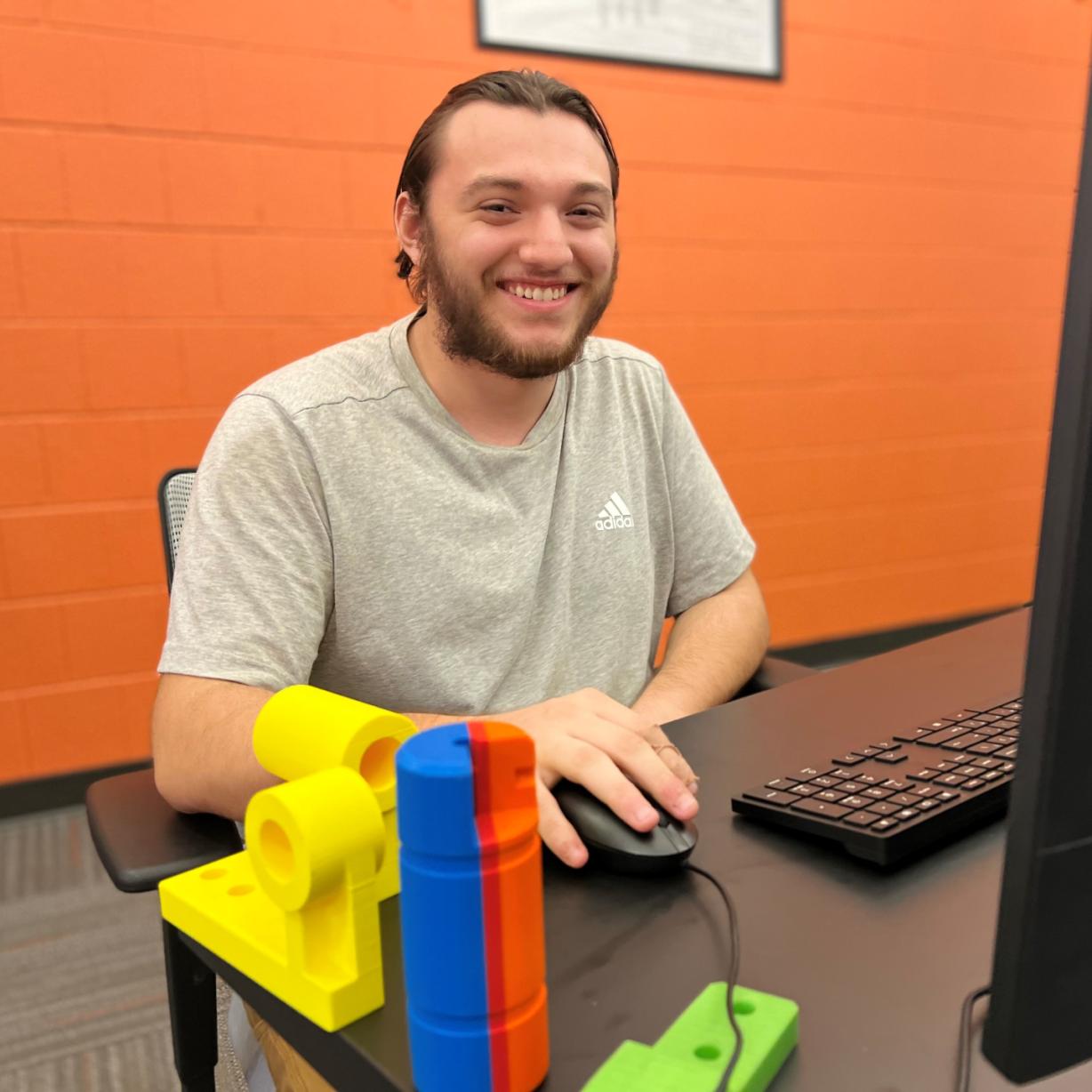 The P-TECH program has given Curtis Taylor the opportunity to turn two of his strengths into a career path in a short period of time. "I always loved taking things apart, like motors. And I like math. P-TECH and Mechanical Technology put those things together for me."
P-TECH stands for Pathways in Technology Early College High School. It's a program that provides high school students the opportunity to work toward their high school diploma and associate degree simultaneously, and ultimately a pathway to an in-demand job. "I chose P-TECH because I figured if I could get through this pathway sooner, why wouldn't I? The way everything is structured I've been able to learn very quickly."
Taylor began taking classes on the Onondaga Community College campus during his junior year at Fulton High School. He completed work toward his high school diploma in June, and became a full-time student at OCC this semester.
His P-TECH experience helped him get an internship at Davis-Standard, a manufacturer in Fulton. Taylor spent his summer working there as a Quality Engineer. He did so well he was offered a part-time job and is working two days a week during the fall semester. "I really like it, It's fun. Every day there is something different."
Within OCC's Mechanical Technology degree program his primary professors have been Richard Mark, Bob Tanchak, and Mike Grieb. "I like them all. They all offer different opinions and insights and value different things. But they all prefer you learn critical thinking and how to work through problems as opposed to just learning material."
Another of Taylor's professors, Fred Jaquin in Physics (PHY 103), presented him with an opportunity to be part of a NASA Community College Aerospace Scholars program which he's taking advantage of. "Why wouldn't I? It's NASA! When I was little I would always look up in the sky and wonder 'what's up there?'" Taylor applied to the program by writing an essay on Insight Utilization Capabilities. He's now waiting to learn if he'll be selected for the next round.
Thanks to his strong performance in the P-TECH program, Taylor will earn his Mechanical Technology degree next May after just one year at OCC as a full-time student. And he's hoping his employment at Davis-Standard becomes full-time. "P-TECH has been great for me. I would definitely do it again."