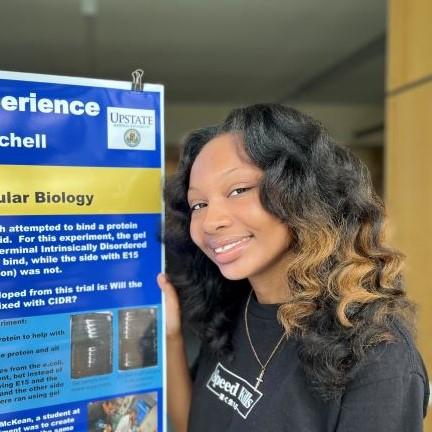 Dairyona Mitchell has taken a non-traditional path to Onondaga Community College, and she feels good about it. "I love it here. There are a lot of resources and everyone is so helpful!"
Mitchell graduated from the Syracuse Academy of Science in 2017 and enrolled at SUNY Buffalo State University. She completed her bachelor's degree in Exercise Science in four years but wasn't satisfied. "I graduated during the pandemic. I went for Exercise Science because I wanted to help some family members with obesity but my heart wasn't into it. I decided to take a gap year, think about what I wanted to do, and how I wanted to help the community."
During her year of reflection she realized she wanted to be a pharmacist. That brought her to OCC where she became a full-time student last fall in the Mathematics & Science degree program. She became a member of the Collegiate Science and Technology Entry program (C-STEP) and everything fell into place. "C-STEP is amazing. It's feels like home. When I'm struggling, they give me motivation. Their office (on the second floor of Coulter Hall) is a quiet space where I can get work done. And they give me snacks there too!"
Through her affiliation with C-STEP, Mitchell was one of a dozen students who did research this summer. She did her work at SUNY Upstate Medical University. "I loved it. The experience confirmed for me that I want to work in a lab after I get my Pharmacy degree."
At age 23 Mitchell is one of the older students in C-STEP. When fellow students ask for advice, she likes to share her wisdom. "I tell them to take their time. I rushed into college not knowing what to do. I want people to love what they are going to school for, have a smoother path than me, and avoid some of the hardships I had."