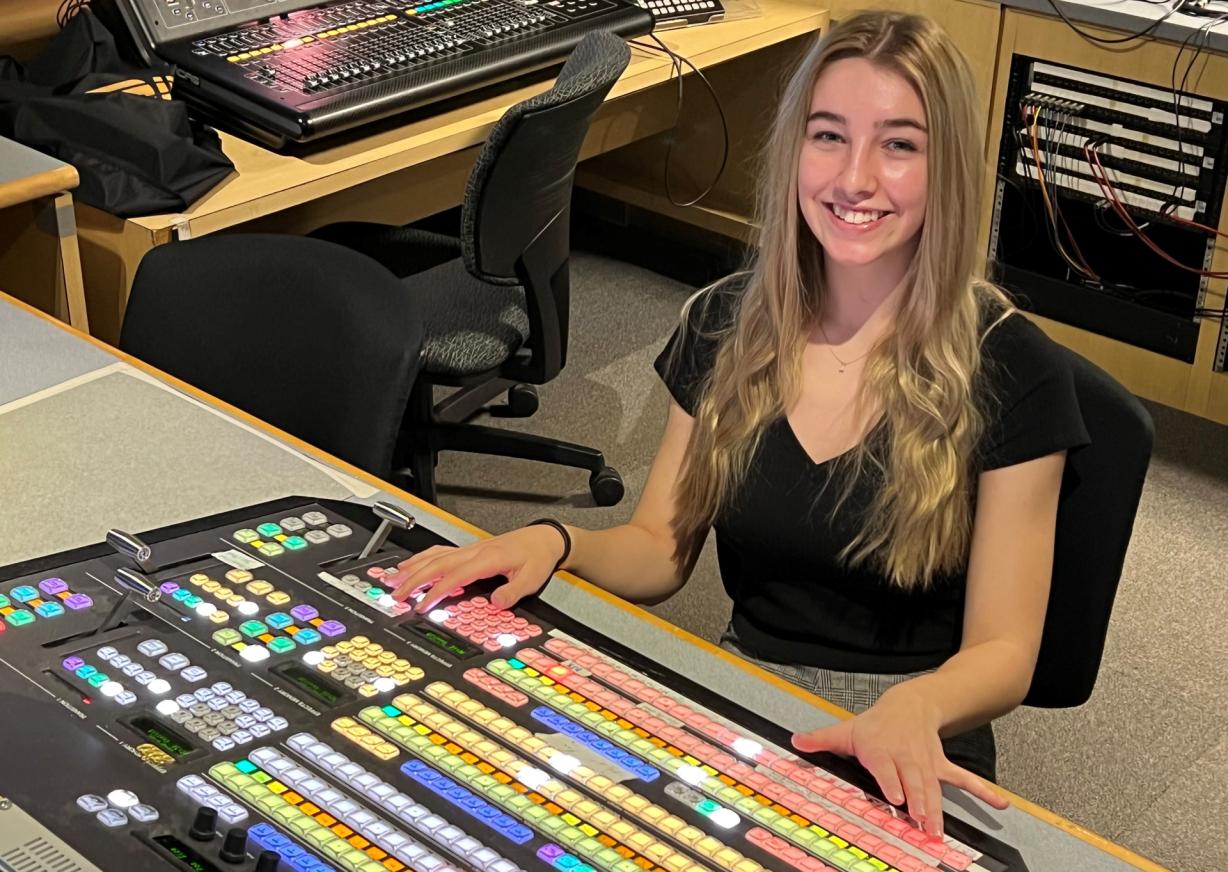 A visit to the CNY Scholastic Art show while Emily Pitoniak was a student at Camden High School ultimately brought her back to campus as an OCC student.
After receiving her diploma in June 2020, Pitoniak enrolled at a SUNY four-year college. As the semester progressed and she realized only one of her classes would be in-person, she decided to complete the semester and transfer. That's when she started thinking about her high school visit to the CNY Scholastic Art Show which OCC hosts. Each year the winning works of art line the halls of the Whitney Applied Technology Center. "I remembered going through the building and seeing the radio and television studios. I thought they were pretty cool. So I decided I would come to OCC."
She enrolled in the Broadcast Media Communications degree program in the spring 2021 semester and almost immediately became one of the top students. She credits the faculty with inspiring her. "The professors are so personable it really helps with learning. I'm a hands-on learner and we do a lot of hands-on learning. I've really been able to excel."
BMC Professor Mark Ballard, who also works regularly on the production crew for Syracuse University sports telecasts, gave Pitoniak the opportunity to join him and she took advantage. She did on-field audio for SU Football games and is doing graphics on the ACC Network for SU Basketball games. "It's really cool to get the experience as a student and to build my resume and my network. I feel like I am very much set up for success."
This winter she is also working on Syracuse Crunch hockey telecasts, and she has also been part of the production crew for OCC's Commencement. "I'm getting a lot of  real-world experience and opportunities through my professors. It reassures me I made the right decision coming here."
During the fall 2021 semester Pitoniak was inducted into the College's chapter of international honor society Phi Theta Kappa. She's the second family member to do so. Her brother David, who earned a Computer Science degree here in 2019, was also a PTK member. He's currently in his final year at the Rochester Institute of Technology.
Pitoniak will complete her BMC degree in May. She plans to transfer to a four-year school and focus on both Marketing and Video Creation. "I love editing videos, having that creativity in my hands, and designing how the outcome looks. I love the feeling you get when you make a good video. I'd like to be a Creative Director one day."