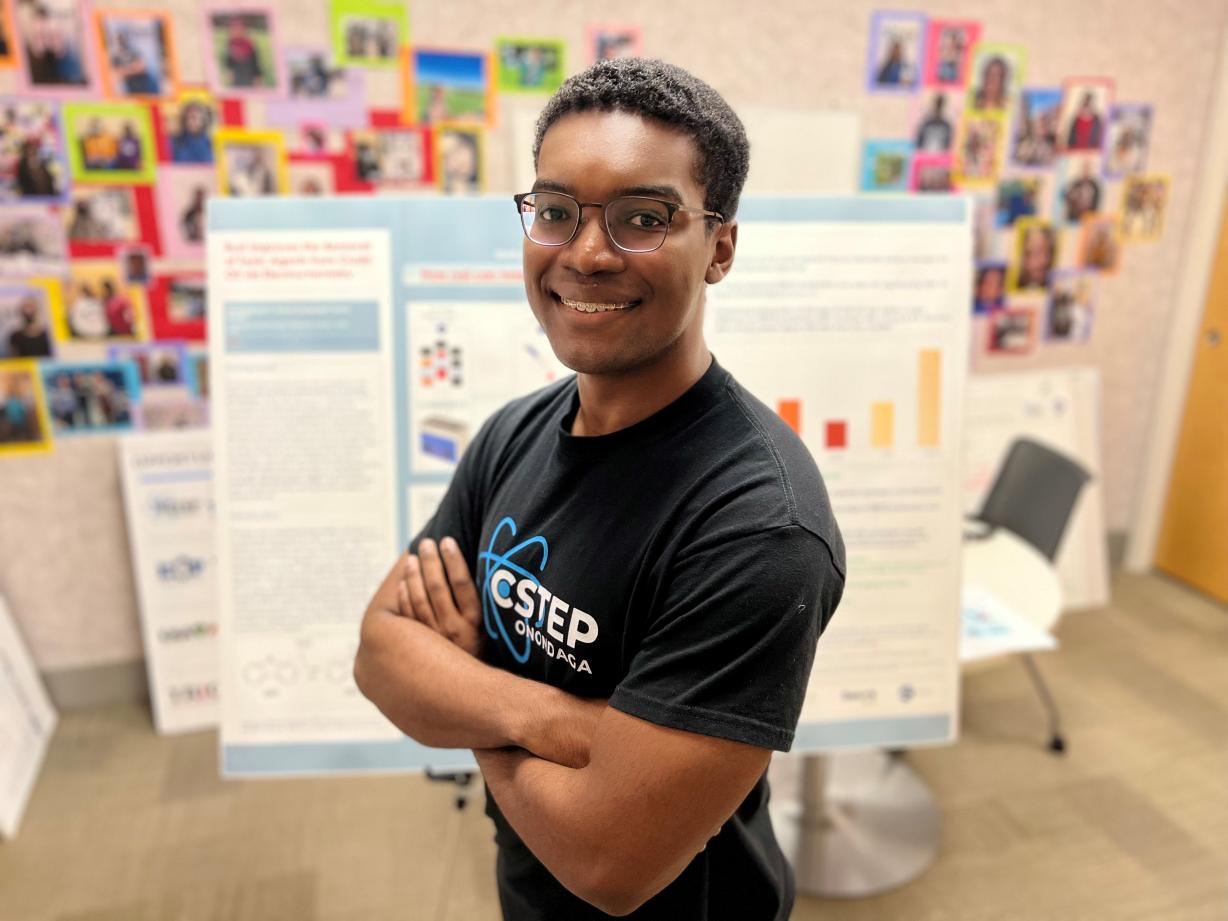 Tim Brown's participation in the Collegiate Science and Technology Entry Program (C-STEP) and Louis Stokes Alliance for Minority Participation Program (L-SAMP) have played important roles in his development at Onondaga Community College. "The support I get from them is critical. And if they can provide a resource for you to get closer to an opportunity, they will move mountains. They're awesome."
One of his big opportunities which came through C-STEP and L-SAMP happened during the summer when he participated in SUNY Binghamton's "Bridges to the Baccalaureate" program. Bridges provides tutoring and financial support for an eight-week, paid summer science research experience to help underrepresented students transition from a two-year community college to a four-year institution. "It was so awesome. The lab, the culture were all so welcoming and inviting. The Bridges program was everything you could want in an experience to get you to really understand what you're getting into with research and transferring to Binghamton. They made you feel welcome."
Brown's research project was titled "How Rust Can Help Save The Environment." He made a poster board highlighting the findings of his research and displayed it earlier this semester during a Science Symposium on the OCC campus. "It felt really good! One of my professors says 'science doesn't really exist until you show people and tell people about it.' Being able to have that experience of showing my work and saying 'this is how it worked and this is why it's important' was invaluable."
Brown's journey to becoming an outstanding college student began several years ago while growing up in the Bahamas. As a young boy he had a passion for engineering. "I knew if I started in a high school in the United States it would allow me a greater opportunity when I was looking at colleges." So six years ago, at age 14, Brown moved to Central New York and joined family already living here.
Brown graduated from Fayetteville-Manlius High School in 2019 and, after taking a year off, decided to come to OCC. His grandmother, Judith Yap, had earned her Respiratory Therapy degree here while also serving as Student Government Association President. She helped convince him this was the best place to start. "I realized I could make my mistakes here at a lower cost, then go on to a four-year. It was a no brainer."
While excelling as a student in the Engineering Science degree program, Brown has also held down two jobs. He's a Work/Study student in OCC's Physics Department, and he also cleans offices in Syracuse.
This is Brown's final semester at OCC. He was just accepted at SUNY Binghamton and plans to transfer there in the spring as he continues working toward an engineering-related career. He's grateful for the support C-STEP and L-SAMP provided him. "I couldn't have gotten the opportunities I did without them. They made sure I knew everything that was available for me."