Image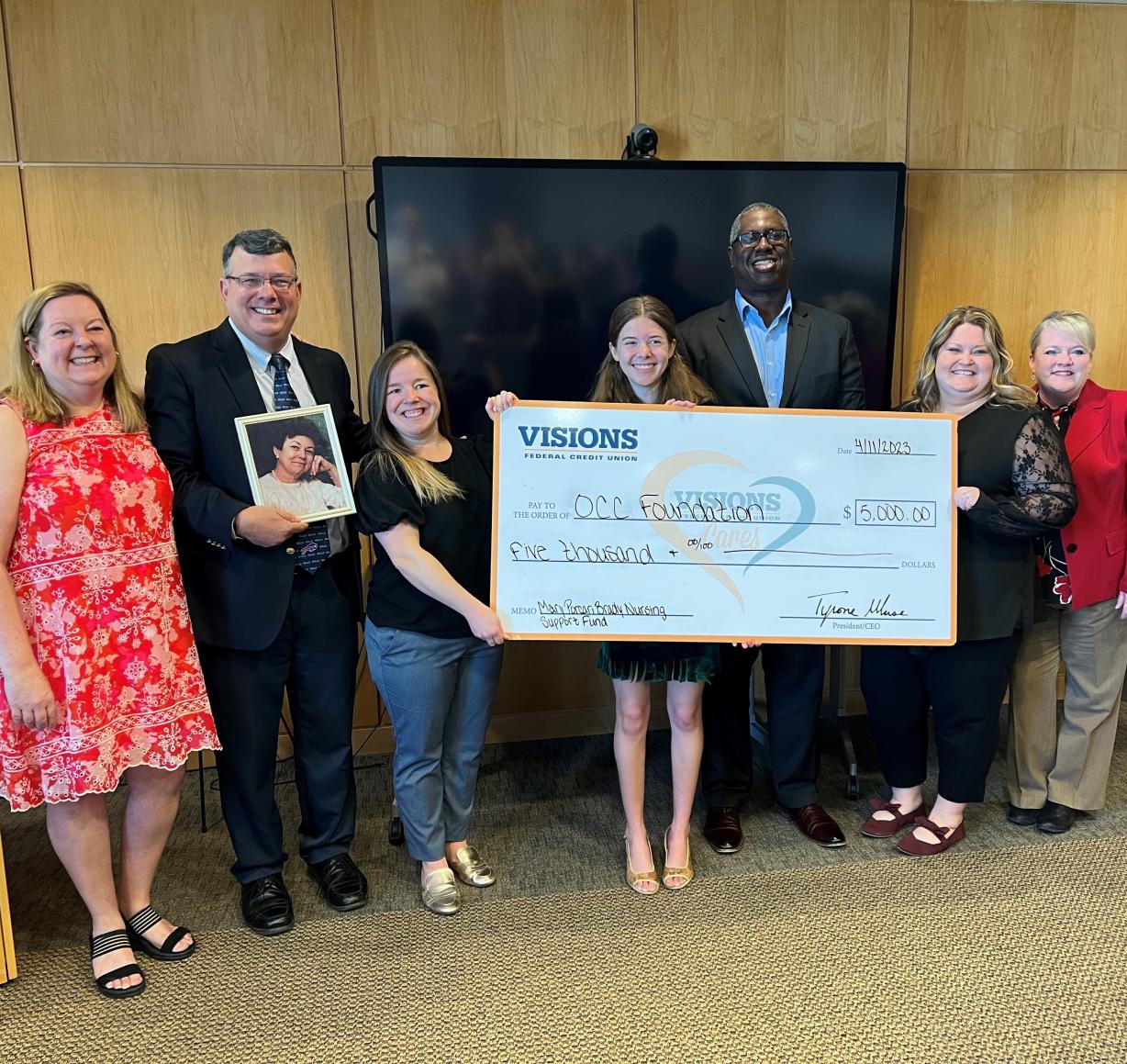 Onondaga Community College's Nursing students are feeling appreciated... again!
Last month each Nursing student received a check for $320 from the OCC Foundation and the Mary Porcari Brady Fund so they could purchase industry necessities such as a stethoscope, scrubs, and shoes. On April 11, Visions Federal Credit Union donated $5,000 to the Mary Porcari Brady Fund during a ceremony hosted by the OCC Foundation.
"As a parent and full time Nursing student, there are moments when you aren't sure you can make ends meet and keep going. When the Porcari family made that gift (in March), it gave me hope that there are people out there looking out for us Nursing students. I had a similar feeling today," said Hollie Conway.
"Visions Federal Credit Union is committed to serving our community. We are proud to support the Mary Porcari Brady Nursing Support Fund and the Onondaga Community College Foundation. The Mary Porcari Brady Nursing Support Fund affords nursing students the opportunity to continue their studies in spite of financial barriers. We are grateful for the opportunity to join in the effort to help alleviate financial stressors and help our future nurses complete their degrees," said Timothy R. Strong, Director of Branding and Public Relations at Visions Federal Credit Union.
The story behind the Mary Porcari Brady Fund dates back to 1969. That's when Mary Davis Porcari lost the youngest of her five children to a rare genetic disorder. The loss inspired her to become a Registered Nurse like her mother before her. Porcari would enroll at Monroe Community College in Rochester and earn her RN two years later. She worked at hospitals in Rochester, Old Forge, Cortland, and Oswego. She also remarried and became Mary Porcari Brady. She retired in 2000, and died unexpectedly in 2001.
Her surviving children created the Mary Porcari Brady Fund to help students at Monroe Community College, then expanded it to also assist students at Finger Lakes Community College and OCC. Today, more than two decades after Mary Porcari Brady's passing, her children's generosity is supporting Nursing students. "We cannot thank Visions Federal Credit Union enough for their generous contribution to the work of the Mary Porcari Brady Fund at OCC's School of Health," said Jinny Porcari Keough, eldest child of the late Mary Porcari Brady. "Together we are determined to do everything we can to help nursing students in Upstate New York graduate and assist others in their communities."