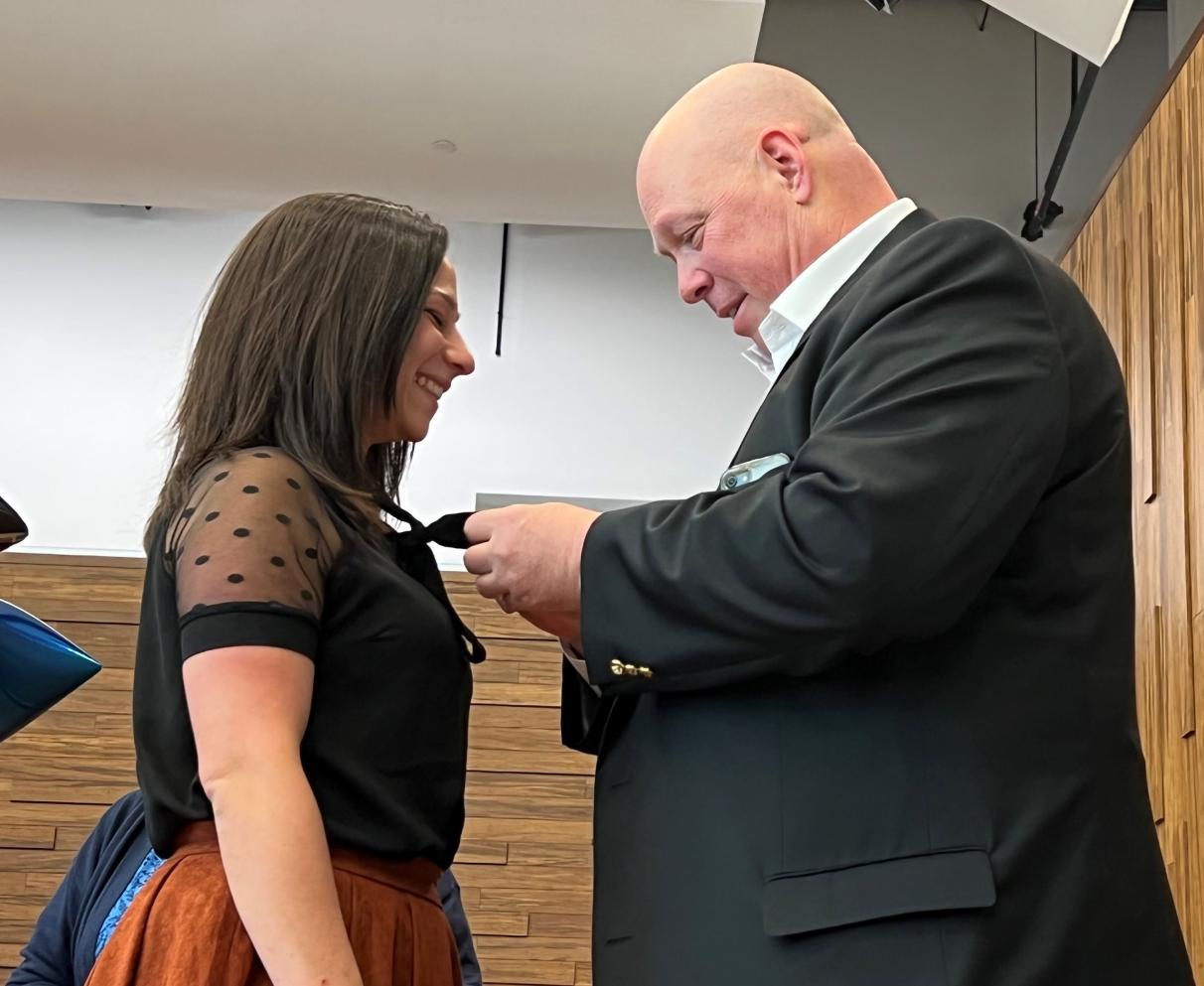 The accomplishments of graduating students in Onondaga Community College's Nursing degree program were celebrated during a Nurse Pinning ceremony. The event was held May 20 in the Frederick Marvin and Ernst Schuh Recital Hall.
The Nurse Pinning ceremony is a symbolic welcome into the Nursing profession. The pin represents the hard work and dedication students displayed while completing their coursework and clinicals.
Usually students are "pinned" by one of their professors. However, during this ceremony two students were pinned by a parent who also chose the nursing profession. Rachel VanSlyke was pinned by her father, Brett VanSlyke who is a 2012 graduate of OCC's Nursing program and a cardiac nurse at St. Joseph's Hospital. Also pinned by a parent was Gregory Kranz, who was met on stage by his mother Catherine who worked as a nurse for 42 years before retiring from the VA Emergency Department last December.
The VanSlyke and Kranz family stories were highlighted in television news stories broadcast by Spectrum News 1 and WSYR TV, Newschannel 9 which you can view by clicking on these links.
Congratulations to the Nursing students in OCC's class of 2022! Their names are listed below.
Cassandra Andersen
Heather Barber
Gwenyth Bennett
Megan Buchanan
Kelsie Burke
Melissa Burke
Kendall Carroll
Chenfei Cheng
Ashley Dickson
Nicole Frank
Mary Godin
Iryna Gura
Paige Harding
Amy Harmsworth-Morrissey

Retiring OCC President Dr. Casey Crabill (left) was presented with an honorary Nursing pin by Professor Lee Berg (right).

Ethan Hoffman
Lillian Ingalls
Anastasia Karandeyev
Greg Kranz
Callie Lalor
Selena Lupkowski
Jenna Masello
Tracey Milazzo
Carolyn Mondo
Jenny Nguyen
Amy Pauldine
Shannon Priest
Hannah Robles
Bianca Sanchez
Kylee Scobell
Stacy Sickler
Alison Smith
Connie Taylor
Viktoriia Tereshchuk
Iva Perez Torres
Brett Trainor
Aurela Ujkaj
Andon Usev
Kira Vanhoeven
Rachel VanSlyke