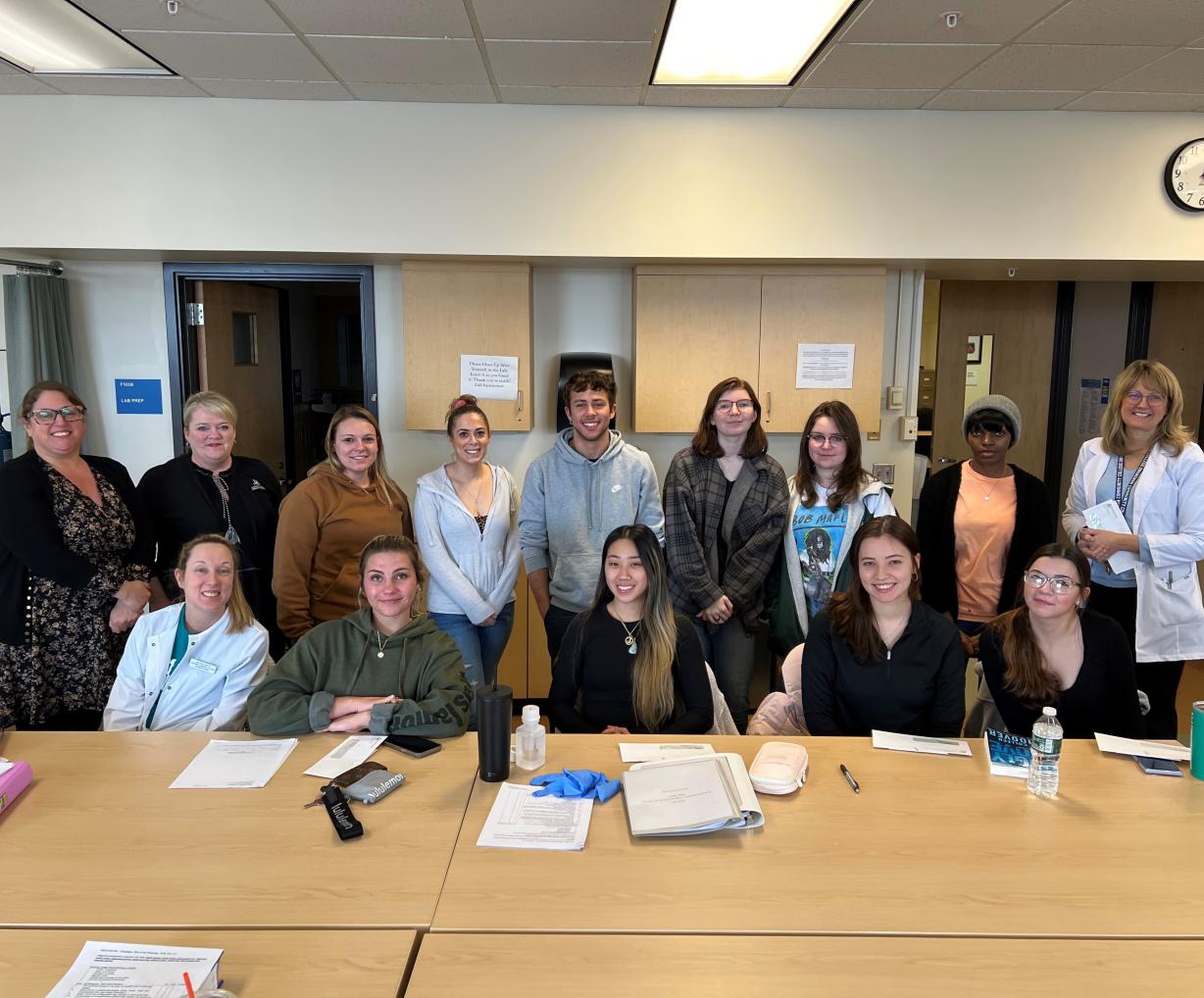 Jessica Colegrove had waited just about as long as she could to buy some critical items she needed for her Nursing classes. Between being a single mom raising two kids, going to school, and working, she was counting her pennies. So when the OCC Foundation's Steffani Williams walked into class recently and presented each nursing student with a check for $320, the timing was perfect. "I pay out of pocket for everything and this is very appreciated. It helps a lot," said Colegrove.
Colegrove will use the money to buy nursing-specific necessities like scrubs, shoes, and a stethoscope. She's able to do so thanks to the support of the Mary Porcari Brady Fund. In 1969 Mary Davis Porcari lost the youngest of her five children to a rare genetic disorder. The loss inspired her to become a Registered Nurse like her mother before her. Porcari would enroll at Monroe Community College in Rochester and earn her RN two years later. She worked at hospitals in Rochester, Old Forge, Cortland, and Oswego. She also remarried and became Mary Porcari Brady. She retired in 2000, and died unexpectedly in 2001.
Her surviving children created the Mary Porcari Brady Fund to help students at Monroe Community College, then expanded it to also assist students at Finger Lakes Community College and OCC. Today, more than two decades after Mary Porcari Brady's passing, her children's generosity is supporting Nursing students. "While life and circumstances have physically taken us elsewhere, one of Mom's many gifts to us was to instill in my brothers and myself a sense of obligation to the place that gave her - and us - so much," said Mary Porcari Keough of Atlanta, Georgia. "No matter what our current address, Upstate will always be home, and that is something we take very seriously."
Colegrove, who is in her first semester in OCC's Nursing program, actually started LPN school a decade ago. She became pregnant, her son arrived early, and she stayed home to raise him. When her second child became school-aged, she began thinking about her career again. "Once she started in 1st grade I said 'it's time to get back and do what I wanted to do originally. I took a very long road!" It's a road which brought her to OCC, and a road which just became a little smoother thanks to the Mary Porcari Brady Fund.