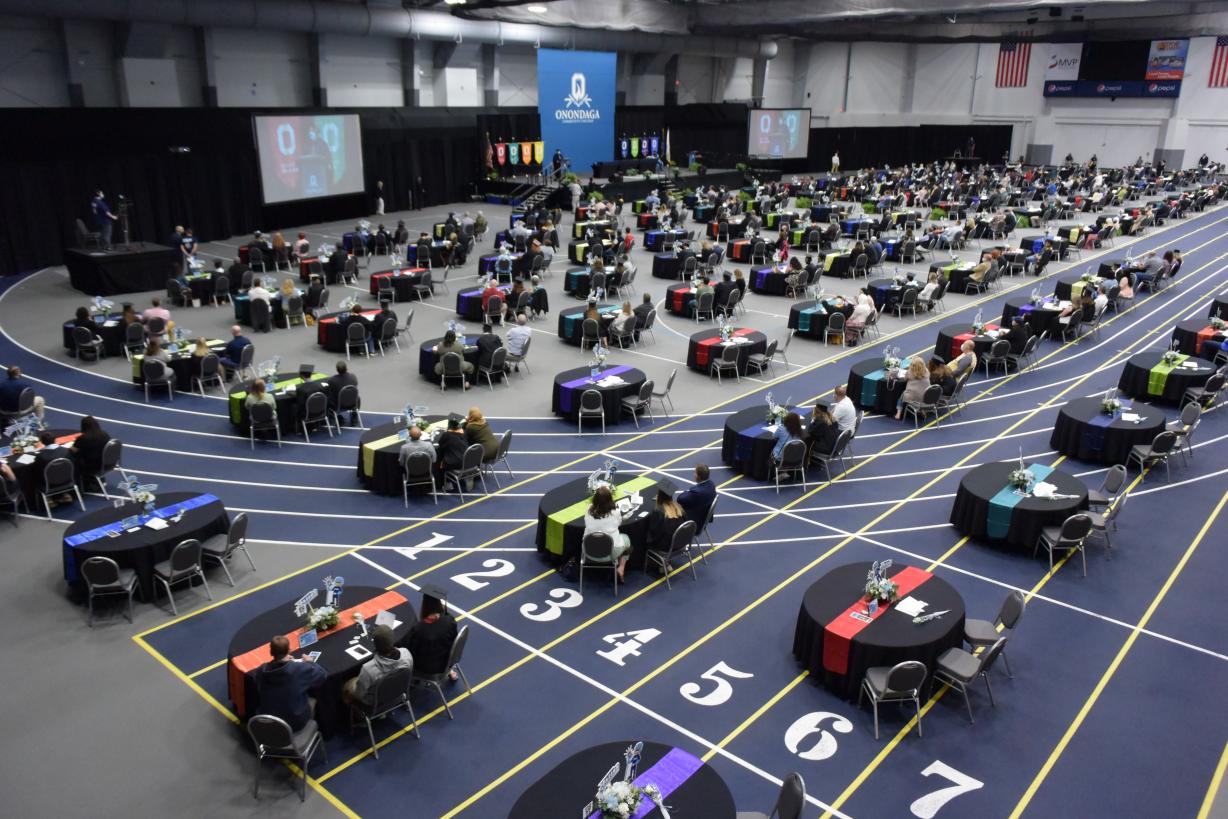 Onondaga Community College's 58th commencement ceremony looked distinctly different from any of its predecessors. Due to regulations related to COVID-19, the usual rows and rows of chairs and a filled-to-capacity SRC Arena were replaced by individual tables and limits on the number of graduating students and guests who could attend.
The College adapted to the rules by holding three separate commencement ceremonies on Saturday, May 15. OCC President Dr. Casey Crabill addressed students at each ceremony. She congratulated students on what they had accomplished and looked forward to what lied ahead. "As we celebrate what you have done already, we are most excited about what you will do next. And wherever you go from here, remember Onondaga Community College and what you learned here. It will serve you well."
Each year the College selects a student speaker to deliver the commencement address. This year there were three student speakers.
Cristian Pompey - native of Brooklyn who earned a degree in Mathematics & Science. He's transferring to the University of Buffalo where he will pursue a degree in Computer Engineering.
Si Po Ra - immigrated to the United States from Burma, Graduated from Henninger High School in 2019, and earned a degree at OCC in Humanities & Social Sciences. She's transferring to Syracuse University where she will major in International Relations.
Hunter Scholl - 2019 graduate of Liverpool High School who earned a degree in Communication Studies. Transferring to SUNY Geneseo and will major in Communications.
SUNY Chancellor Dr. Jim Malatras participated in the 1pm commencement ceremony and was impressed with student speaker Si Po Ra's message to attendees. "I was moved by her story. She came to the U.S. from a refugee camp in search of a better life - she represents the many students who strive to succeed, with SUNY being there to show then the way, helping unlock the door to a better life through a SUNY education. That's the power of our system at work. Onondaga Community College's graduates are prepared to take the world by force - we congratulate them on this milestone, and all of their accomplishments. The 2021 graduating class has already shown what great leaders they are, and they will undoubtedly achieve success in this next chapter of their lives." 
During the first commencement ceremony OCC presented honorary degrees to four community leaders. The honorary degree is the highest form of recognition offered by the State University of New York to persons of exceptional distinction. The honorees were selected for their professional excellence, meritorious and outstanding service, and accomplishments which serve as examples of the SUNY system's diverse student body.
Dr. Mantosh Dewan, President and SUNY Distinguished Professor, Upstate Medical University, for his leadership and critical guidance to both OCC and the entire SUNY system throughout the pandemic.
Joseph Geglia, Executive Director, Elmcrest Children's Center, for being a compassionate leader whose work has touched the lives of thousands throughout his career.
Bethaida "Bea" Gonzalez, Retired Community leader and Educator, for her extraordinary service to the community both as a public officeholder and for ensuring the academic success of countless students.
Dr. Indu Gupta, Commissioner of Health of Onondaga County, for her efforts leading the community through the COVID-19 pandemic which include contact tracing and a mass vaccination campaign.
All three ceremonies were shown live on OCC's Facebook page and YouTube channel. They will also be rebroadcast Saturday, May 22 from 11 a.m. to 2 p.m. on WSYR TV's "Antenna TV" channel. It can be found at 9.2 with a digital antenna, Spectrum Cable channel 1240, Verizon Fios channel 470, and New Visions cable channel 23. The video production was put together under the leadership of Broadcast Media Communications Professor Tony Vadala. His entire crew consisted of OCC Faculty, current students, and alumni.