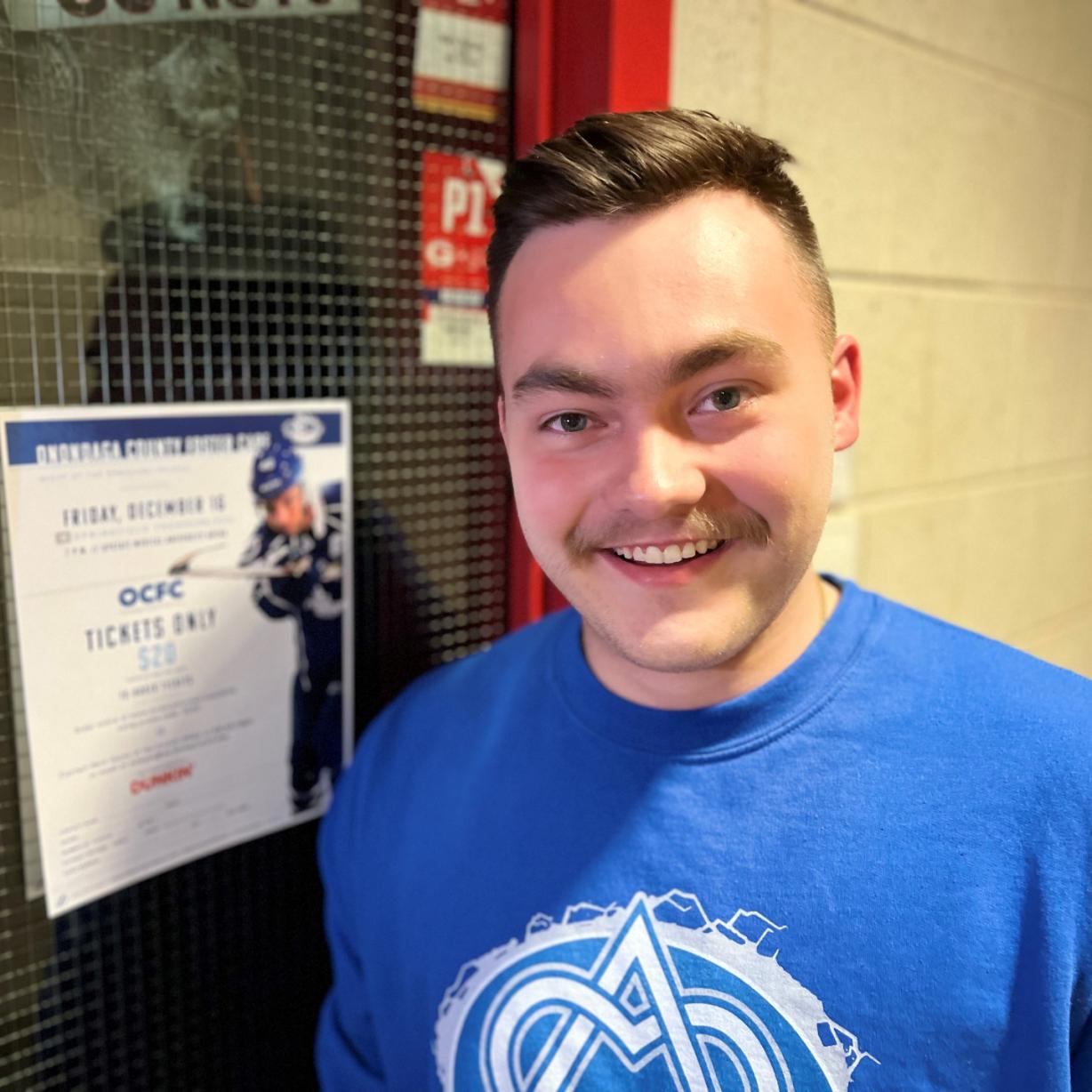 Onondaga Community College student Eric Shear has figured out a way to bring together two of the things he's most passionate about, adoption and hockey, into one special event. On the night of Friday, December 16 when the Syracuse Crunch hockey team hosts the Springfield Thunderbirds, Shear will be there raising money for Onondaga County Foster Care. "This is special. When I realized this was going to happen, I was over the moon. It was a little idea I had in my head to give back to the community I know and love."
His love of adoption and hockey were rooted in him at a young age. Shear was a foster child. His parents "got him" in November 2001 when he was just six weeks old with the intention of eventually adopting him. The adoption became official in April 2003. When he was 3 years old his father took him to his first Syracuse Crunch game. "I absolutely fell in love with the sport. Over the years I went to a lot of games and felt like I grew up at that rink."
Shear's parents always told him to be proud of the fact he was adopted. He eventually made it a very visual part of who he is, having the adoption logo tattooed on his right arm. Above the logo is his adoption date, "4/29/03," which his father wrote. Below the logo are the words "Born to be our baby" which his mother wrote.
Shear not only loved watching hockey, he became a very good high school player at Fulton. After graduating in 2019, he tried a four-year college but left after his first semester and went to work.
While trying to figure out his career path, Shear continued to attend Syracuse Crunch games and was also a big fan of their parent team, the National Hockey League's Tampa Bay Lightning. In June of 2021 he traveled to Tampa to attend a Lightning playoff game and wound up getting his jersey signed by one of his favorite players, Mikhail Sergachev, during an unexpected meeting outside the arena. Video of his encounter went viral and was highlighted in a story on WSYR TV, Newschannel 9.
About a year ago, Shear decided he was ready to try college again. He had always been interested in television and thought he would enroll in OCC's Broadcast Media Communications degree program. "I knew OCC had a very good program. The professors are top notch and still work in the industry. That was very important to me.  And financially it was a no-brainer."
In the spring 2022 semester, Shear's first on campus, he earned a perfect 4.0 grade point average. During the summer he interned with 325  Productions, a content-based marketing agency which was found by OCC Alumnus James Domroe '02.
When Shear returned for the fall semester, OCC Professor Mark Ballard connected him with broadcasting-related work on Syracuse University telecasts with the ACC Network and Raycom Sports. Shear also began operating a live camera at Syracuse Crunch home games for both their in-house network and games shown on American Hockey League television. "The camera I use for Crunch games is the same one we use in our Field Production class so I know how to use the tools. Prior to coming here I didn't have any television or film knowledge. I knew I was interested in it but didn't know I had any skill in it. Without OCC I wouldn't be able to have any of these positions."
On December 16, Shear will take a break from operating a camera at a Crunch home game and spend the night raising money for Onondaga County Foster Care. He and his parents will be at a table in the arena, selling soft foam hockey pucks knows as "chuck-a-pucks." During the second intermission, a target will be put on the ice and whomever throw their chuck-a-puck closest to the target will win a gift certificate. "To be able to do this and bring it full circle will be surreal. I'd love this to become an annual event where someone who is adopted can drop the ceremonial first puck, continue to raise money for a good cause, maybe even have an adoption logo on a jersey for that night. It would really make me feel like I did something."