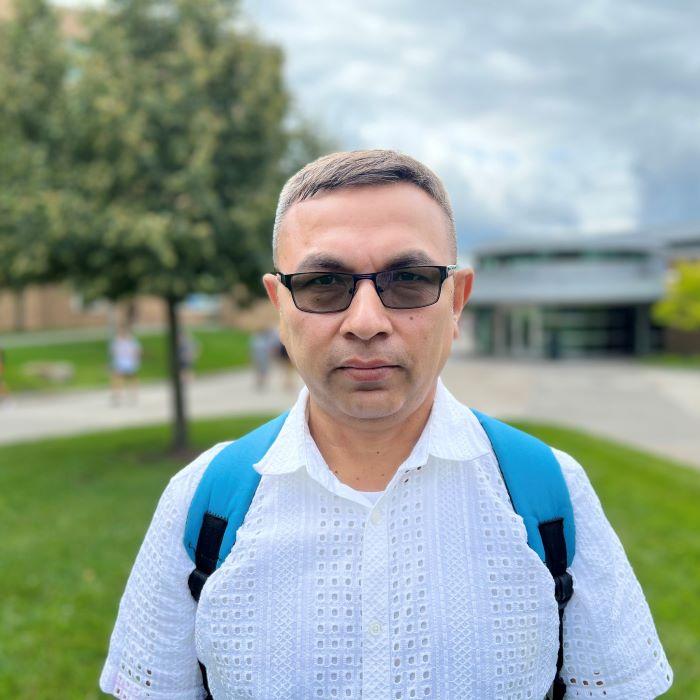 One year ago Amazon selected Onondaga Community College to be its partner in the Career Choice program which provides Amazon employees the opportunity to attend OCC tuition-free and pursue the degree of their choosing. During the spring semester 21 Amazon employees began attending OCC. This semester that number has grown to 34.
One of the new students this semester is Yudis Subedi who is enrolled in OCC's Supply Chain Management degree program. Subedi fled his native Bhutan in 1992 due to a civil war there and eventually immigrated to the United States. He earned a Business degree from OCC in 2017, a Economics degree from SUNY Oswego four years later, and began working at Amazon's Delivery Station in East Syracuse in 2021. "Most of my friends working there had good positions and many of them were educated. I thought going into Supply Chain management would help me help the company." Career Choice made attending college possible for him. "I'm not paying a penny out of my pocket. I wouldn't be able to afford this. I have three children and a wife."
Marina Dodgson works at Amazon's Fulfillment Center in Liverpool and is in her first semester at OCC. She had earned a bachelor's degree in criminal justice from the University of Scranton in Pennsylvania but realized her career interest was in cybersecurity. "They added the major after I graduated. I would have had to go to school for another four years and spend a lot more money."
Dodgson decided to go to work for Amazon in nearby Jessup, PA. When she moved to the Syracuse area during the summer, Career Choice gave her a tuition-free pathway to OCC's Cybersecurity degree program. She's organized her schedule so her week includes classes from Monday through Thursday, and work at Amazon from Thursday to Saturday. "I'm able to balance it all well," she said. Her goal is to work in cybersecurity, either for Amazon or the federal government.
The opportunity to pursue a career in something computer-related brought Amazon employee Josh Wright back to the OCC campus. He had completed his General Studies degree here in 2019 after graduating from the Syracuse Academy of Science.
When Wright began working at Amazon, the company informed him about Career Choice and the opportunity the program presented employees. When he heard more about it from a colleague who was using the program to pursue her Cybersecurity degree at OCC, he thought back to what his mom used to tell him. "When I was younger she would say 'you're really good with computers. It looks like you know what you're doing.'"
Mom's observation coupled with a colleagues success in Career Choice combined to inspire him to enroll in OCC's Computer Science degree program. He takes classes Monday through Thursday, and works Saturday's and Sunday's. "I already have my general education classes done from the first time I was here, so it won't take me as long to finish." His goal is an IT job which requires travel.
For these three students and so many others, Amazon continues to provide its workers with life-changing opportunities through higher education. Subedi has found Amazon, Career Choice, and OCC to be the perfect combination for him. "I recommend to every body in my life and at work they come to OCC. People can come to OCC and do anything in their life."