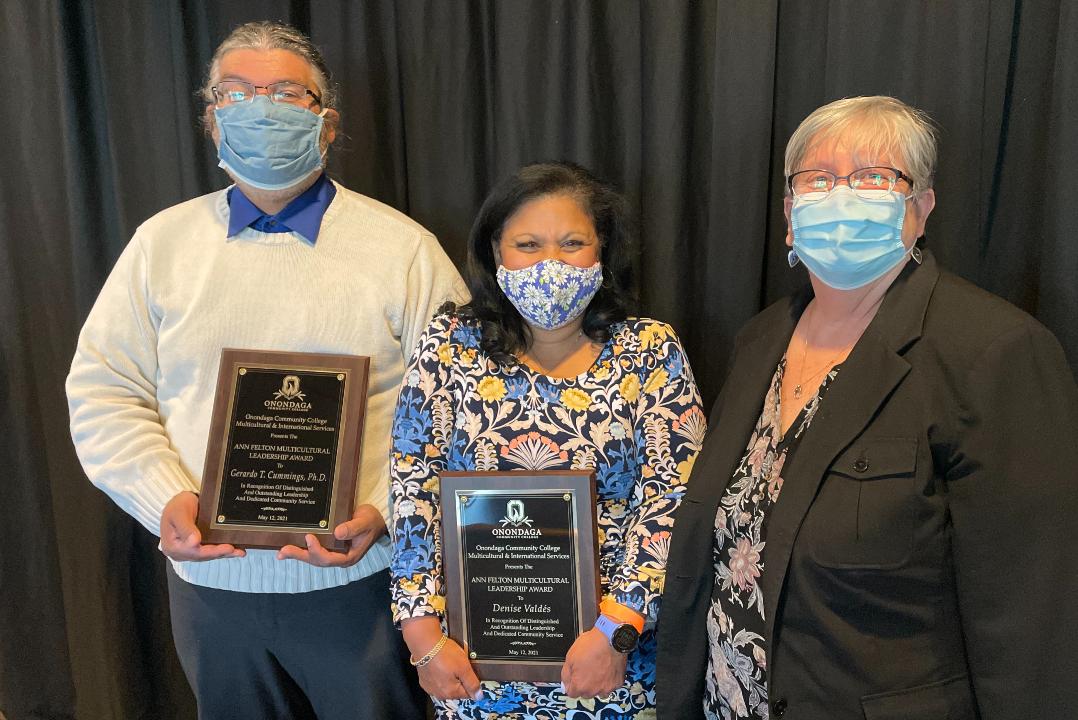 Onondaga Community College's Office of Diversity Services recently recognized the Ann Felton Multicultural Leadership Award winners. Both were chosen due to their continued leadership in displaying an appreciation of diversity, inclusivity, equity, and respect for all people, as did Ann Felton. Ms. Felton was a long-time faculty member who became OCC's Director of Multicultural Resources. She was a champion of diversity, respect, and tolerance. This year's honorees were selected because of the way in which they carried on Felton's mission and values.
Professor Denise Valdes is the staff recipient. As the Director of the Educational Opportunity Program, and before that as a Professor of English and Coordinator of the English as a Second Language Program, Ms. Valdes is a tireless supporter of students, always going above and beyond. She is always available to assist students , and does so with a smiling face and a willingness to share information and guidance. She is also known for her service to the campus community and the Greater Syracuse region. Ms. Valdes is a long-standing member of OCC's Council on Diversity & Inclusion, and its Latinx Heritage Month celebratory committee. Additionally, she has volunteered and assisted in strengthening the College's partnerships with various community-based organizations such as the Northside Learning Center and the Liberty Partnership program.
Dr. Gerardo Cummings  is the faculty recipient. He is a Spanish professor who, since arriving at OCC, has been a strong supporter of values such as "Students Come First" and the belief that it is our purpose to foster an environment that respects all individuals. His related accomplishments include; Chair of the Latinx Heritage Month celebratory committee for more than four years, Chair of the Council on Diversity & Inclusion's Community Outreach Committee and Teaching & Learning Committee, and Advisor to the Unity Day Student Committee. During his involvement with each of these he has displayed extraordinary practical leadership skills. His participatory leadership style engages all group members including faculty, staff, and students alike. Consequently members respond with much enthusiasm, commitment, and eagerness to fulfill their assign duties. Recently, members of the Council on Diversity & Inclusion unanimously voted him Co-Chair of the full council for the next two years.
Congratulations to both Professor Valdes and Doctor Cummings!