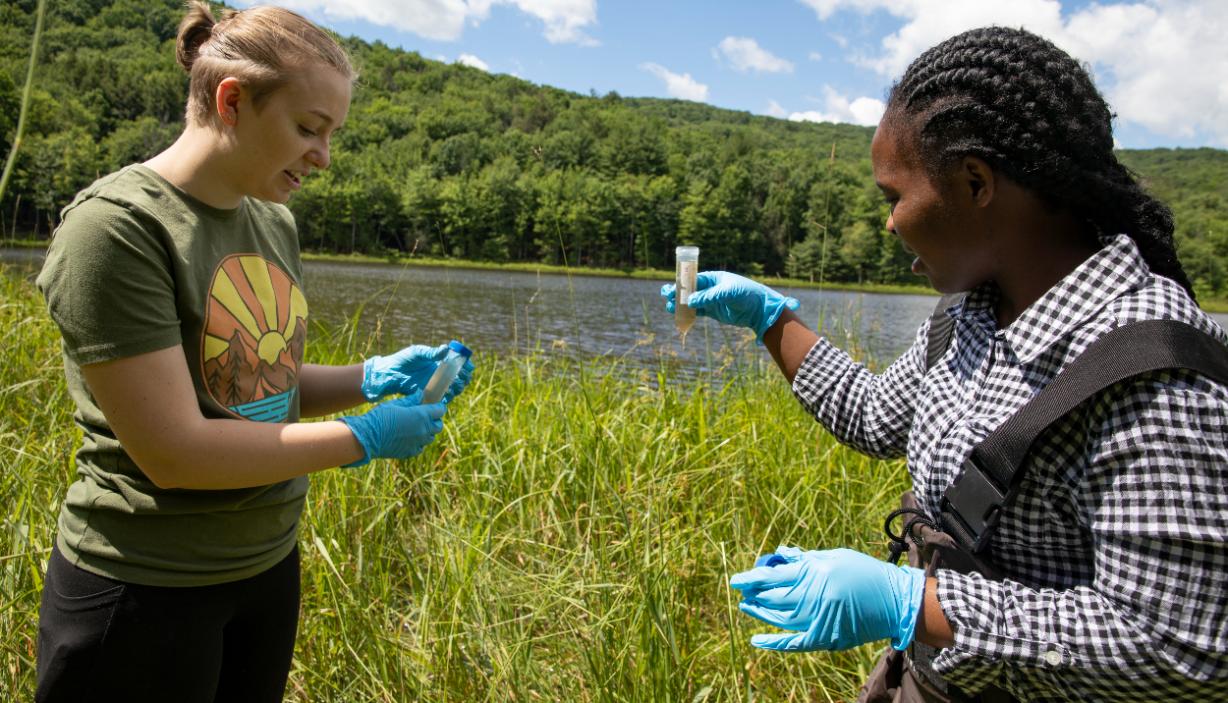 It's happened again! For the second year in a row, Onondaga Community College is the only two-year school in the entire SUNY system to have a student selected to participate in the Pre-Medical Opportunity Program. Only 10 students were selected statewide, and OCC's Everine Mukeshimana was one of them. The other students were all from four-year schools. "We are so proud of her and what she has accomplished during her time here," said OCC Educational Opportunity Program (EOP) Director Denise Valdes. "Everine is an amazing student who came to this country with a dream, and she's built a strong foundation for it right here."
The Pre-Medical Opportunity Program is a partnership between SUNY's Office of Opportunity Programs and its medical universities across the system. The goal of the initiative is to address persistent racial and income disparities in medical education by attempting to level the playing field for talented and capable EOP students who pursue a career in medicine.
Mukeshimana grew up in a refugee camp where she was surrounded by sickness. She dreamed of one day coming to the United States, earning a college degree, and becoming a nurse so she could help improve the health of others. She immigrated to the U.S. in 2019 with her parents and 7 siblings, graduated from Corcoran High School one year later, and came to OCC.
She enrolled in the Liberal Arts & Sciences: General Studies degree program. When she wasn't in class she found a welcoming atmosphere on the second floor of Coulter Hall where the EOP and Collegiate Science and Technology Entry Program (CSTEP) are headquartered. "I really like the people who work there. They are always willing to help. And I enjoy going there just to say 'hi.' It's important to have a place to go to on campus where you feel comfortable. EOP was like a second mom to me, providing academic and personal counseling as well as exposing me to internships, research, and scholarships."
Thanks to her affiliation with CSTEP and EOP, Mukeshimana was able to participate in an internship last summer at SUNY Binghamton as part of the "Bridges To Baccalaureate" program. Her research focused on the ranavirus, a double stranded DNA virus that can cause severe infections in amphibians and reptiles.
Mukeshimana is a member of OCC's chapter of the Phi Theta Kappa Honor Society which was recently ranked 3rd best in the world out of nearly 1,300 chapters. And earlier this month she was one of only 9 students on campus to be awarded a Pinnacle Award for those who have shown excellence in one or more of the following fields: leadership, civic engagement, and scholarly research. Students selected demonstrated not only an exemplary academic performance, but also a strong connection with the campus or community.
Mukeshimana, who will receive her degree this Saturday, is following in the footsteps of class of 2021 alumna Regina Kangela who was selected to participate in the Pre-Medical Opportunity Program last summer. She is now a student at SUNY Upstate Medical University. Mukeshimana plans to transfer to Le Moyne College and continue working toward her dream of becoming a nurse.