Image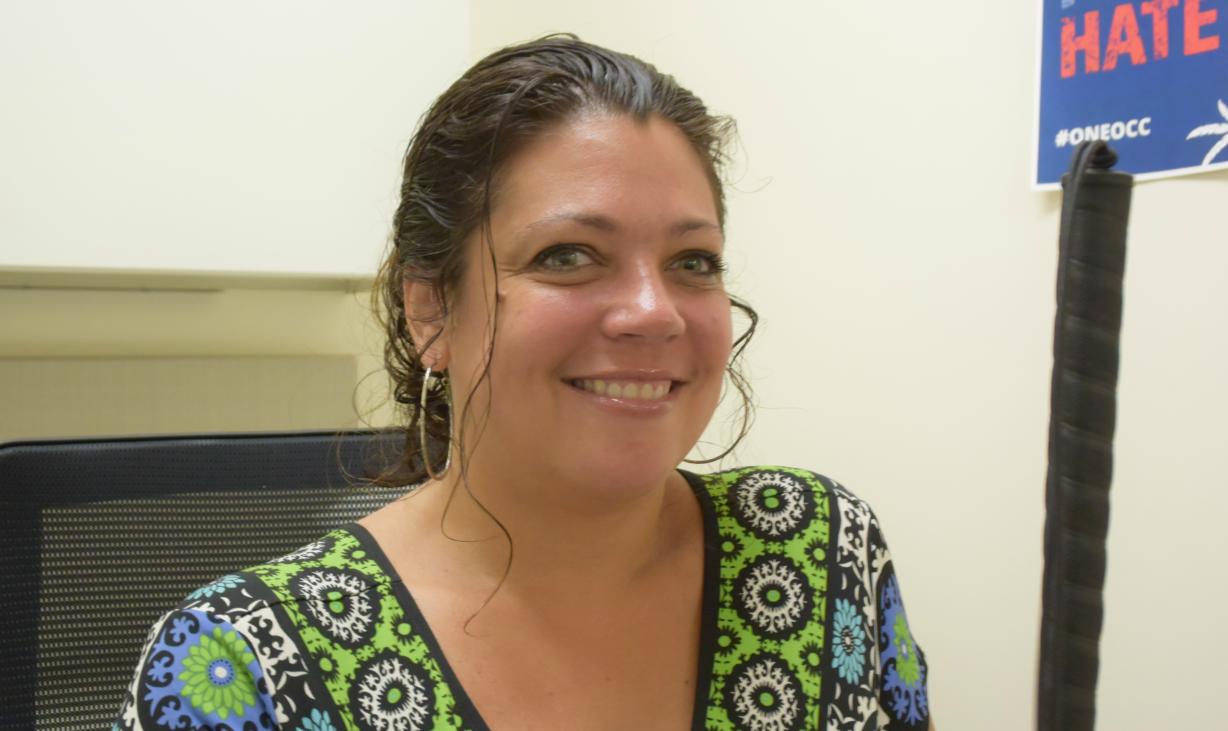 Dawn Penson will represent the students on OCC's Board of Trustees during the 2019-20 academic year. As the Student Trustee she will attend monthly meetings and participate in all votes. Penson is a 41-year-old mother of three with a perfect 4.0 grade point average in the Human Services major. She is also blind. "I have experience being on the board for Arise, the National Federation of the Blind Syracuse chapter and all of the other advocacies I am involved with. I will bring experience to the Board of Trustees while highlighting my own position as a grown woman with children who came back to school with a disability."
Penson lost her sight in 2012 after being diagnosed with retinitis pigmentosa, a rare genetic disorder that leads to a breakdown and loss of cells in the retina. "Before I lost my sight, I was very vain. It was all about me. The National Federation of the Blind and the New York State Commission for the Blind helped me to see there is life after blindness. Just because you're blind or have a disability doesn't mean you're broken."
Penson was born and raised in Central New York and eventually moved to Texas at age 18 where she would spend nearly two decades. During her time there she thought she had earned the equivalent of a high school diploma. But when she returned to Central New York and attempted to access her credential, she learned she had paid to attend a Texas school which was a scam and had nothing to show for it.
She now had to start over academically and that meant pursuing a GED. In an apparent cost-cutting measure New York State had allowed the test to become privatized. The company in charge of it, Pearson VUE, had never made a version of the test for someone who was blind. Making the test would take a year-and-a-half because of the various levels of approval required along the way. At one point she was offered the opportunity to receive a passing grade on the math portion because of the difficulties involved with creating the test. "I said 'absolutely not. If you waive it for me you have to waive it for someone who can see.' There's no reason in this day and age why you can't make something accessible."
While the test was being created Penson began searching for a college. She would ask anyone she knew where she should consider going and everyone pointed her toward Onondaga Community College. "It was local, accessible, had a great Human Service major and a wonderful department for people with disabilities (Office of Accessibility Resources). I knew I would be nervous going back to school after so many years and needed to be sure my needs would be met."
While the GED test was being created, Penson spent the summer of 2018 taking classes at OCC and learning her way around campus. She arrived daily thanks to transportation provided by Centro's call-a-bus. She would walk from one end of campus to the other while using her cane and being guided by a Mobility Instructor. With each step she became more comfortable in her learning environment.
In December 2018 Penson finally took the new GED test which is now known as the TASC (Test Assessing Secondary Completion). She had a reader and a scribe during the test so questions could be read to her and answers could be written down. It took her four days to complete the test. In January of this year she received a phone call informing her she had passed the test. "I was so excited and so relieved!" Penson had become the first blind student in all of New York State to pass the TASC and the first blind student to earn her high school equivalency in Onondaga County in eight years.
Today Penson owns a perfect 4.0 grade point average, will be sworn-in to the college's chapter of international honor society Phi Theta Kappa during the fall semester, and will receive her associate degree in May of 2020. Her goal is to one day advocate for the disabled with a focus on policy and legislation. Earlier this year she was in Albany, lobbying state lawmakers for a blind person's right to parents. Under New York State law a blind parent can have a child taken away because he or she is blind.
Despite what she has lost, Penson doesn't have any regrets. In fact, she feels fortunate. "My youngest son says all the time, 'mommy I wish you could see.' I see perfect. I see better now that I don't have my sight than when I could see. If there was a cure today, I would not take it because the world to me is beautiful. Now I see the character of someone. Before it was all of the superficial things. It took me a long time to be secure with myself. I am very happy with myself."
Penson will be sworn-in as Student Trustee at the first board meeting Tuesday, October 1. The meeting will be held in room W210 of the Whitney Applied Technology Center and is open to the public.