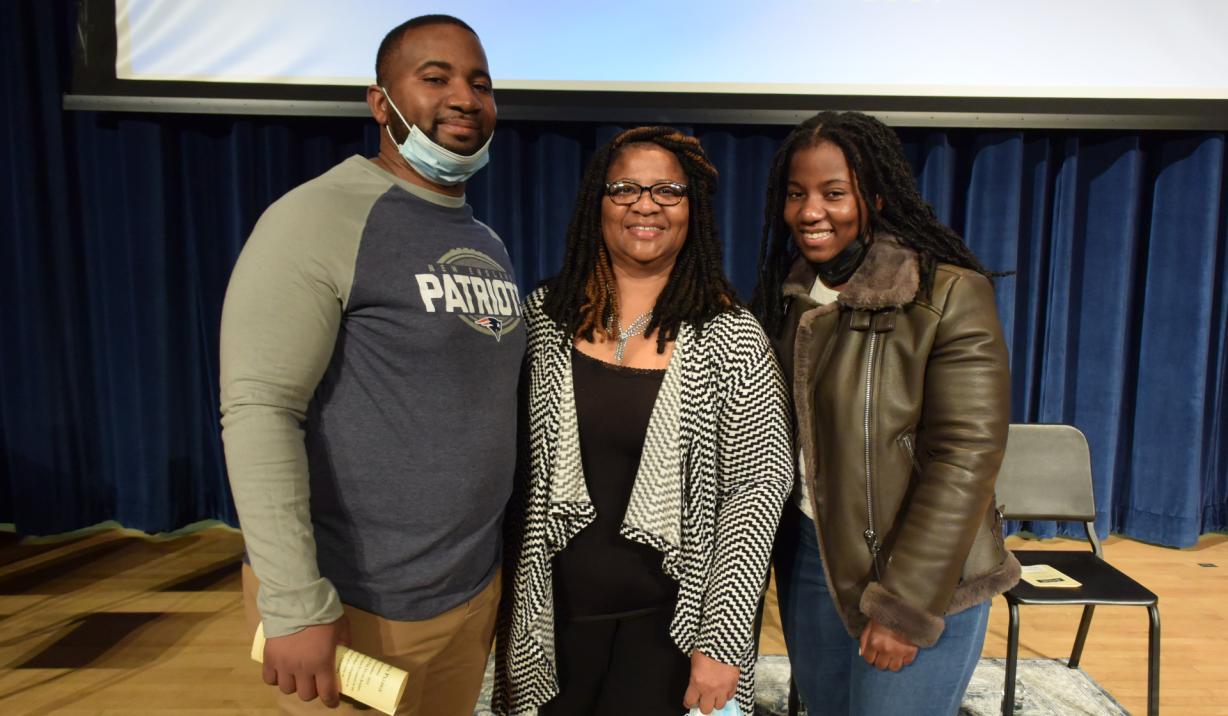 Maizie Millwood's remarkable journey to a degree continued this week when she was welcomed into Onondaga Community College's chapter of international honor society Phi Theta Kappa (PTK). "I'm very excited. It means I'm working hard and it's nice to be recognized."
Millwood is a native of Jamaica who came to the United States in 2001. She enrolled at OCC two years ago with the dream of eventually being accepted into the Nursing program. While taking classes she also worked as a Medical Assistant at the Syracuse Health Center.
During the spring semester the 55-year-old mother of two was named the Educational Opportunity Program's Pinnacle Award winner. The Pinnacle program honors students who have shown excellence in one or more of the following fields: leadership, civic engagement, and scholarly research. The College selects only 8 Pinnacle Award winners annually. Around the time she was being honored she also learned she had been accepted into the Nursing program. She began working toward that degree during the summer.
Tuesday night Millwood was one of 100 students welcomed into PTK during the fall induction ceremony in Storer Auditorium. Inductees must have earned 12 credits with a grade point average of at least 3.5. The chapter is in the midst of unprecedented success. It's been ranked among the top ten chapters in the world each of the last three years. During that same period it has also been ranked number one in all of New York State.
Also Tuesday night, current PTK members were recognized for completing various "Edge Programs."
Employment Edge prepares students to successfully enter the workforce. Students recognized for completing the program were Connor Burkhart, Iannelis Castro Calderon, Kyle Goff, and Leila Yazdaninasab.
Competitive Edge focuses on soft skills and career planning. PTK members who completed it were Connor Burkhart and Leila Yazdaninasab.
Transfer Edge helps students learn what they need to know when transferring from OCC to a four-year college. Students who completed the program were Mayada Abbedrabbah, Iannelis Castro Calderon, Connor Burkhart, Destiny Douglas, Michael Iannucci, and Katie Sullivan.
Undergraduate Research Edge teaches students how to conduct academic research and grow their research skills. PTK members who benefitted from it were Connor Burkhart, Charle Morrow, and Katie Sullivan.
Healthcare Edge gets students prepared to successfully transition from an academic program to a career in a healthcare field. Student Connor Burkhart successfully completed it.
Below is a list of the students welcomed into PTK during the fall induction ceremony. Congratulations!
Ajak Afet
Huda Al Kareem
Dima Amiri
John-Peter Anthony Anderson
Natalie Marie Arnold
Nathaniel E. Baker
Isabella Jane Barry
Alex Marie Beavers
Kimberly Ann Benton
Joe Nicholas Bianchi
Eric Henry Bohenek
Megan Marie Buchanan
Luke William Bunner
Cassidi Rose Callaghan
Samuel Thomas Campbell
Lara L. Chappell
Emily Elizabeth Colledge
Raymond Daniel Comfort
Alyssa Christine Congel
Camryn Lahan Corbett
Ryan Timothy Covert
Allison Marie DeJoy
Paige Gennifer Desalvo
Collin Albert Dix
Marwa Dost
Griffin Trey Dukat
Corey Joseph Ennis
Halle Faith Erwin
MacKenzie Foster
Anthony John Giovannini
Jack A. Golden
Kelsey Leann Graves
Daniel Patrick Griffin
Djamila Guesmia
Patricia A. Halstead
Miriam Rose Harrington
Cody James Harris
John David Haskell
Patricia Irene Hemmerlein
Theresa Henry
Jacob Dylan Hess
Robert John Hey
Thao Diep Phuong Ho
Sheriffe Jermaine Holness
Lucas Robert Jackson
Diogo Jorge
Ondalee Sameria Kelley
Grace J. Kim
Josephine Mariama Koroma
Brianna Kuhles
Tiffany Patricia Laird
Leila Lajoie
Alexys Lee Liepke
Joseph Samuel Loguidice
Kelsey Lorrin Martinez
Christina Massey
Tara L. Matthie
Amy Beth McCloskey
Maya A. McLaughlin
Kevin Allen Mead
Lillian Rose Miller
Maizie L. Millwood
Emily Shea Elise Monroe
Rainey Marie Morgan
Edward John Moses
Nathan Jack Moses
Everine Mukeshimana
Mckenzie Grace O'Hara
Debbie L. Ortiz-Martinez
Craig Wilson Osbeck
Andrew Michael Ottavino
Emily Marie Elizabeth Pitoniak
Audrey Elizabeth Plogman
Ian David Prebish
Tatum Elizabeth Quackenbush
Lydia Asa Akua Randall
Lorien Elenna Renaud
Alana Lizzette Robinson
Londi Alicia Rowell
Joseph Anthony Sabin
Ivana Sakota
Deborah Anne Sandy
Claire Elisa Sears
Justin T. Shadle
Saurav Sharma
Tyler Gregory Shepard
Manu Shergill
Amina Smajic
Gabrielle Stephens
Elle Joielle Strachan
Destinee Rose Taylor-Jenkins
Alexis Renee Thomas
Julianne Thomas
Joseph Allen Tschopp
Sara Ann Turner
Carl John VanBuren
Celeste Herta Wagner
Verina Waldner
Taylor-Sierra Pamela Watson