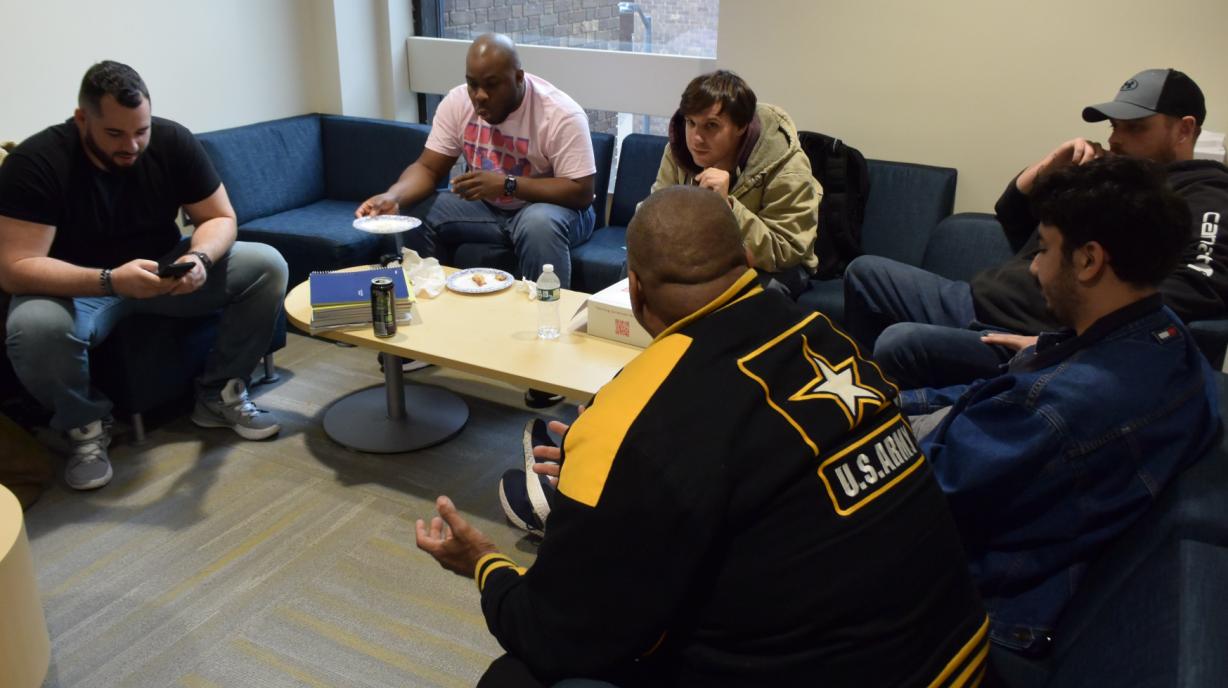 Onondaga Community College paid tribute to members of the campus community who served in the military with a series of events on Veterans Day. "These things mean a lot," said Nathaniel Sease, a Student Veteran who served four years in the United States Marine Corps. "The appreciation works wonders. For everyone who shows their appreciation, it can be that little bit of hope that Veterans who are dealing with things really need."
Sease and fellow Student Veterans enjoyed a lunchtime gathering in the Office of Veterans and Military Services where they were treated to pizza, snacks, and beverages. The Office of Veterans and Military Services has been recognized nationally repeatedly for its outstanding service. Military Times named it "Best For Vets." The prestigious honor earlier this year is the result of the largest and most comprehensive ranking of schools for military service members and veterans. The office was also named a Military Friendly School by VIQTORY, a service-disabled, veteran-owned small business. "I appreciate this office. They're here for us to connect with, even if we don't know what we're looking for," said Sease.
Appreciation for our Student Veterans began with an early morning delivery of coffee, donuts and fruit at the Office of Veterans an Military Services, courtesy of OCC's office of Student Orientation, Leadership & Engagement. Later in the day OCC employees who are Veterans were treated to lunch in Stonewalls, the student run restaurant on the first floor of the Gordon Student Center. The mouth-watering buffet included shrimp corn chowder, seared salmon with orange hollandaise, vegetable ratatouille, imported cheeses, pizzas, and amazing desserts.
During lunch Steve White, who runs the Office of Veterans and Military Services, was presented with a United States flag which had flown over the Capitol in Washington D.C., courtesy of United States Congressman John Katko. "Steve is a tireless advocate for our Student Veterans. He never stops. He is always thinking of creative ideas to serve our Student Veterans better," said Nancy Carr who is Director of Accessibility Resources at OCC. "Steve's work is recognized in the Veteran community well beyond OCC. We know what you do here and we are grateful for all of that. You need to know that the broader community is really grateful for the support you provide," added OCC President Dr. Casey Crabill.
The final tribute to our Veteran community was a dinner held in the Otis Suite of the SRC Arena. Throughout the day, Student Veterans in the Office of Veterans and Military Services reached out by phone to Veterans affiliated with the college to thank them for their service.