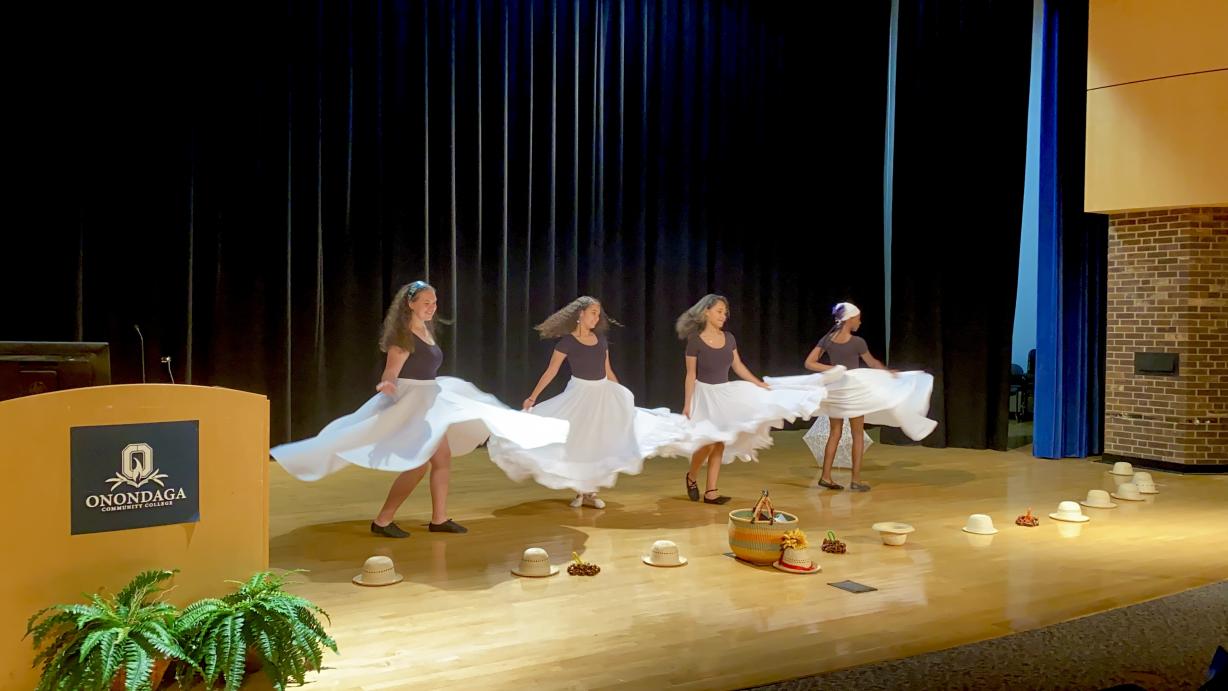 Happy Latinx Heritage Month! OCC kicked off a month's worth of events yesterday with the help of Mayor Ben Walsh, who announced a proclamation that this important month is being officially recognized throughout the City of Syracuse. After the proclamation, attendees were treated to a performance of traditional dances from a local latinx dance troupe, Joven Guardia del Teatro y la Danza Latina Inc. 
Here are the upcoming events for this month:
9/15 - 10/15: Latinx Heritage Month display cases in Gordon & Mawhinney
Saturday 9/18 (6-8PM): A kick-off event in La Casita Cultural Center, 109 Otisco Street, Syracuse, NY. Latinx/Hispanic Heritage Month 2021 kicks off at La Casita with the opening of a new exhibit Corazón del Barrio/Heart of the Barrio, a live performance by spoken word artist and poet Noel Quiñones, live music performance by Syracuse-based salsa band Grupo Boricua and a traditional Caribbean menu.
Monday 9/20 & Tuesday 9/21 (7PM-9PM): Film showing of In The Heights in Storer Auditorium
Tuesday 9/28 (4-5PM): Adulting 101: Navigating College, Financial Literacy, & Building Future Connections, a Microsoft Teams-Virtual Event (QR code to be sent to all students by 9/20). La Liga, also known as the Spanish Action League, joins OCC to share information about how to take control of your academic, personal, and social endeavors. Bring your ideas and turn them into reality! Hosted by Office of Accessibility Resources.
Tuesday 10/5 (7PM-8PM): Extraordinary Men of Distinction & Recruitment Event for Latinx and Black OCC students in Storer Auditorium.
Wednesday 10/13: Closing Ceremony Salsa Dancing & Unity Day
10/25-11/2: Day of the Dead Displays Mawhinney & Gordon
Latinx/Hispanic Heritage Month happens every year from September 15th to October 15th, celebrating the histories, cultures, and achievements of Latinx community members. September 15th is selected for this celebration because it is the independence anniversary for the Latin American countries of Nicaragua, Guatemala, El Salvador, Honduras, and Costa Rica. For more information about this month and national celebrations, visit the National Hispanic Heritage Month site and this year's federal proclamation.