on
On Campus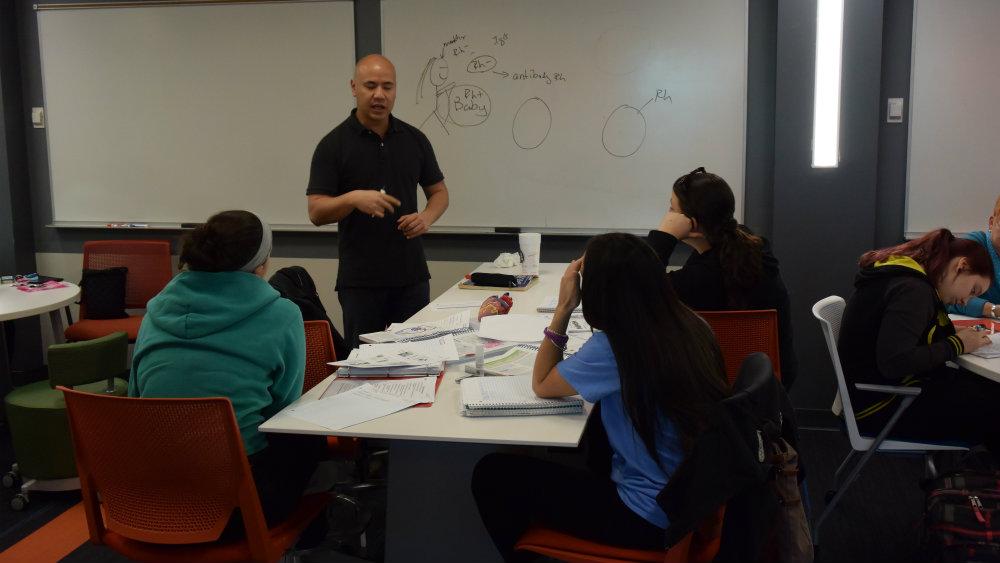 The most popular freshman on campus isn't a star athlete or someone with movie star good looks. It's the Learning Center, the new home for OCC's tutoring services. The Learning Center is located in the Gordon Student Center next to the cafeteria. It's filled with spaces for students and tutors to work either one-on-one or in groups. "We've been thrilled with the response and the number of students who keep coming back," said Kathleen D'Aprix, Assistant Vice President of Academic Support Services who is in charge of the Learning Center.
The main entrance to the two-level facility grabs your attention. On one wall of the lobby is a Learning Center sign which changes colors. On the opposite wall is a huge photo of Albert Einstein with the saying, "We cannot solve our problems with the same thinking we used when we created them."
The Learning Center employs more than 120 tutors and that number constantly changes. "We're always adding tutors as we learn there are more and more courses students need help in," said Ted Mathews, Coordinator of Course Specific Tutors. The tutors come from all walks of life: there are current OCC students, alumni, students and professors from nearby colleges, retired professors, retired public school teachers and people working in various industries. "We have a National Grid employee who works during the day and tutors at night in Electrical Engineering Technology and Mechanical Technology. He has the practical experience and can say to students 'this is the why you need to know this,'" said D'Aprix.
The Learning Center isn't just for students who need help. Sophomore Mathematics and Science major Nick Simmons (Skaneateles High School) comes to the Learning Center every day despite the fact he's a member of OCC's student honor society, Phi Theta Kappa. "It's always quiet here. I enjoy the atmosphere. If it turns out I do need help with something I can find someone who can answer questions for me. I feel like my grades wouldn't be as high as they are without the Learning Center."
On this day Simmons needs help in calculus and he finds Corrine LaFrance (Skaneateles High School), an OCC sophomore majoring in Business Administration.  She works at the Learning Center four hours a week and enjoys every minute of it. "I love tutoring in math. I'm very good at it and I enjoy helping others," said LaFrance.
Learning Center administrators are working to add workshops to their list of student offerings for the spring 2015 semester. "We're learning a student may be assigned a project which requires a PowerPoint presentation but doesn't know how to create one, so we are designing a PowerPoint workshop," said D'Aprix. Workshops will also be added to help students learn how to use Microsoft Word and thumb drives.
The Learning Center is open Monday through Thursday 8:30 a.m. to 9 p.m., Fridays 8:30 a.m. to 4:30 p.m., and Saturdays and Sundays from 12 p.m. to 4 p.m.