Image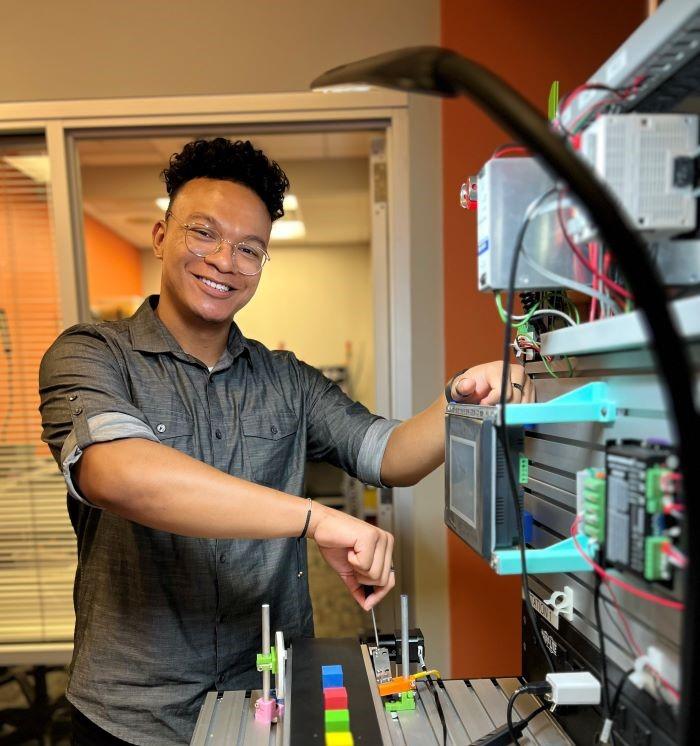 It's been just about a year since Onondaga Community College student Robert "RJ" Tinsley began hearing the buzz about Micron coming to Central New York. And now, after a nationwide search, he's been selected for a paid internship at Micron in Boise, Idaho next summer. It's an opportunity which may lead to a career with the microchip-maker. "It's kind of hard to wrap my head around this. You have no idea how much time I spent being anxious and stressed out trying to figure my life out."
Tinsley is a 2017 graduate of Liverpool High School who first enrolled at OCC six years ago. He started in the Business Administration program, eventually switched to Communications, and after two years transferred to SUNY Cortland. He completed his bachelor's degree in Communication Studies there in 2021, then returned home to the Liverpool area. He interviewed for various positions, tried different types of work, but for more than four years had one consistent job as a delivery driver for Francesca's, a highly-regarded Italian restaurant with locations in Syracuse and Liverpool.
In October of 2022 Tinsley heard the President of the United States was coming to OCC, his old school. He went to OCC's website and saw a special page dedicated to Micron. "Once I read it I said 'I've got to be a part of it.' I knew the college, and I could afford going back to school because I'd been working for two years saving up as much money as possible."
He went to OCC's Open House, listened to professors talk about the new Micron-related Electromechanical Technology programs that would be coming, and toured the Whitney Applied Technology Center where the classes would be taught. "I had no idea what I was looking at but thought if they could teach me, I'd be really interested. I was hooked right there. I registered on my phone, figured out a schedule that would work for me, and that's all she wrote!"
This fall Tinsley returned to OCC as a member of the first group of students in the new Electromechanical Technology degree program. Early in the semester, Professor Mike Grieb who is Chair of Applied Engineering Technology at OCC, visited class and told students about paid internship opportunities at Micron. Tinsley applied and was selected for an interview. On October 30, exactly one year and 3 days after the President's appearance at OCC, Tinsley learned he had been chosen. He will spend the summer of 2024 in Boise, Idaho, working for Micron in the role of Intern Process Technician.
Between now and then he'll continue working hard in school and doing door-to-door deliveries for Francesca's. When he's on the road he likes to think about where he might be one day. "They're building all sorts of new apartment complexes around Liverpool. On my deliveries I look at some of these complexes and think 'I could see myself living there in a few years.' This whole thing is so exciting!"