on
Succeeding @ OCC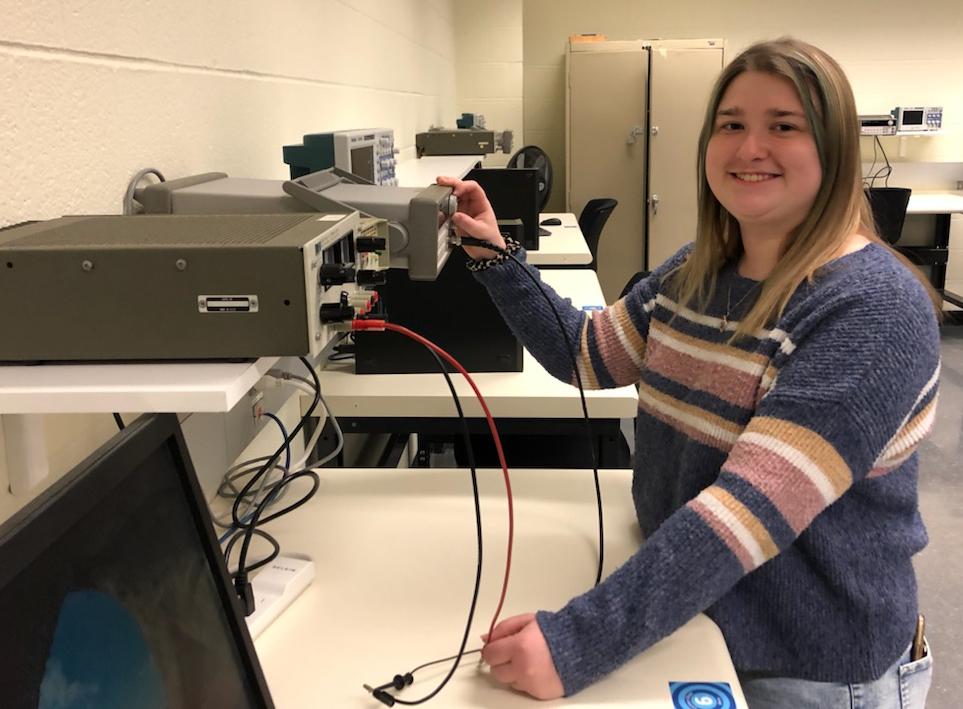 Sadie Lurcock has loved math for as long as she can remember. "When I was in second grade I got to be the teacher's helper and help everyone with math. I was like, 'yup... this is it.'" By the time she got to high school and started hearing about the P-TECH program, she realized she could turn her math skills into a rewarding career.
P-TECH stands for Pathways in Technology Early College High School. It's provides high school students the opportunity to work toward their high school diploma and associate degree simultaneously, and provide them a pathway to an in-demand job. 
During her junior year at Sandy Creek High School, Lurcock came to Onondaga Community College two days a week while focusing on Electrical Technology. "It was a little scary at first but by our second semester we knew our way around and felt very comfortable." She spent her entire senior year attending OCC five days a week. After receiving her high school diploma in 2020 she became a full-time student at the College.
Throughout her time at Sandy Creek, Lurcock and her P-TECH classmates were in contact with representatives of Novelis in Oswego and Huhtamaki in Fulton. Both companies financially support P-TECH and provide mentors who create valuable relationships with students. "When I was in high school I would hear from my mentor every other week. Now we have formal meetings once a month. I also text my mentor once a week."
While staying in contact with her mentor, Lurcock has excelled in class at OCC. Her favorite professor in the Electrical Technology degree program is Woody Everett. "I love him. He's so easy to talk to. If you don't understand something he's really good at explaining things. You're going to understand his class by the time you leave."
By the time Lurcock leaves this May after just one year on campus, she'll have her Electrical Technology degree in hand and the beginning of an outstanding career. She received internship offers from both Huhtamaki and Novelis, chose Novelis, and has turned her opportunity into a full time job as an electrician. "It's pretty great knowing the day after I graduate from here I will go to work full time. It's making my life easier."
She hopes students entering high school in future years will give strong consideration to the P-TECH program. "If you have any interest at all, apply for it. You can walk away with a free degree and a ton of experience. It's a great opportunity."