Image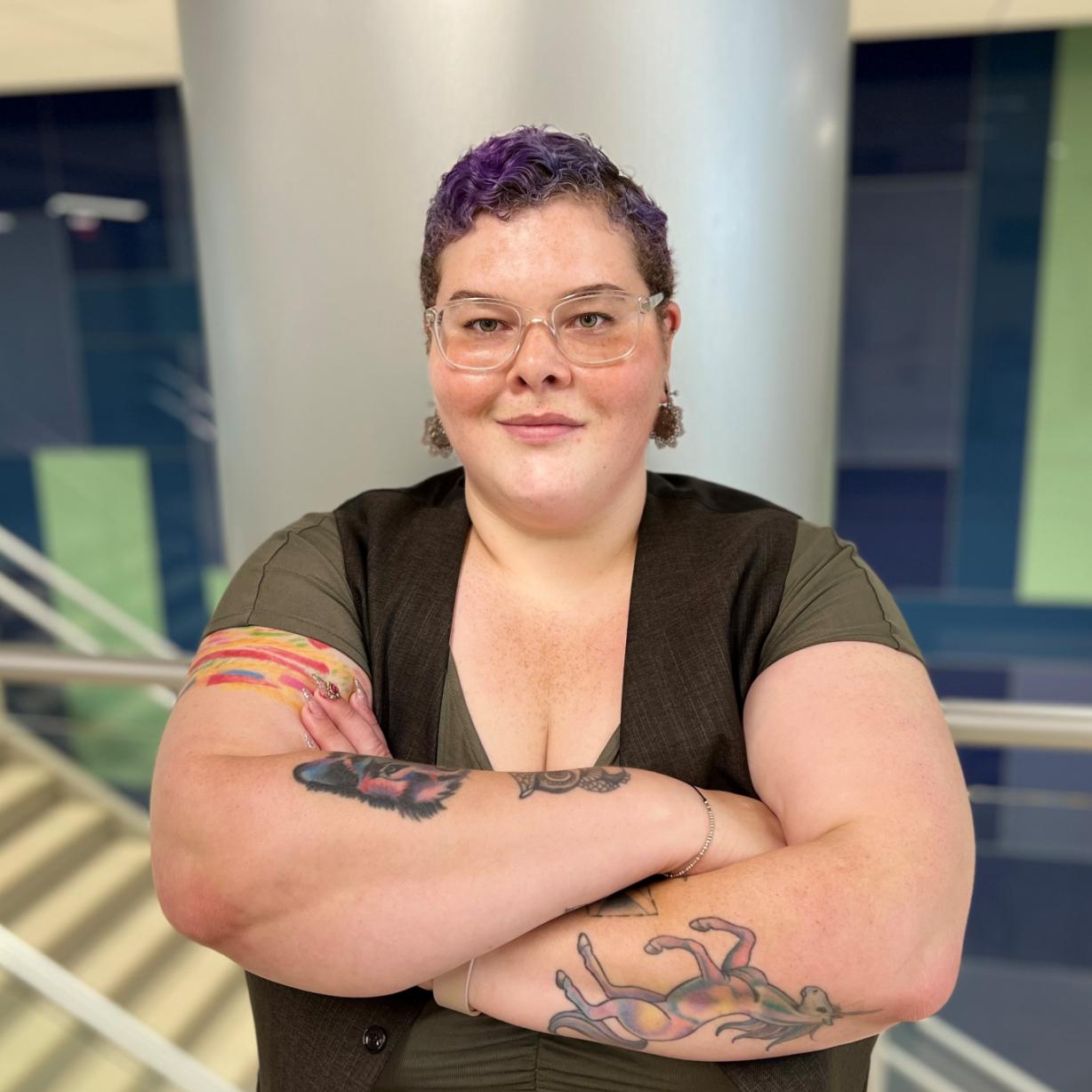 Each Friday during the month of November we are recognizing one of our outstanding Student Veterans who served our country as a member of the United States Military, and is now pursuing a degree at Onondaga Community College. Today we introduce you to Kelsey Goddard.
Between her purple hair and her tattoo collection, Kelsey Goddard is easy to spot. "Some of my tattoos have meaning behind them, like I have one for my grandmother who has passed. Others are 'I like Harry Potter' or 'these are my favorite animals.' If something's pretty and it's a work of art I want it to be on me forever. The hair is kind of the same thing... it's fun and it's pretty."
Goddard is a 2007 graduate of Onondaga Central High School who decided to join the United States Army at age 24. "I didn't have any direction. My life was floating by. The Army gave me direction."
She enlisted in 2014 and served for three years. Her personal highlight was the year she spent stationed in Germany. "I got to know a lot of people. It was very interesting. It was stressful, but fun too."
When she left the Army in 2017, the loss of direction in her life returned. "I had a lot of different interests but I didn't know what I wanted to do."
Things started coming in to focus in 2019 when she enrolled at OCC. Initially she was interested in history, then switched to the Mathematics & Science degree program. This past summer she did a research project at Syracuse University. "It was fun and challenging. The people I was working with were very supportive."
The primary place she goes for support on campus is the Office of Veterans and Military Services on the second floor of Coulter Hall where she is also a Work Study student. Because of the outstanding level of service the office provides under the leadership of Steve White and Erin Elliott, it has been named "Military Friendly" and "Best for Vets" by national organizations. "I'm in here all the time. They've tried to get rid of me and they can't! This office is a bit of a sanctuary. When I'm having a bad day I come in here and those two give me a little pep talk."
Previously Goddard was President of OCC's Veterans Club and now serves as its Secretary. "It's very comfortable in this office. With our military experiences we all have similar backgrounds and can talk about anything."
Goddard plans to finish at OCC next May. She hopes to transfer to SUNY-ESF and work towards becoming either a Climate Change Analyst, Sustainability Analyst, or Environmental Analyst.
OCC thanks Kelsey Goddard and all of our Student Veterans for their service to our country.