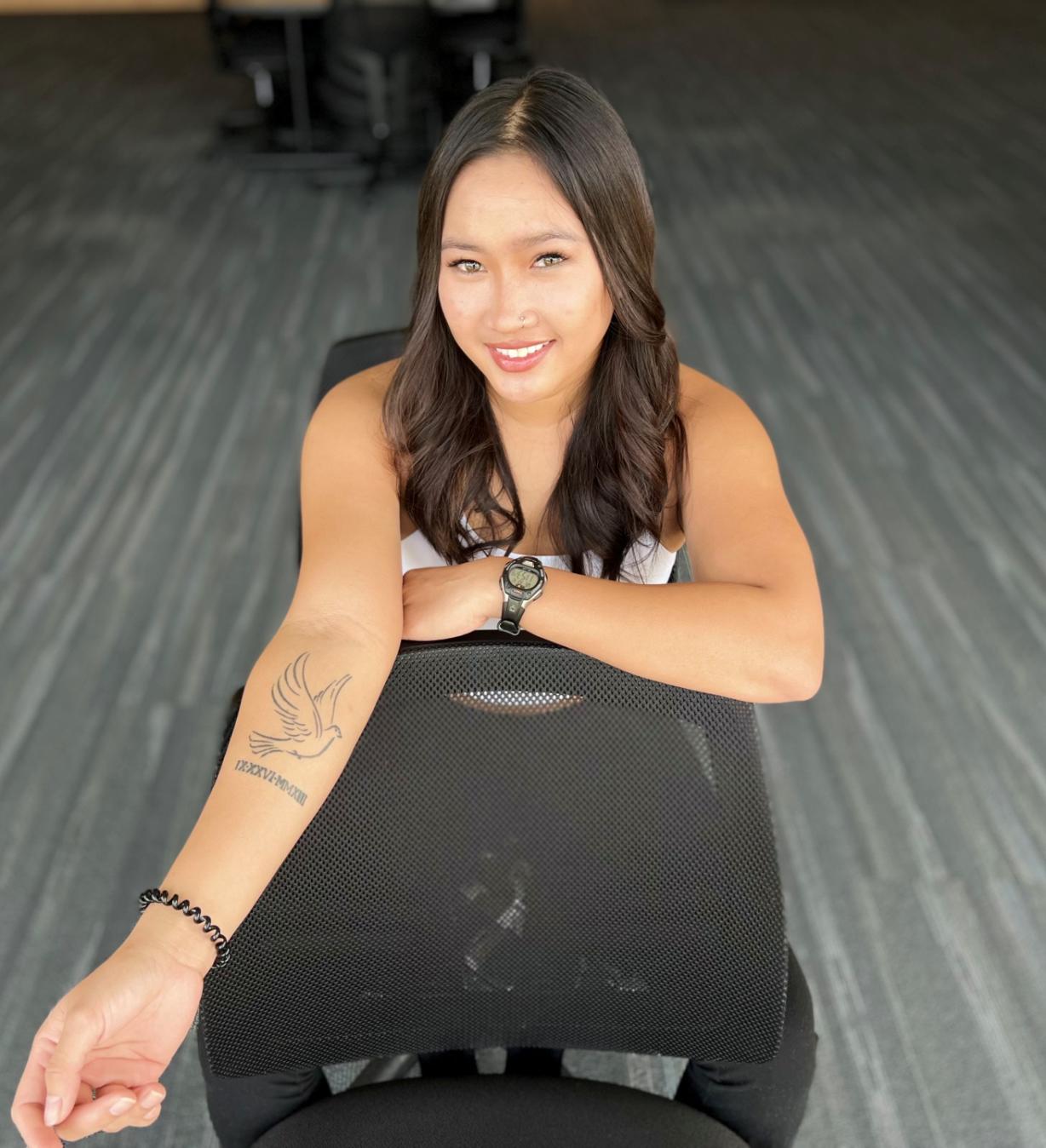 Each Friday during the month of November we are recognizing one of our outstanding Student Veterans who served our country as a member of the United States Military, and is now pursuing a degree at Onondaga Community College. Today we introduce you to Mae Ann Bestul.
Lasting images from Dustin Bestul's military service in the Philippines, coupled with blind luck, rescued Mae Ann Bestul and six siblings from a life of abject poverty and little hope. "He saw how some of the kids were living and had a heart for them. That's when he decided he would adopt from there one day," said Mae Ann Bestul.
That "one day" came in 2013. Dustin and his wife Andrea Bestul had both served in the United States Marine Corps. By 2013 they had three biological children, and had adopted three children from Ethiopia. Despite already having six children, the desire to adopt from the Philippines stuck with Dustin. One day he woke up, Googled 'orphanages in the Philippines,' and the first one that came up was the orphanage where Mae Ann and her six siblings were living. He saw a picture of Mae Ann and her siblings and said, "Those are our kids."
Mae Ann's birth family included a total of 11 children. Because her biological father died when she was 9 years, her mother had to work around the clock to try to support the family. Eventually it was too much, and the youngest children were put up for adoption. Four were too old to live in an orphanage, but Mae Ann and six others were under the age limit.
They would live in the orphanage for four years. Everything changed for them on September 26, 2013, a date which is now tattooed on her arm in Roman numerals. That's the day when Mae Ann and her six siblings learned they were all being adopted by a single family, the Bestul's. "There were a lot of tears. We were so happy we were getting adopted together. If he didn't see us on the website, we would have definitely been separated. No one adopts seven kids all at once!"
At the time of the adoption the Bestul's lived on a farm in North Carolina. They would stay there for two years, then move their 15-person family to LaFayette in southern Onondaga County. Mae Ann would be homeschooled and eventually join the United States Air Force. She is currently a member and serves as a Cybersecurity Specialist with the New York Air National Guard.
In the fall of 2021, Mae Ann enrolled in OCC's Computer Information Systems degree program. "A lot of my friends had come here and they told me it was very nice. And I didn't want to go to an expensive college and pay more for the same credits I could get here."
She earned a perfect 4.0 in her first semester and has continued to work hard while also serving her country. When she's not in class, Bestul can usually be found in the Office of Veterans and Military Services on the second floor of Coulter Hall. Because of the outstanding level of service the office provides under the leadership of Steve White and Erin Elliott, it has been named "Military Friendly" and "Best for Vets" by national organizations. "Whenever I need to find a place to work I can always come here and they are always welcoming. Mr. Steve is very very helpful. Whenever I have questions about anything he's always here."
Mae Ann is the third member of the Bestul family to attend OCC. Her brother Dustin earned a Communications degree in 2018 and is now in the United States Air Force. And her sister Fasika also took classes here before joining the military.
Mae Ann will complete work toward her degree next summer, then decide what's next. "I'm so grateful to be here. In the Philippines everyone talked about going to the United States one day. America has really helped me grow and work toward where I want to be in life."
OCC thanks Mae Ann Bestul and all of our Student Veterans for their service to our country.