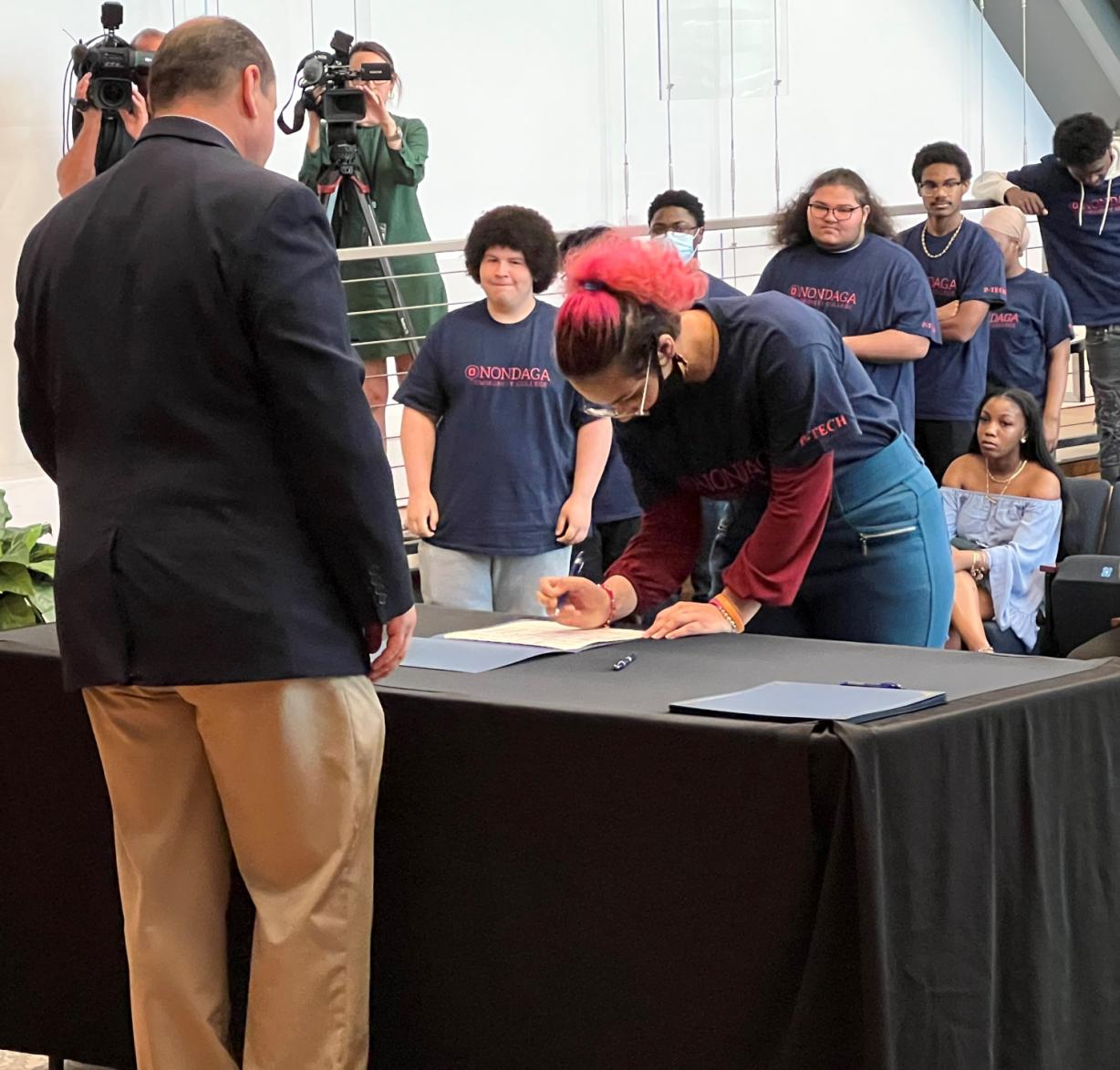 Onondaga Community College welcomed the next class of P-TECH students from the Syracuse City School District (SCSD) during a signing ceremony, held May 24 in the Frederick Marvin and Ernst Schuh Recital Hall.
A total of 63 students from Henninger High School, the Institute of Technology at Syracuse Central (ITC), and the Public Service Leadership Academy at Fowler (PSLA) committed to pursue their associate degrees while still in high school. All of the students will be in either the 11th grade or 12th grade this fall.
The breakdown of students, high schools, and degrees is as follows:
Mechanical Technology degree - 18 students from ITC
Electrical Technology degree - 14 students from ITC
Computer Information Systems degree - 10 students from PSLA
Remotely Piloted Aircraft System degree (Mohawk Valley Community College) - 11 students from PSLA
Clinical Lab Technician (SUNY Broome) - 10 students from Henninger High School
The student speaker at the event was Kiamesha Cotton. She began taking Mechanical Technology classes during her junior year at ITC. After receiving her high school diploma in 2020, she became a full-time student here. While attending OCC she also worked at United Radio as a Technician. Kiamesha received her degree May 21 and plans to continue working at United Radio.
Other speakers during the event were OCC President Dr. Casey Crabill, SCSD Superintendent Jaime Alicea, Henninger Principal Shirelle Dowdell, ITC Principal Jim Natoli, PSLA Principal Rich Romeo, and SCSD Career & Technical Education Programs Director Bruno Primerano.
P-TECH stands for Pathways in Technology Early College High School. The program provides high school students the opportunity to work toward their high school diploma and associate degree simultaneously, and ultimately a pathway to an in-demand job.