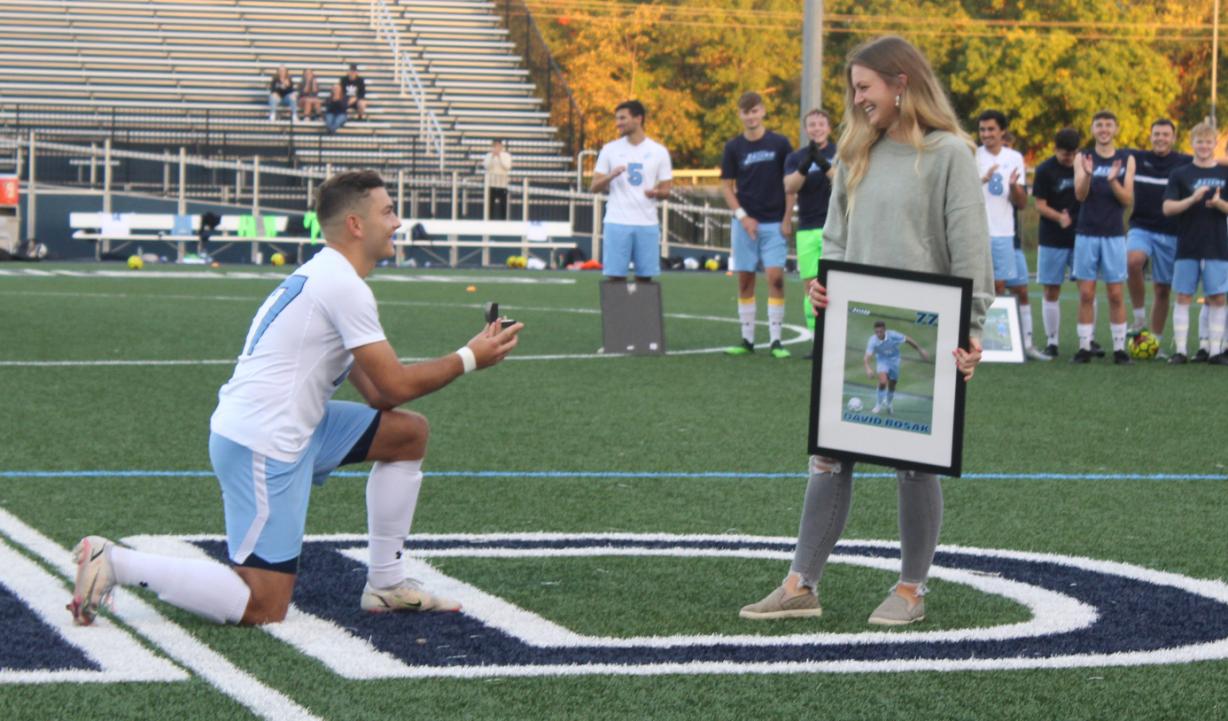 In the middle of a deep sleep on a hot summer night, David Bosak had a vision. "I had a dream in June that I would ask her to marry me on the soccer field. I knew I wanted to do something special and I wanted it to be in front of everyone else."
Bosak chose to pop the question to his girlfriend, Marta Tatarin, on "Sophomore Night" when a pre-game ceremony is held to pay tribute to student-athletes playing in their final regular season home game. "I'd been hyping up Sophomore Night to her since June and both of our families were going to be there, so she didn't think anything of it."
The proposal was the culmination of a lengthy pursuit for Bosak. Although he had only been dating Tatarin for a year-and-a-half he admits, "I had been chasing her for years and years." Both came from Ukrainian families, attended the same church, and their fathers played soccer together. Both Bosak and Tatarin attended Marcellus High School before coming to OCC. Tatarin had since earned a bachelor's degree from Le Moyne College and is now working toward getting into Dental school.
Between their two families, everyone knew the Sophomore Night proposal was coming except Tatarin. And when he asked her and she said "yes," the answer was exactly what he expected. "The only thing I was worried about was if she would like me asking her in public in front of everybody. And she said she did."
In December Bosak will complete work toward his Business Administration degree. He plans to transfer to a four-year college where he can continue playing soccer. He will also keep running the CNY Sounders Soccer Academy in Camillus which he is the founder of.
Bosak and Tatarin plan to be married in the summer of 2022, then they'll return to pursuing their degrees as they start their new lives together. "If I were to write out my life it would be 'play soccer here, play soccer there, meet this girl after college, we're both making money.' But we're both on the same page and we're ready to get married. We know we'll be fine when she's in dental school and I'm making money on the side. We'll get through it!"