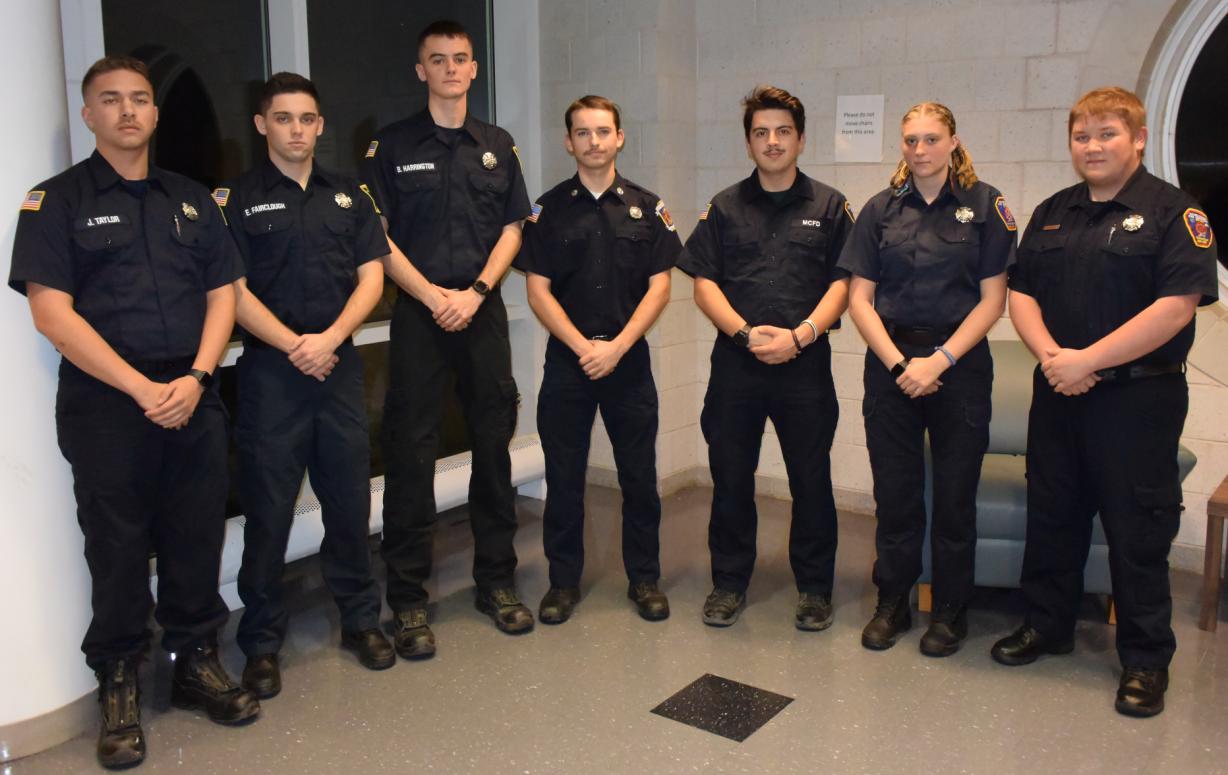 Most students who enroll in Onondaga Community College's Fire Protection Technology degree program come to campus with experience responding to fires as members of their hometown departments. But a service-learning opportunity for students in a Fire Investigation class (FPT-252) opened their eyes to what happens after the flames have been extinguished.
OCC Fire Protection Technology students are assigned to fire departments in Onondaga County and respond to actual fire scenes with fire investigators. Recently these students used what they had learned in the classroom to collect evidence which led to the conclusion that two separate house fires had been intentionally set. "I was with them at both fire scenes," said Onondaga County Fire Investigator Ron Ryan. "The professionalism, the knowledge, and the thought processes they utilized along with the ability to articulate it all and put everything back together was exactly what we were trying to get across to them. They were excellent. They aced it."
Ryan teaches the Fire Investigation class along with Dan Vieau who works privately as a fire investigator for entities such as insurance companies and law firms. "This is the only program in New York State where students get sent out on every structure fire. It's incredibly valuable for their learning experience," said Vieau.
Students Faith Alheim (Greenwich, NY), Josh Dobush (Dryden), and Miguel Gonzales (Liverpool) are doing their service-learning with the Moyers Corners Fire Department. The Taunton Fire Department also has three OCC students helping with investigations; Evan Fairclough (Waterford), Brandon Harrington (Hartford), and Jarred Taylor (Trumansburg). And student Hunter Buysse (Keene Valley, NY) is doing his service-learning with the North Syracuse Fire Department.
The students have had the opportunity to apply what they have learned in class and the experiences have been invaluable. "When I would go to fires as a firefighter, I would have no idea what was going on with the investigation side of it. We saw a place where there were wires and all of the insulation was burned off. I said to Miguel 'we just learned about this,'" said Josh Dobush.
Part of the classroom instruction included learning the best way to gather information from people at and around the fire scene. "I got to do interviews with neighbors and people living in the house. We read about it and we talked about it in class, but it was different when you were actually doing it," said Faith Alheim.
"Every bit of knowledge we learned from this class was applied there... the science behind the fire, the burn patterns, how to follow up with witnesses... all of it," said Evan Fairclough.
Of all the lessons learned in the Fire Investigation class, Miguel Gonzales says at the top of the list is entering a scene with an open mind. "The most important thing we learned is you can't be biased. You hear outside information about what may have happened but you have to see where the evidence takes you."
The students attention to detail at these fire scenes led to the fact-based conclusion the fires had been intentionally set. Because the investigations are still in progress, we are not allowed to give specific details about their findings.
You can learn more about our Fire Protection Technology program by visiting our School of Computing & Applied Technologies web page.