on
Succeeding @ OCC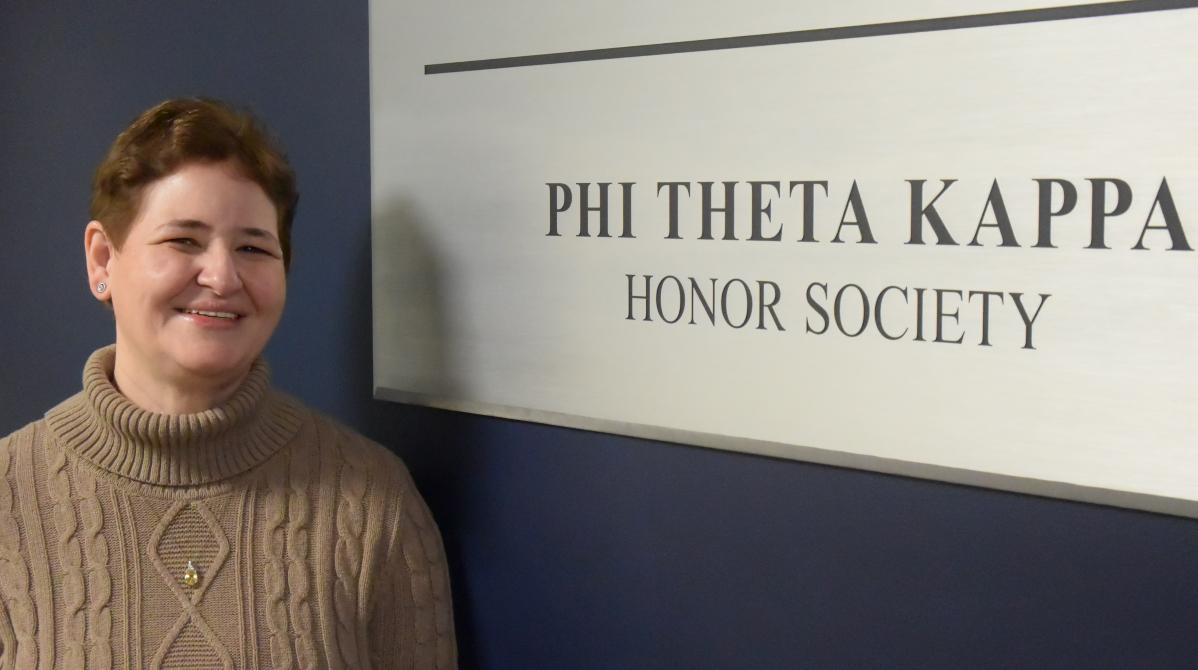 When Catherine Hadden shares her life story with her thick Georgia accent, you almost expect music to be playing in the background as if you're listening to an old-fashioned country song. Love, marriage, children, grandchildren, divorce, job loss, cancer... her story has it all, including the road to a new career which she's found at Onondaga Community College. "It felt like every time I was getting ahead, I was getting knocked back. I love it here. Even though I've had my setbacks, everyone has been very welcoming. It's been a very positive experience."
Hadden graduated from high school 30 years ago and joined the United States Air Force. While in basic training she met a man who would become her fiance. Hadden left the Air Force after two years while her finace stayed in the service. They eventually grew apart and married other people.
As Hadden was starting her family she was also going to school to become a Licensed Practical Nurse (LPN). After earning that credential, she began working toward becoming a Registered Nurse (RN). The challenge of working, going to school, and raising a family was too much. "I got kind of lost in the woodwork. I didn't have financial support. I didn't have family support. I didn't have support from teachers. I would take classes, I would take semesters off, I would take more classes, I would take more semesters off, I just wasn't able to do it."
Four years ago as Hadden was going through a divorce, she learned her former fiance's wife had passed away. They rekindled their relationship and decided to live together. She was working as an LPN in Georgia and could move almost anywhere and find work. He was tethered to Onondaga County. They decided she would head north.
She relocated and began working as an LPN. In January 2020 Hadden underwent surgery to have a kidney removed due to cancer. When Covid settled in a couple of months later, she lost her job in a doctor's office. "My fiance said to me 'you're not happy working in a doctor's office, you're not happy working in a nursing home, you really are a hospital nurse. You need to do this.' So at 48 years old I went to school again!"
Twenty years after she last sat in a college classroom, Hadden enrolled in OCC's Health Sciences program in the fall 2020 semester. "I worried about fitting in. I'm much older. It was kind of strange coming in and seeing students younger than my children. It felt different. I started reaching out to different programs for things like tutoring and counseling and I found a little niche. The services OCC offered really made a difference."
While excelling in her coursework she also hit another speedbump. "I got sick during the first semester. I called one of my professors and said 'I'm in the hospital. I have no idea how I'm going to finish these assignments.' She said 'don't worry about it. We'll figure something out.'"
Her first semester went so well she was inducted into the College's chapter of international honor society Phi Theta Kappa last month. Around the same time she also learned she had been accepted into the OCC's Nursing program and will begin taking classes in it this summer. "I never considered myself an honor student. I was always very shy, very quiet, and very reserved. I never thought I was good enough for something like that. Now I'm just on top of the world. It's all pretty amazing."