Image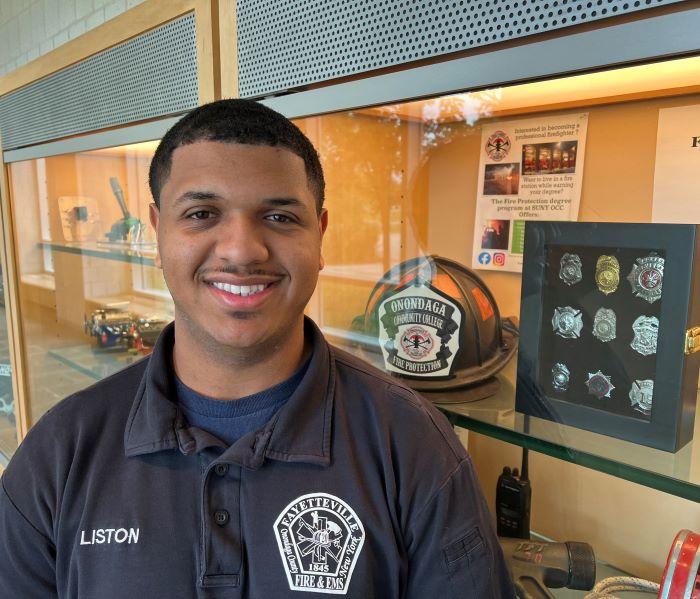 Gavan Liston remembers the harrowing moment when he knew he wanted to become a firefighter. He was asleep in the middle of the night when he was abruptly woken up. "My mom was screaming 'fire!' She went and I followed. There was a fire in the apartment next to us and heavy black smoke in the hallway. It was something!"
The Liston's were living on the 9th floor of an 18-story apartment building in the Bronx. The building was evacuated and a bus with medical equipment on board was brought to the scene to treat residents. Liston suffered smoke inhalation, received oxygen, and made a full recovery. The whole experience resonated with him. "I always loved seeing fire trucks when I was a kid. But going through that sealed the deal."
Although Liston was elementary school-aged at the time of the fire, the dream of becoming a firefighter stayed with him. During his senior year at Wings Academy High School in the Bronx, he spoke with a counselor about wanting to pursue his goal in college. The counselor recommended Onondaga Community College and he was on his way.
OCC's Fire Protection Technology program is known well beyond Central New York because it is the only program in all of New York State accredited by the International Fire Service Accreditation Congress. This prestigious and exclusive designation provides students the opportunity to be internationally certified as firefighters, fire officers, or fire service instructors.
Liston received his high school diploma in June of 2022, and a short time later was on the OCC campus for the Educational Opportunity Program's Residential Pre-freshman Summer Institute. Over the course of 5-and-a-half weeks students live on campus, take two college classes, eat their meals in the cafeteria, and get a taste of what college life is like. "It was very valuable for me. I learned to live on my own. It gave me a head start before everyone came in the fall."
He became a full-time student in the fall of 2022, and about halfway through the semester he joined the Fayetteville Fire Department as part of the bunk-in program. While continuing to take classes, Liston lives at the fire hall and responds to emergency calls. "I love it and all of the other bunk-ins love it. We get great experience and learn so much. We have fire and EMS calls, and we also do things like rope rescues and help people when they get injured on the trails at Green Lakes. We respond to a great variety of calls."
Liston will complete his degree next May and continue moving toward his career goal of becoming a paid firefighter. "My experience here has been great. I would recommend this to anyone like me whose coming out of high school and wants to go into firefighting."