on
Succeeding @ OCC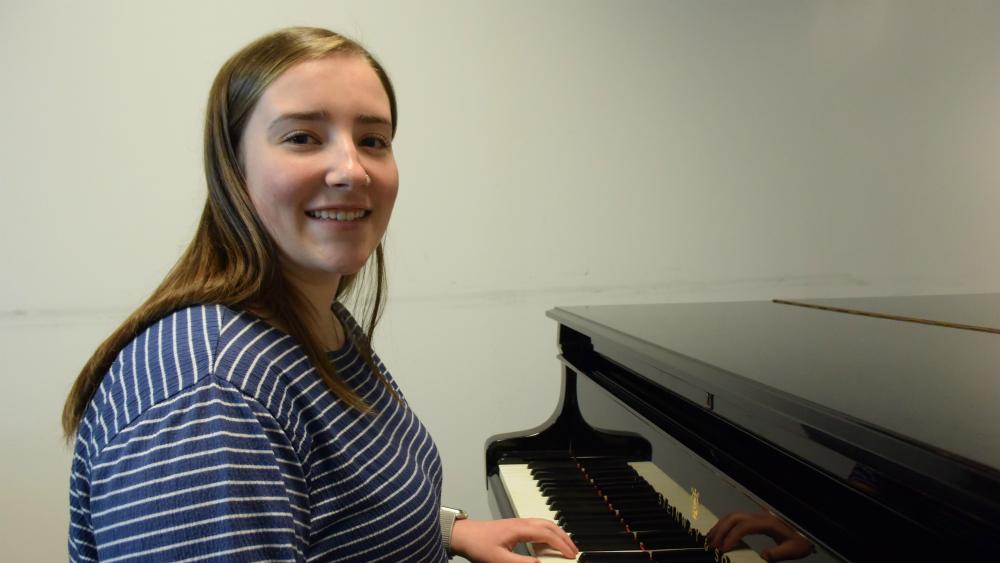 Major: Music with a specialization in Piano
High School: Wellsville, class of 2018
Word-of-mouth led Grace Norton to Onondaga Community College. She grew up in the southern tier and planned to attend SUNY Fredonia until a music audition there didn't go well. "One of my dad's friend is a music professor in Philadelphia whose audition at Fredonia also didn't go well. He told my dad we should check out Onondaga Community College."
In May of her senior year of high school she came to campus for a tour, aced her audition, and was offered the Frederick Marvin and Ernst Schuh Scholarship for Music majors specializing in Piano. "I'm extremely grateful to have the scholarship. I haven't had to worry about any expenses. I've been able to focus on just school work and it's made a huge difference."
Norton is very active within the Music major. She also plays violin and sings in the choir. Her coursework has been so outstanding she's earned a place in the College's chapter of international honor society Phi Theta Kappa (PTK) where she is an officer, serving as a co-vice president of leadership. "It's really nice to have both the Music and PTK organizations. Dr. (Kevin) Moore makes me feel welcome in Music. I'm really close with Jackie (Barstow) in PTK and whenever I have problems I go to her. Everyone is so welcoming. OCC is my home away from home."
Norton will earn her degree in May and is planning a sizable shift in her academic journey. She's following the path of family members into the medical field. "I have a very exploring personality. I've been admitted to the Nursing program at Alfred State and will live at home while going to school there." Her mom is an OBGYN and a midwife, her sister will start medical school next year with the goal of becoming a surgeon, and her brother is a nurse. "I know I'll never stop playing music, but I'm excited for a new start."